The Ultimate Guide to Paid Media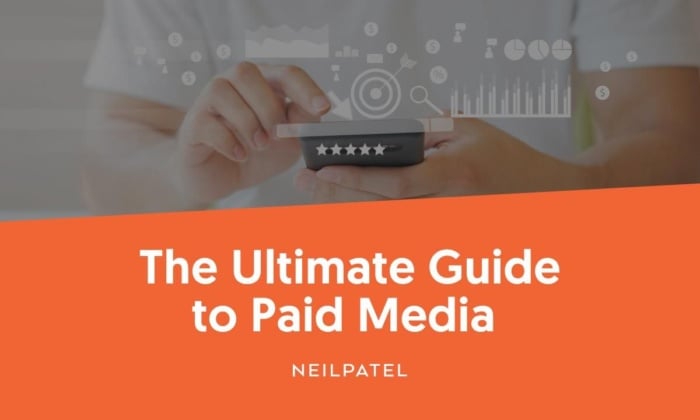 When you create a piece of valuable content, whether a blog post, eBook, or webinar, you want to promote it to as many people as possible.
If you need to reach new customers and get the edge over your competition, paid media is an excellent option.
The fantastic thing about paid media platforms is that there are so many of them to consider. No matter who your target audience is and what you want to sell, you can find the perfect solution for your business.
If you're asking the question, "what is paid media?" I've put this paid media guide together to help. We'll look at the different types of paid media, how to create ads people want to click on, and how to implement the perfect paid media campaign.
What Is Paid Media?
In a nutshell: paid media is any marketing channel you spend money to feature on.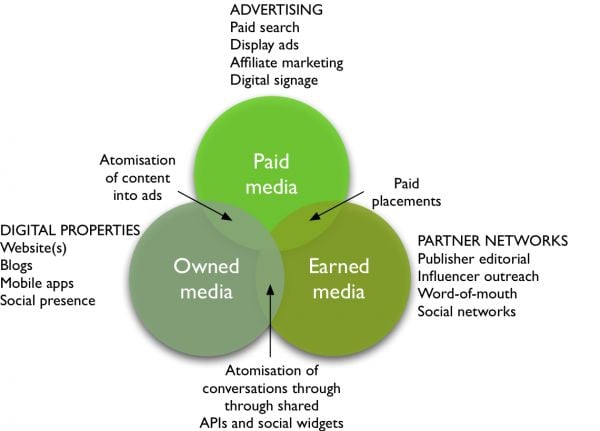 The digital marketing channels you use to promote your business can be split into three categories; paid, earned, and owned.
Earned media is unpaid publicity that your business gets from other people and websites. For example, an editorial in a publication, a blog post created by an influencer, even social media shares and mentions from your customers.
Owned media is content that your business manages and controls. This includes your website, blogs, social media accounts, and any documents you create.
Paid media is when you pay a third-party company to promote your message on your behalf. This includes channels like pay-per-click (PPC) advertising, social media ads on platforms like Facebook and Instagram, and video advertising on platforms like YouTube. You can choose from several different types of paid media depending on your marketing strategy.
Types of Paid Media Marketing
A clear advantage of paid media is that many different platforms and ad types are available. This means that if you know which websites, social media platforms, and devices your target audience use, you can easily reach them.
Here are some examples of paid media and the benefits of each.
Search Engine Advertising
Search engine advertising is when you pay to promote your ads in search engines like Google, Bing, Yahoo, and Ask.com.
You choose the keywords you want to appear for, state how much you're willing to bid, write your advertisement, and the search engine does the rest.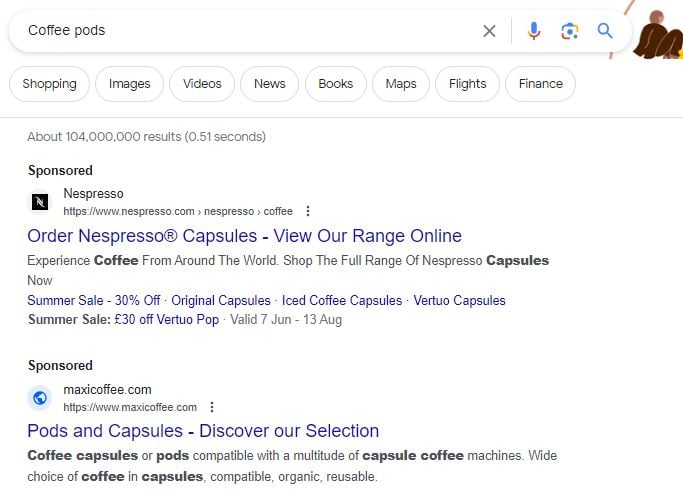 Search engine advertising, also known as search engine marketing, is fantastic for targeting specific keywords and phrases. As a result, you can use adverts to appeal to people who are ready to buy, increasing your chances of a successful sale.
If you're willing to bid enough money for a keyword, you can appear right at the top of the first page, above the competitors you outbid and the organic search results.
Display Advertising
A display ad is a paid media ad that uses images, video, and text to encourage visitors to click on a link to a website.
Display advertising can take the form of banners on a website and sponsored advertising, but the most well-known type is Google Display Ads.
The Google Display Network consists of over two million websites and mobile apps that businesses can display their ads on—reaching 90 percent of web users worldwide. When someone clicks on an ad, Google Ads and whoever hosted it share the spoils.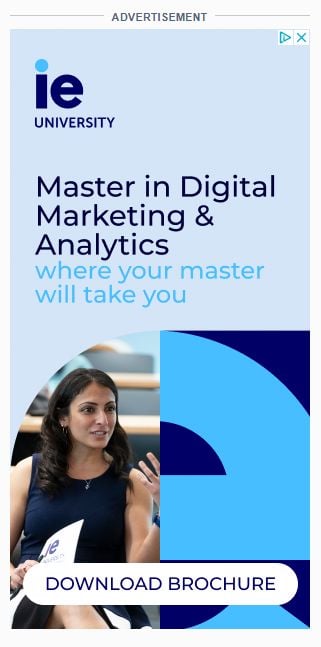 What are the benefits of display advertising? As display ads are image-led, they're great for targeting people scrolling on their mobile phones. These people might not have the time to digest a text-based ad, but a bright and colorful ad will encourage them to stop scrolling.
Display advertising is also excellent for raising brand awareness. As customers see the same ad repeated across various websites, they gradually become more aware of your business.
As the average person needs to see a brand at least seven times before they make a purchase, this increases the chances of conversions in the future.
Paid Social Media Advertising
Social media advertising is big business. The global market is currently worth a massive $207 billion, and this is set to grow in the future!
Paid social media advertising is advertising on social media platforms like:
Facebook
Instagram
Twitter
LinkedIn
TikTok
Pinterest
Snapchat
Here's an example of paid media advertising on Facebook. This sponsored post is by Burger King and appears in relevant customers' newsfeeds, enticing them to try their new spicy chicken nuggets.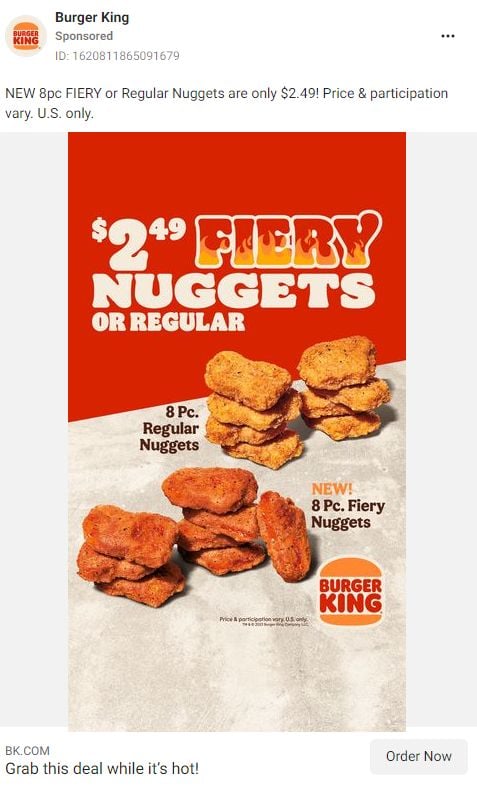 Paid social advertising is an easy way to get people interested in your business as they're catching up with friends and family or checking out the latest viral trends. Nearly 60 percent of the world's population has at least one social media account.
Plus, paid social media allows you to drill down and target a specific audience. Most platforms let you target people by age, gender, and location, as well as their hobbies and other social media accounts they follow.
Video Advertising
There's one thing that people love to watch online, and that's videos! In 2022, nearly 92 percent of people admitted to watching at least one video online, with music, comedy, and viral videos being the most popular.
Video advertising takes advantage of this by placing short video ads on a range of platforms, including YouTube, Facebook, and Instagram. Viewers can view the ad and click on a call to action to learn more.
The advantage of video advertising is that it's engaging—create a stylish, funny, or cool video, and people will want to discover your brand. Like display ads, videos are great for capturing people's attention on mobile.
Benefits of Paid Media
I've already mentioned a few advantages of using paid media marketing, but let's look at some more.
You have more control. As you pay to advertise, you get more say over your ad's appearance. Conversely, if you submit a press release to a publication, they may edit it to suit their in-house tone of voice.
You get immediate visibility. Search engine optimization (SEO) costs less than paid media, but it can take three to 12 months to see optimal results. With paid media, if you're happy to pay, you can appear in front of prospective customers immediately.
You can measure results. Paid ads platforms offer detailed analytics so you can see how your ads are doing. Some even provide a quality score so you know which campaigns you need to optimize.
You can tailor your ads. You can target your ads to specific groups of customers and even tailor content toward a location. This increases the chances of people responding positively to your advertisements. Similarly, you can advise who you don't want your ad to show to.
You can implement automation. You can be as hands-on or hands-off with your advertising as you want. For example, Google Ads offers automated bidding where it automatically optimizes your bids to appeal to people more likely to help you achieve your goals.
Implementing Paid Media Strategies
When working with paid media for the first time, it might be tempting to dive straight in and get started right away.
While this is undoubtedly an admirable approach, it's always best to sit down and define your paid media strategy first.
Consider your paid media strategy as your blueprint for advertising your brand. It will help you identify:
What goals you want to achieve
The products and services you want to promote
The competitors you want to advertise against (see if they're using paid media and, if so, which platforms)
The platform (or platforms) you want to use
The audience you want to target
Revisit your strategy regularly to make sure you're still on track to achieve your goals.
Setting Goals and Budgeting
Let's look at paid ads goals in a little more detail. It's important to know what you want to get out of your paid ads strategy. For example:
More website visits
More leads and inquiries
More social media followers
More leads
Increased brand awareness
Increased revenue
Always consider SMART goals: goals that are Specific, Measurable, Attainable, Relevant, and Timely. The more detailed you make the goals, the easier they will be to achieve.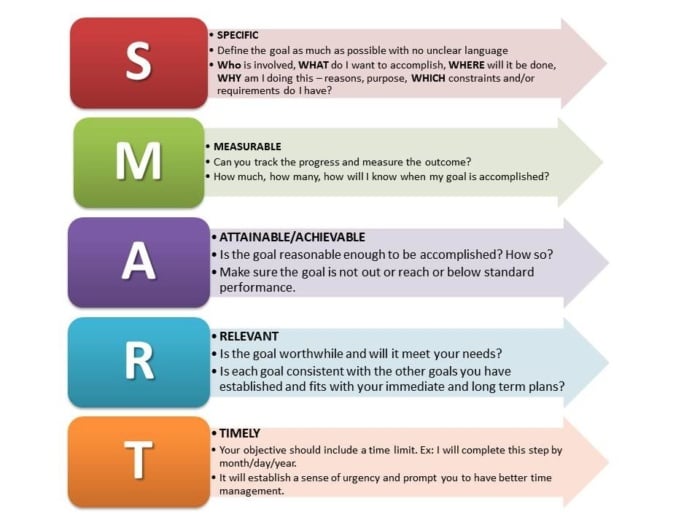 Many paid advertising platforms can create specific advertising campaigns for you, depending on your set goals. For example, Facebook uses ad objectives like:
Sales
Leads
Engagement
Traffic
Awareness
App promotion
With paid media campaigns, it's essential to set a budget and stick to it. Many paid media platforms let you set a definitive budget for your ad campaigns. If you exceed this budget, the platform stops showing your ads.
As well as budgeting for your paid media ads, you must consider additional costs. These can include ad copywriting, graphic design, videography, and if you use an agency, account management fees.
How To Choose the Right Paid Media Channels
Which paid media channels are right for your needs?
It might be that one paid media channel will do the job; it might be that you need to use multiple media channels to achieve your goals. Take the following into consideration:
What paid media channels are your competitors using? If they're using a specific channel, this is a sign that they are seeing success from it.
What is your overall goal? For example, search advertising is excellent for targeting customers ready to buy, while display advertising is fantastic for raising brand awareness. Think about where your prospective customers are in the marketing funnel.
What is your budget? Some platforms are more expensive than others. For example, as it has less competition, Microsoft Advertising is generally cheaper than Google Ads.
Who is your target audience? You want your ads to show to customers on the platforms they use. For example, TikTok is great for targeting Gen Zers.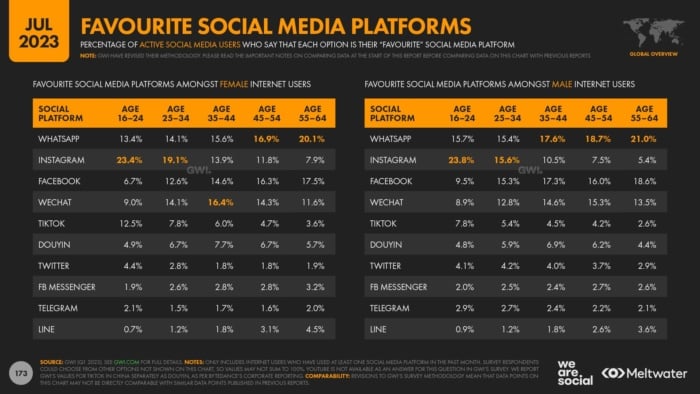 Creating Compelling Ads
It's essential to create high-quality paid ads that entice customers to want to know more. Here are some of my top tips for paid media advertising that drives clicks:
Don't be afraid to be creative—you want an ad that customers stop and look at.
Keep your ad copy clear and concise. Think about the problems your target audience experiences and how you can help them.
User-generated content and testimonials show prospective customers why existing customers love your brand.
If you're using search advertising like Google Ads, take advantage of assets. These snippets of content don't just tell customers more about you but take up more space in the search engine results.
Run multiple variants of your ads and see which ones your customers like most.
Don't forget your call to action! What do you want customers to do after they've seen your ad?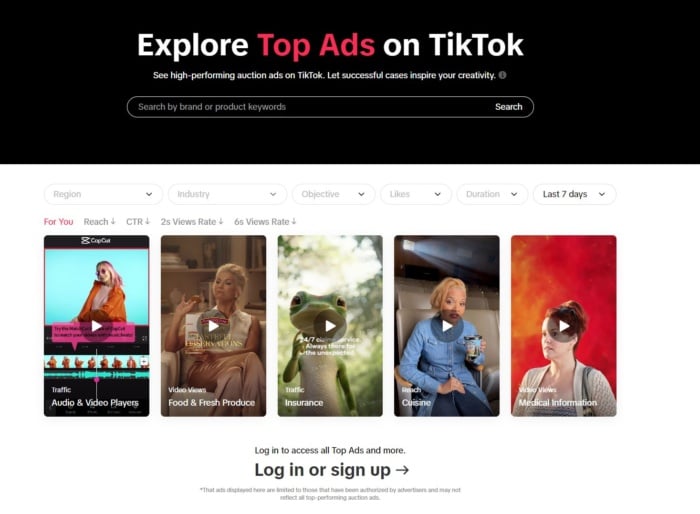 Did you know that some paid media platforms have ad libraries where you can check examples of paid media ads your competitors are using?
Meta (Facebook and Instagram), TikTok, and Google Ads let you view active ads, meaning you can get some good inspiration for your own paid media advertising.
Optimizing Paid Media Campaigns
Like all digital marketing campaigns, paid media is not something you can set and forget. You must keep revisiting your campaigns and making amends to ensure you optimize them for the most conversions.
I recommend checking your paid media campaigns at least once a week, even once a day if you're running a short-term campaign. This means you can check that they're working and make amends as needed.
Paid media is brilliant for running A/B testing, sometimes called a split test. Create two versions of an advert with one small change, for example, a different image or call to action. Then run them both and see which one leads to the most conversions.
This is a great way to see what ads your target audience responds best to.
Measurement and Analytics
One of the things I love about paid media is that it's so easy to track results.
All paid media platforms have powerful measurement and analytics reporting. This means you can track not just how your ads perform, but the actions people take after they click on them.
What should you consider when putting together paid media KPIs? Here are some metrics to bear in mind:
Impressions. This is the total number of times users see your ads. A high reach can show that your ad is memorable, and people may be looking at it again and again.
Click-through rate (CTR). This is the percentage of people who see and click on your ad. A high CTR shows that people find your ad interesting and valuable.
Cost per click (CPC). This is the average amount you pay whenever someone clicks on your ad. Ideally, this should be as low as possible.
Conversion rate. This is the percentage of people who click on your ad and carry out a specific action, like buying a product or signing up for your newsletter. A high conversion rate shows that the messaging behind your ad is on point.
Return on ad spend (ROAS). This is the revenue you earn compared to how much you spend on your paid ad campaign. The higher your ROAS, the better!
It's important to consider your goals when choosing the paid media KPIs you want to track. For example, impressions will be critical to your strategy if you want to increase brand awareness. If you want to generate leads or sales, conversion rate will be more important.
Paid Media FAQs
What is considered paid media?
Paid media is any marketing channel that you pay to run ads on. Examples of paid media channels include:
PPC advertising
Social media advertising (Facebook, Instagram, TikTok etc.)
Display advertising
Ad retargeting
Video advertising
Mobile app advertising
Sponsored content
Paid media vs SEO: What's the difference?
Paid media and SEO can be effective ways to promote your business, but there are key differences between the two.
Paid media is about paying for advertising space. While there is a cost, you can reach a large audience quickly.
SEO is the process of optimizing your website and website content so it ranks as high as possible in the search engines. While SEO is low-cost, it takes time to see optimum results.
So paid media vs SEO, which should you use? Using paid media and SEO together can be a great way to target the right audience and convert them into loyal customers.
Earned media vs paid media: What's the difference?
Paid media is paid publicity from other websites and third-party platforms, while earned media is unpaid publicity from other websites.
While the benefit of earned media is that you don't have to pay to acquire it, it can take time to get that valuable publicity. Plus, you have less control over how your content looks. For example, a journalist may amend your press release or editorial to suit a publication's brand style.
How do I build a paid media strategy?
Developing a paid media strategy makes it easier to monitor your goals and integrate your paid media with your other marketing channels. Here's what you need to consider when creating your strategy:
The target audience (or audiences) you want to appeal to
The goals you want to achieve (for example, do you want to generate leads, grow sales, or increase brand awareness)
The paid media platform (or platforms) you want to use
The budget you have in place for your campaigns
It's essential to regularly review your paid media strategy to ensure it's still relevant to your needs.
How often should you evaluate your paid media budget?
I recommend evaluating your paid media budget at least quarterly. Costs for paid media advertising regularly fluctuate, especially if you're bidding against a lot of competitors.
Regularly monitor your ROAS for each campaign you run. If your ROAS dips, you can take action to improve the situation, whether that's increasing your budget, reevaluating your keywords, or carrying out conversion rate optimization on your website.
Some paid media platforms like Google Ads offer forecasting functionality so you can see how much money you are on track to spend in the future.
Conclusion
I hope this guide has answered the question: "what is paid media?"
One final thought: If you're not using paid media to promote your brand, you could be missing out. 59 percent of companies want to increase their Google Ads budget in 2023, with a massive 84 percent increasing their TikTok budget!
Determine which paid media trends are working for brands like yours and get in the game. You can always start small, test your strategy, and eventually scale up your efforts.
How are you using paid media to promote your business?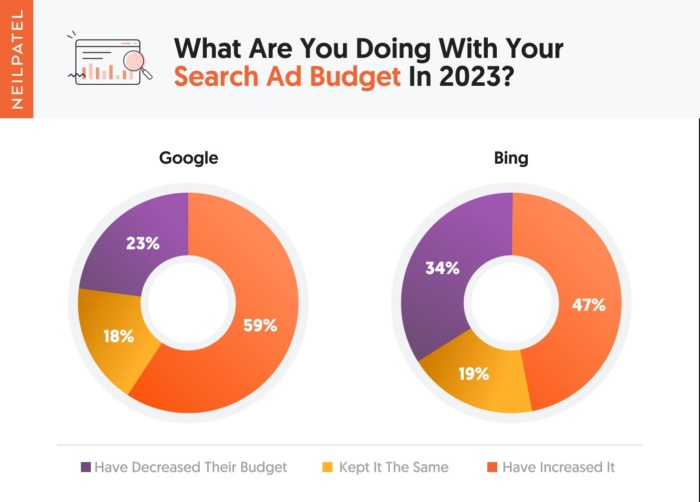 Paid media may feel like a minefield if you're not used to it. Which platforms should you be using? How do you create ads that people pay attention to? How do you manage your campaigns so you don't run out of money?
My recommendation is to create a thorough paid media strategy before you begin. This will provide you with a clear roadmap, detailing what you need to achieve and how you can use paid ads to do this.
Remember that if you don't have the confidence or time to manage your paid media or develop a solid strategy, a PPC agency can do this for you.
Do you use paid media in your organization? Which paid media platform brings you the best return on ad spend? I'd love to hear your thoughts in the comments!
Source link