Reverse Video Search Guide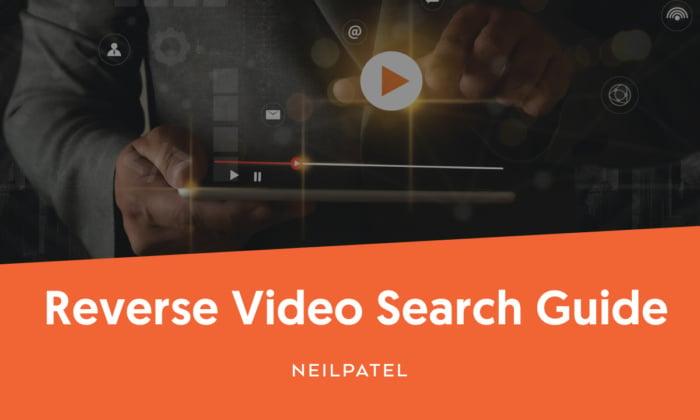 Are you unsure about the source of a video? Or perhaps you're looking for similar niche content? Then I've got the perfect technique for you.
It's called "reverse video search."
This is where you search by video to see where it originated from. Why would you want to use it?
The feature has several benefits, which is what I'm discussing today.
I'll also talk you through some of the reverse video search tools you can use to simplify the task.
Read on to find out how to do a reverse video search online.
What Is Reverse Video Search?
The first step in looking for something online is usually a keyword search. However, that often doesn't help if you're searching for an exact video source.
Say you've seen a viral video clip doing the rounds on social media. Everyone's talking about it, and you want to share it on your blog. However, you want to watch the entire video first, just for context.
Enter reverse video search.
You enter a screenshot from the video and the tool you're using, like Google Images, scans the internet looking for similar content. Your search returns the source and related videos.
It's not all good, though.
This technique doesn't work every time. For instance, if part of the video changes, the video might not get picked up during a reverse search.
Why Reverse Video Search Is Useful
There are several reasons you'd want to do a reverse video search, like finding the source, looking for duplicated content, or protecting your brand reputation. Let's discuss this in more detail.
Source Video Content
People love video content, and as research by Wyzowl shows, business owners get that. A whopping 92 percent of marketers surveyed say video provides a good return on investment.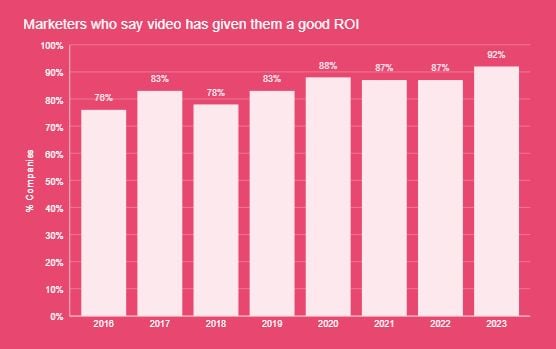 That's probably why 91 percent of businesses use video marketing. Then there's the 30 percent who would like to use it but don't have the time.
A reverse video search solves that problem by finding related videos in your niche to share with your audience if you don't have time to create your own content.
Once you've sourced the content, you can verify ownership and accuracy and attribute it to the creator.
Look for Duplicate Content
When you search by video, you can find if anyone is using your content without permission, infringing your copyright. You can then ask the person who published it to attribute it correctly or file a copyright infringement report with Google.
Take popular YouTuber Ze Frank for example, he has over four million subscribers and became well-known by adding amusing commentary over existing wildlife videos. To avoid copyright infringement laws, he is careful to attribute his sources correctly: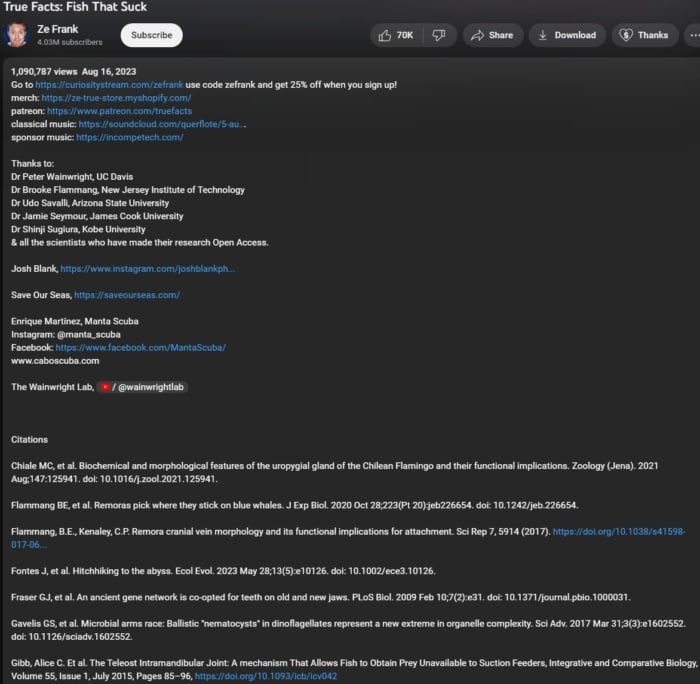 Protecting Your Brand
Protecting your brand is another reason to look for duplicate video content. If there's unauthorized use of video or it lacks context, then that potentially damages your reputation.
Find the Full Version of a Clip
Sometimes, when you find a video online, you just see an edited clip; that's often the case on social media.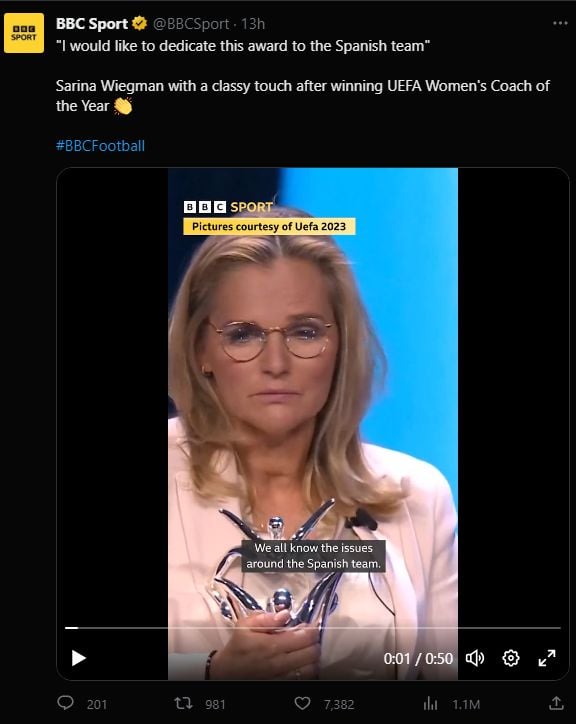 However, you might decide it's worthwhile looking for the original creator to verify authenticity and for context.
When you get the extended content, you better understand the video and its intended messaging. Then you know you're not sharing misinformation, which 95 percent of Americans identify as an issue.
Additionally, by accessing the extended content, you gain more insight, and you can use it to create a new angle around the video.
Find More Content
Publishing multiple videos on the same topic makes sense.
If your video content is proving popular, you can give your visitors different perspectives by doing a reverse video search for further content from other sources, such as related blogs or web pages.
This can help you identify trends, discover new content ideas, fuel your inspiration, and find opportunities to differentiate your brand.
Sharing multiple niche videos is also crucial for engagement. If you can give your audience more of the content they love, they have more reason to stay on your site and explore your other videos.
Additionally, you can compile multiple niche videos into a playlist or collection of videos.
How To Perform a Reverse Video Search
You can use Google, Bing, or Yandex search engines for a reverse video search. The following section explains how to do a Google reverse video search.
1. Begin with a screenshot from the video.
Here's an example from a case study about my landing page: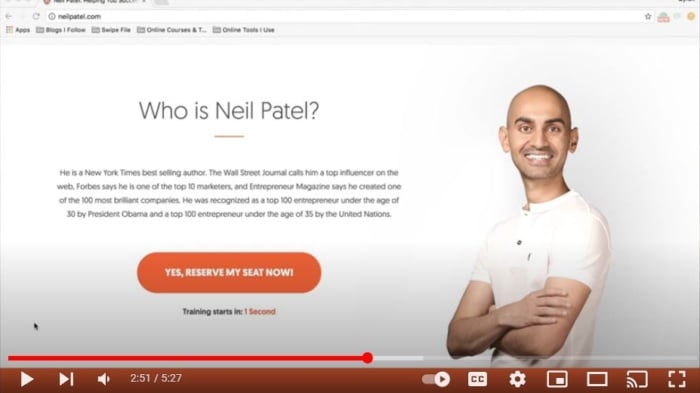 2. Next, go to Google Images, click the "search by image" icon in the search bar (shown below), and upload the screenshot you saved of the video frame.
3. Upload the saved screenshot of the video frame. You may need to resize corners to expand to the full image.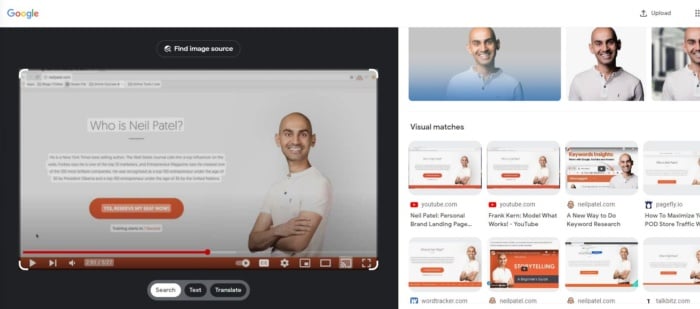 4. Click "find image source" at the top of the page to get a list of results.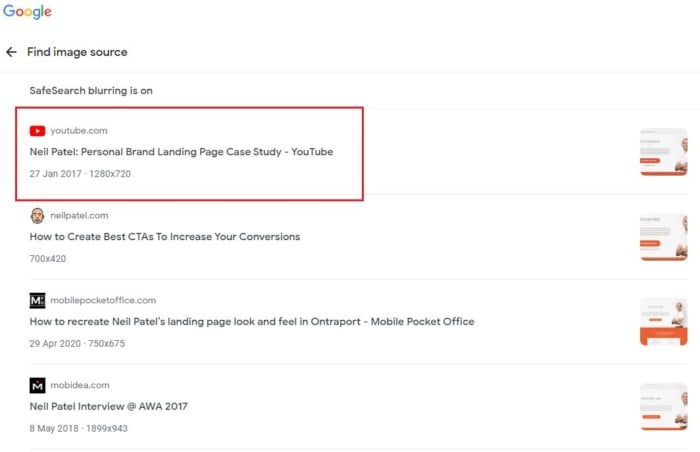 From this example, you can see the benefits of reverse search. It shows the original source but also other related content that can be helpful if you're searching for inspiration about content creation or further details about the context of the reverse search.
Reverse Video Search Tools
Aside from Google's reverse video search tool, there are several options you can use to help you out.
TinEye: If you're looking for videos related to a specific image, check out TinEye. It's a popular reverse image search engine with a library of 61.9 billion images. Upload an image, paste in a URL, drag and drop, or add to Chrome to get results.
Yandex Image Search: Like Google, the Yandex search engine features a reverse image search tool. Just upload an image to look for similar videos.
Bing Visual Search: You can perform a video reverse search to find related videos. Other options include dragging and dropping an image, taking a photo, or pasting an image or URL. You can also click "browse" to upload a video or enter a search term in the "Find an Image" box.
Reverse Image Search by SmallSEOTools: This site offers a selection of tools, including a reverse image search tool. It uses Google's image search API, and you can find similar videos by uploading a picture, providing an image URL, or entering a keyword. There's a free option or a pro package that allows multiple uploads. Prices start at $9.89 monthly.
DupliChecker: This reverse image search tool uses Google's image search API to help you find similar videos. You can upload an image, search by URL, or by keyword.
FAQs
What is a reverse video search?
A reverse video search allows you to find the source of a video.
Rather than using search terms to find information online, you're giving a search engine or tool a video to look up. They then become a video source finder, meaning the search engine or tool trawls its database for an image match.
How does Google's reverse video search work?
With reverse video search, Google uses algorithms to check images and audio from the video. It'll then search the internet to find matches or similar content.
What are some common uses for reverse search?
Use reverse video search to find the source of a popular video, to get the full-length video for context, accuracy, and quality, or to find related content. As a content creator, you can also use it to find duplicate content or to find out if others use your video content without permission.
Is reverse video search available on all search engines?
No. Reverse video search is available on Google, Bing, and Yandex.
Are there any limitations to reverse video search?
Oh yes. Reverse video search won't deliver results every time, especially if you're working from a low-quality video, it's a recent video and not in the tools/search engines database, or if there are editing/alterations.
Can a reverse search video help my video SEO?
Yes, you can use this technique to help your video SEO.
First, you can find competitors' videos and see how they use them in their content strategy. 
Additionally, you can use a reverse video lookup search for backlink discovery, finding out who's embedded your video, and keyword and metadata optimization by analyzing keywords others use.
Conclusion
If you've ever wanted to find the source of a stunning piece of storytelling or a viral clip, a reverse video search can be the answer.
Whether you're using Google's advanced image search or a dedicated tool, you can often find the source of a video super-fast.
You could use a video reverse search for several reasons, like finding the creator to attribute it to the source. You can also use it to check for duplicate content or to see the full video and understand the context of a video before sharing.
In addition, a reverse video search is an excellent way to boost your video SEO by helping you with backlink discovery and finding competitors' videos for strategy inspiration.
Do you use reverse video search? Which tool do you recommend?
Source link