How to Track Your Google Keyword Rankings
An unmonitored SEO campaign is a half-finished one. Tracking your Google keyword rankings is vital if you want to determine if your SEO efforts are heading in the right direction.
Continually ranking high for your target keywords proves that your content resonates with your audience and that the SEO tactics you implemented have been successful.
More importantly, it also means that you're pulling in plenty of traffic.
There are two ways to track your Google keyword rankings:
Using an SEO tool
Going about it manually
I'm going to explain both methods in this guide.
But first…
Why Should You Track Your Keywords
Tracking your keyword rankings is essential for assessing your SEO performance, gauging your online visibility, and conducting competitor analysis.
By determining the keywords that are pulling in the most traffic, and the ones that aren't, you'll be able to identify areas of your SEO strategy that need adjusting.
However, tracking your keywords is useful for a whole host of other reasons, including:
Identify emerging and existing trends
Web users' interests and search trends can fluctuate dramatically. As a by-product of this, so too can your keyword rankings.
You'll need to track your rankings to keep on top of these emerging trends.
In addition, analyzing your keyword rankings also helps you determine the current popularity of a specific topic.
If you're finding that one of your target keywords is performing particularly well, then this is a good indicator that you should create more content around the topic.
On the other hand, if you find that you're not ranking very well for one or more of your target keywords, then you'll need to figure out why.
Some reasons for this could include:
Past saturation — If the keyword you're focusing on is no longer trending or in demand, it could be that people are no longer actively searching for it.For example, imagine you're running a sports website, and you've been focusing on the keyword "Super Bowl". It's great for attracting attention when the big game is approaching, but interest drops once the Super Bowl is over. This means fewer people are searching for Super Bowl-related content outside of the event, which would lead to a decline in search activity.
Seasonal fluctuations: Some keywords experience shifts in popularity based on the time of year or seasons. For instance, keywords related to Christmas or summer will naturally see variations in search volume as the seasons change, which can affect their performance.
Competitor analysis
When you monitor your keyword rankings, you can identify which websites and competitors are ranking for the same keywords you're targeting. This information provides valuable insights into the competitive landscape within the SERPs.
If you notice that many well-established and highly authoritative websites are vying for the same keywords you're targeting, then attempting to rank for those keywords could pose a significant challenge.
Comparing your keyword rankings to that of your competitors will allow you to benchmark your own performance against theirs. You can see where you stand in comparison and make necessary adjustments to improve your rankings and overall SEO strategy.
ROI measurement
Keyword rankings correlate with website traffic, conversions, and revenue. So, by cross-analyzing your rankings with your conversion and traffic data, you can determine which keywords are working well for you, and the ones that aren't.
In short, it gives you a full overview of whether or not you're getting a good return on investment (ROI) from the keywords you're targeting.
Content Optimization
Tracking your keyword rankings will enable you to pinpoint the pages that are performing well and the ones that aren't. If you find that certain keywords are ranking poorly, then it may be due to the content on the page.
If this is the case, you'll need to conduct a thorough content audit to pinpoint areas that require improvement. When analyzing your content, you should pay attention to the following:
Content quality
Thin, or low-quality content can negatively impact your chances of ranking. You need to ensure that your content is well-written and provides substantial value to your readers.
On top of that, avoid keyword stuffing. This will lower the quality of your content and deter your audience.
Your goal should be to craft content that's so captivating it keeps your audience hooked and eager to stay on your page for longer. This will reduce your bounce rate which is just one of the user experience signals Google uses to evaluate the quality of web pages.
If your page has a high bounce rate, well, this ain't a good signal to Google and as a result, you will rank poorly for the keyword that the page is targeting.
Keyword relevance & search intent
To rank well for specific keywords, your content must align seamlessly with the search intent behind those keywords. If your content doesn't directly address what users are searching for, then search engines like Google won't consider it a relevant result.
Based on the use of the keyword, search engines can normally determine the search intent behind a keyword and match it up with search results accordingly.
So, always remember, it's not just about the keywords you target, but how well your content satisfies the user's query.
For example, consider a scenario where someone searches for "best laptops for gaming". This query clearly indicates that the individual is searching for information about gaming laptops, including reviews, specifications, and recommendations.
However, if I've created a page for the keyword "best laptops for gaming," but the content on the page offers only basic information about general computers and programming languages, it creates a significant disconnect between the user's search intent and the actual content. This would lead to a poor user experience.
Users are likely to bounce off the page and search for information elsewhere.
With that said, how do you go about determining the search intent behind a keyword?
Well, there are four main types. These are:
Informational
Navigational
Transactional
and Commercial.
Some search terms are easy to categorize. For example, keywords that start with "what…" are normally informational, while search terms that start with "buy…" are normally transactional.
However, there may be instances where figuring out the search intent becomes a bit more challenging. In such cases, I highly recommend using Semrush's Keyword Overview tool to assist you in understanding the intent behind any keyword.
Here's how to use the tool. Click on "Keyword Overview" from the main menu: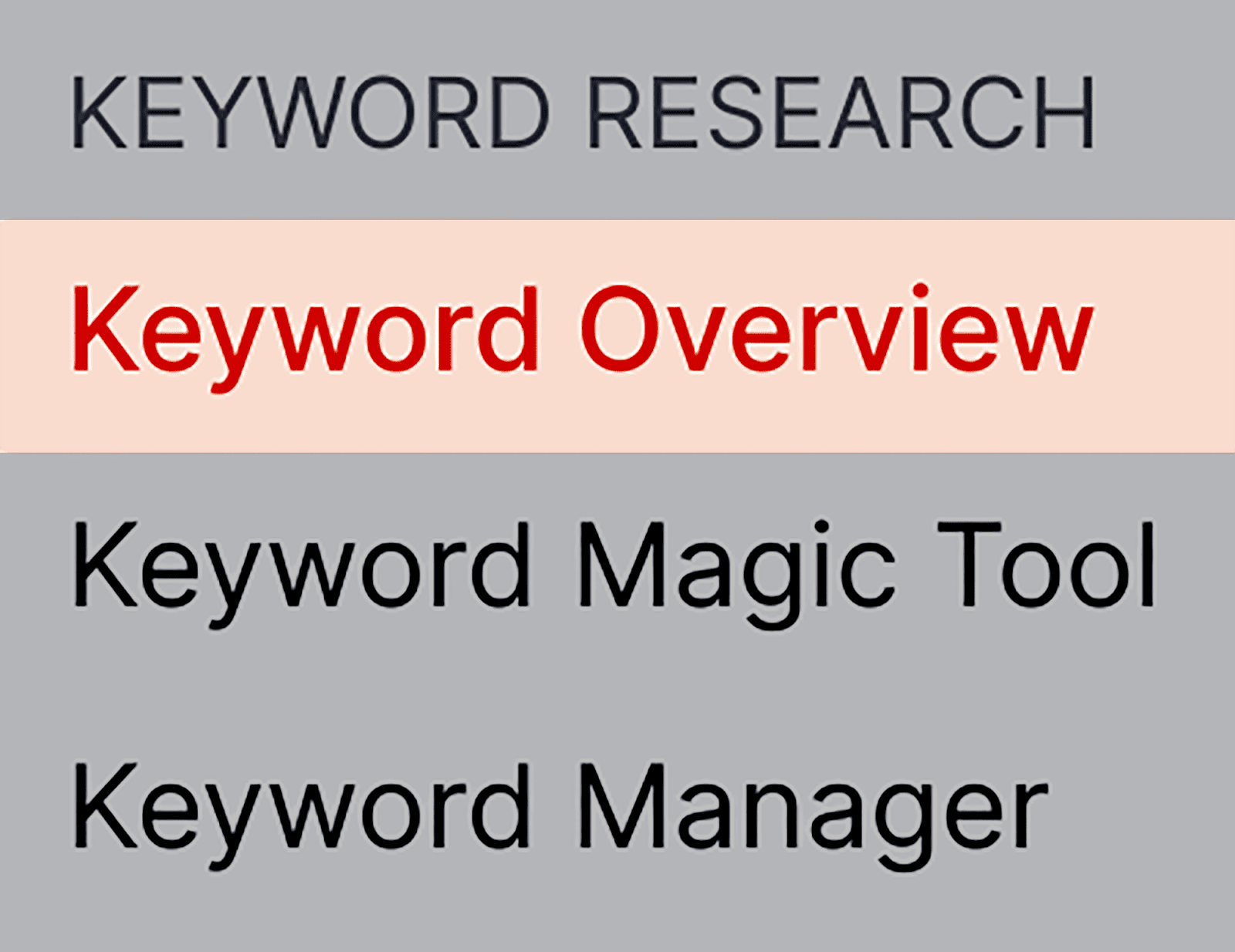 …and enter your keyword. For example, Paleo diet: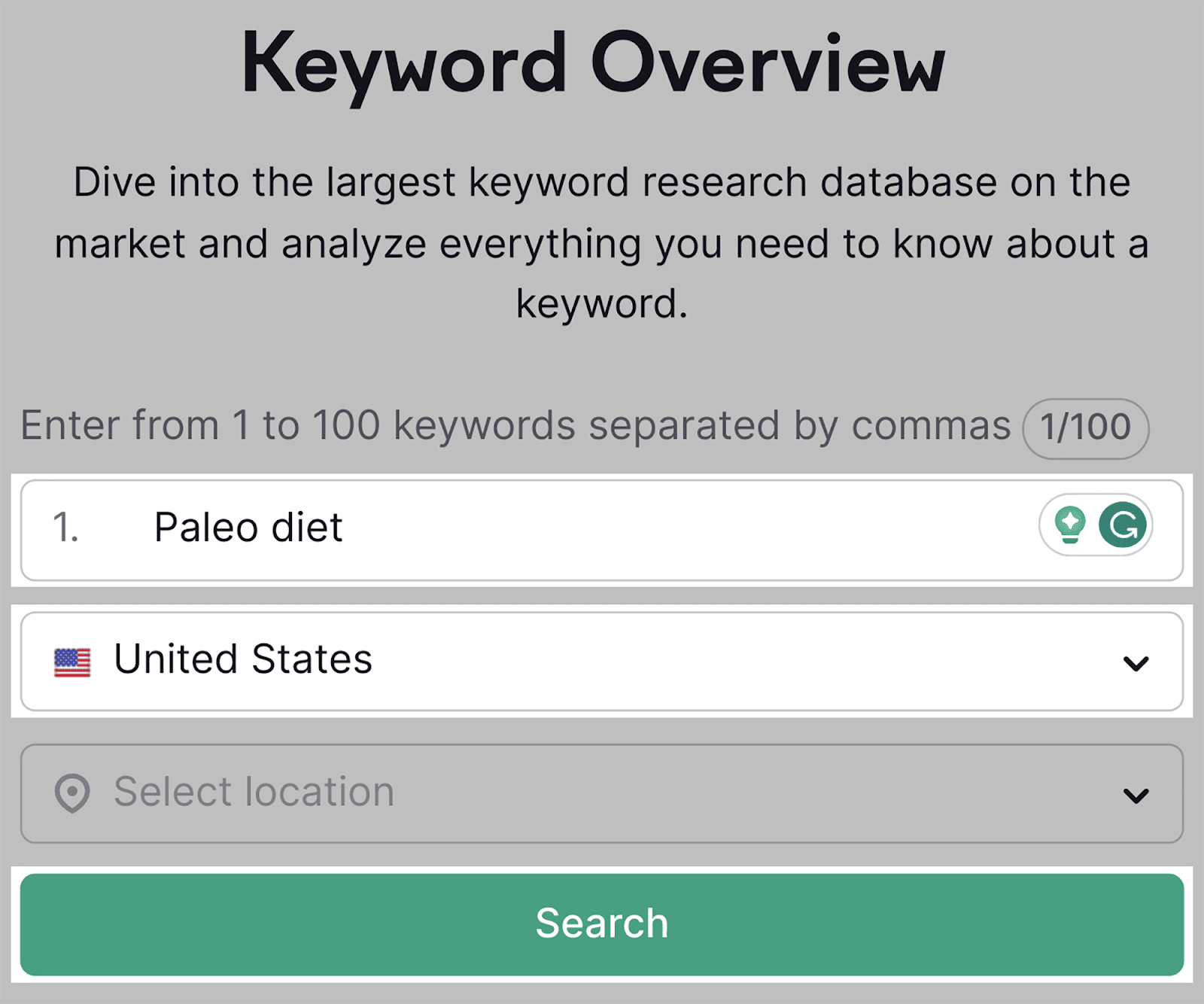 Once you hit "Search", you'll be given an overview of the keyword – which includes its search intent: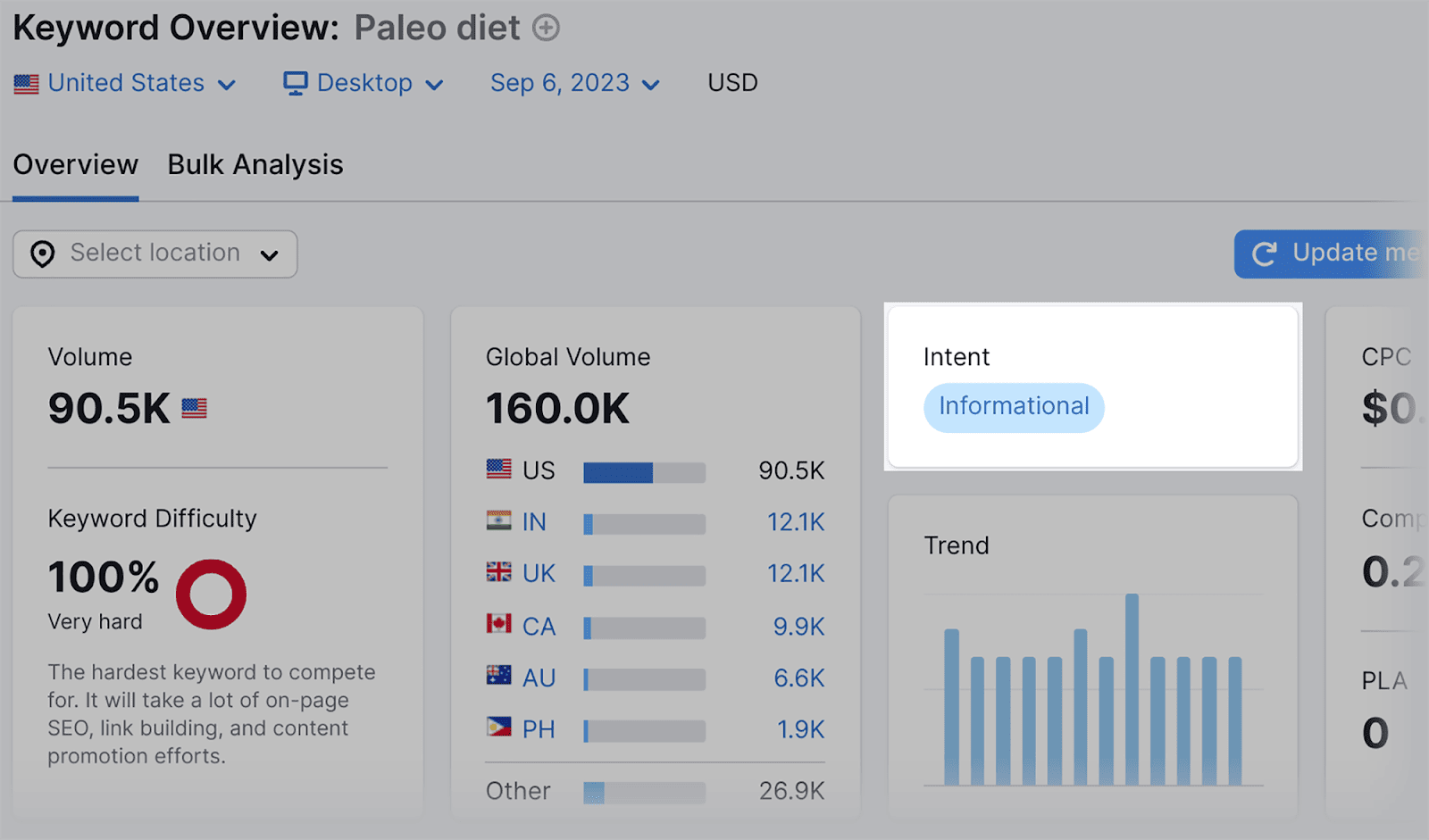 As you can see, Semrush indicates that the intent behind this keyword is informational. This means users are likely looking for information about the paleo diet such as what is the paleo diet, how it works, etc.
Local and International SEO
Local SEO
Local SEO is focused on optimizing your online presence to attract customers in your local area.
Here's why it's essential to monitor your keyword rankings for local SEO:
Local visibility — By tracking your rankings, you can make sure your business shows up for the right local search queries. In short, if somebody in your area searches for a product or service you offer, you want to make sure you show up in the top results. This will significantly increase the likelihood that potential customers will choose your business over competitors.
Competitor analysis — By monitoring your local rankings, you can gain insights into your competition. That includes finding out who your competitors are, what keywords they're targeting, and how you fare against them.
Performance measurement — Tracking rankings lets you measure how effective your local SEO efforts are. Without tracking, it's difficult to determine what's working and what isn't. The insights you gain will allow you to identify which local keywords are driving the most traffic and conversions.
International SEO
International SEO is all about extending your online presence to a worldwide audience.
If your website serves audiences in multiple regions, then tracking your keyword rankings in each region becomes essential. It ensures that you are effectively targeting the appropriate keywords and optimizing your content to resonate with each unique audience.
On top of that, tracking your rankings can provide you with valuable insights into the level of competition and the potential for success in your target markets.
When a Google algorithm update occurs
Your keyword rankings will have minor ups and downs on a daily basis. But there are times you'll see huge dips or spikes. In those instances, chances are Google rolled out a major update to its algorithm.
Google updates its algorithm over 500 times per year. This means that some days witness more than one algorithm update.
But not every algorithm update is going to affect your rankings. So, you'll need a tool to alert you when your rankings have been negatively affected.
Semrush has a handy tool called Sensor which tracks Google algorithm updates on your behalf. Not only that, but it compares these updates against your website and provides you with a volatility score.
This 1-10 score lets you know how volatile your website is to Google's frequent updates.
If your score is on the higher end of the scale, I'd recommend analyzing your keywords to see if you've suffered any real losses.
To set this up, click on "Sensor" located in the left-hand menu: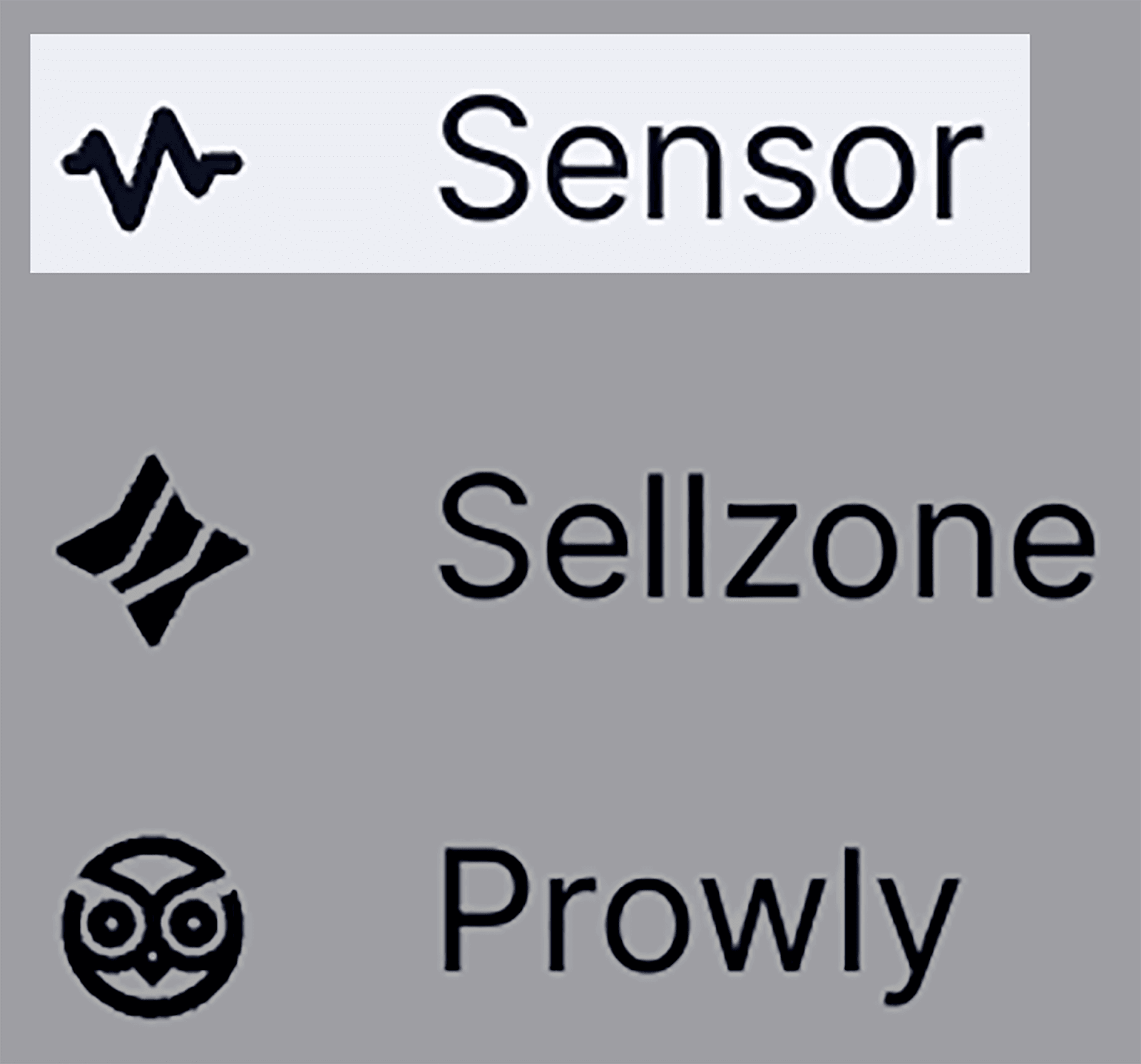 Once you set up your domain on Sensor, the dashboard should look like this: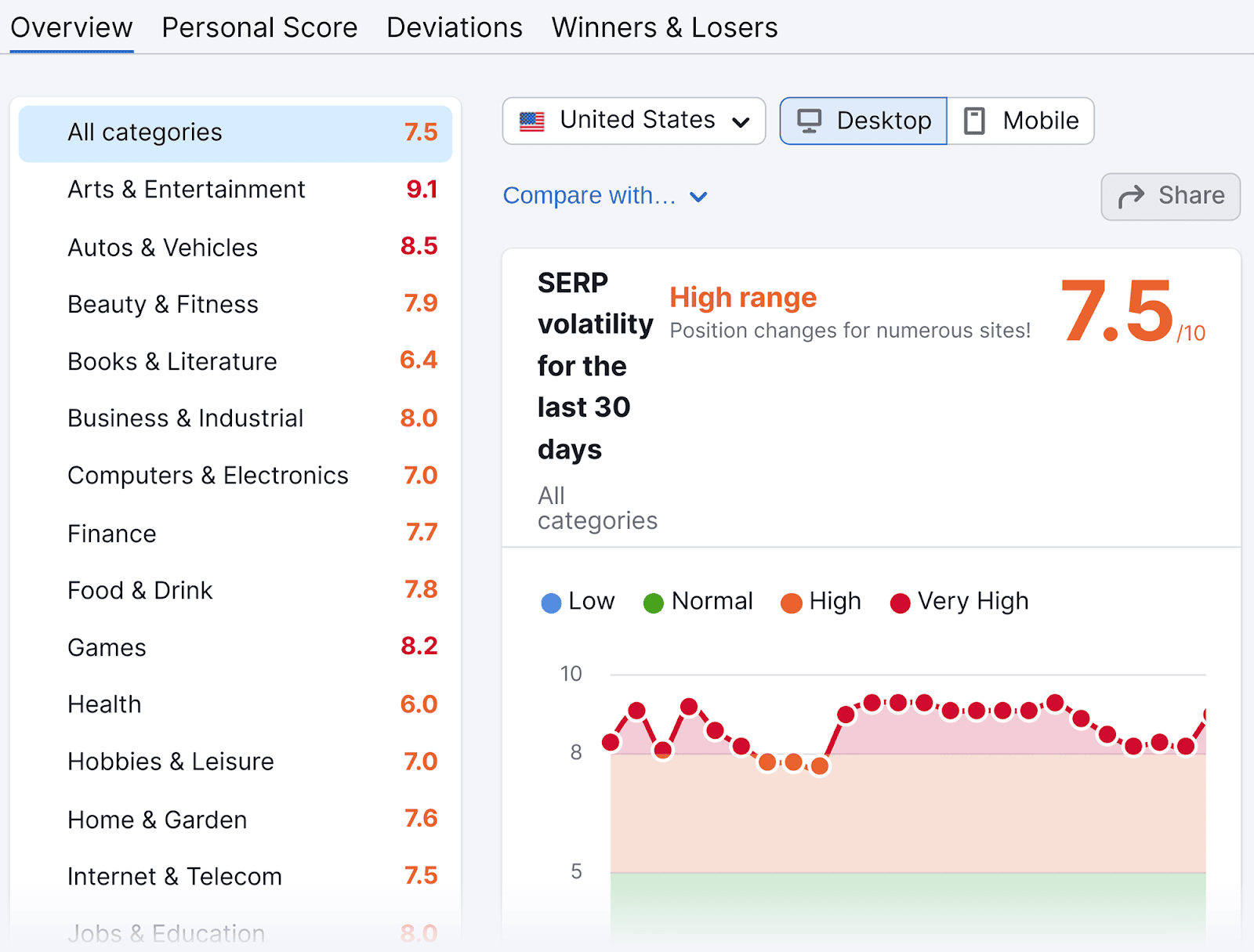 Next, click on "Personal Score":

Then, select your domain name from "Projects". Once selected, you'll be able to review your domain's volatility over the last 30 days: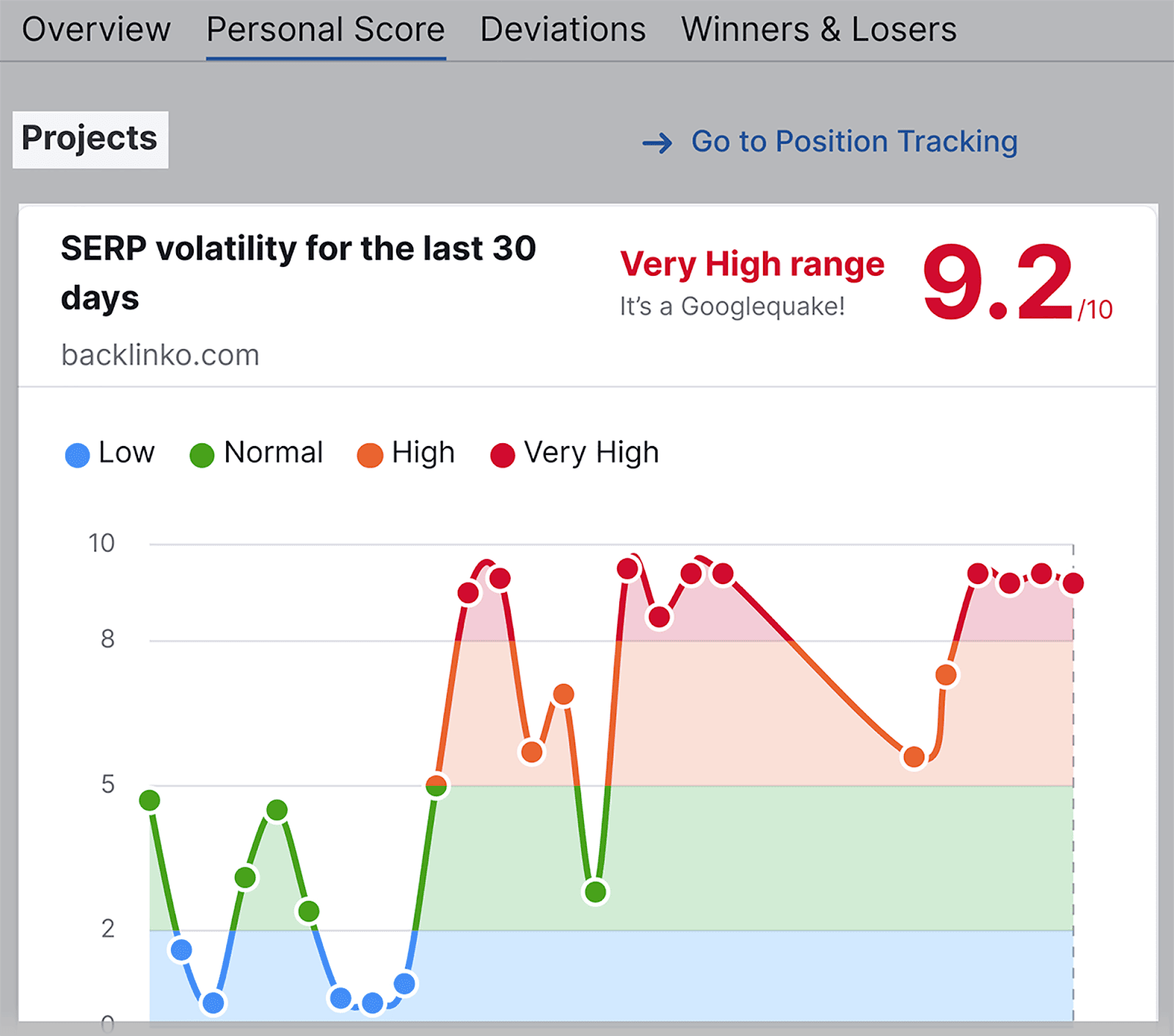 As you can see, my site has a low volatility score of 0.5, meaning there's a low chance of my rankings significantly fluctuating.
How to Track Your Keyword Rankings on Google
When it comes to tracking your keyword rankings on Google, there are two main methods I'd recommend: using SEO tools such as Google Search Console and Semrush, and the manual method.
The manual method
Being the most straightforward and obvious method, it makes sense to cover the manual method first.
The manual method involves analyzing the SERPs yourself and determining where your pages rank for specific keywords.
However, despite how "easy" it is, many people still carry out this method incorrectly.
You may think that all you have to do is head to Google and type in your keyword. For example, here's what happens when I search for "what are backlinks":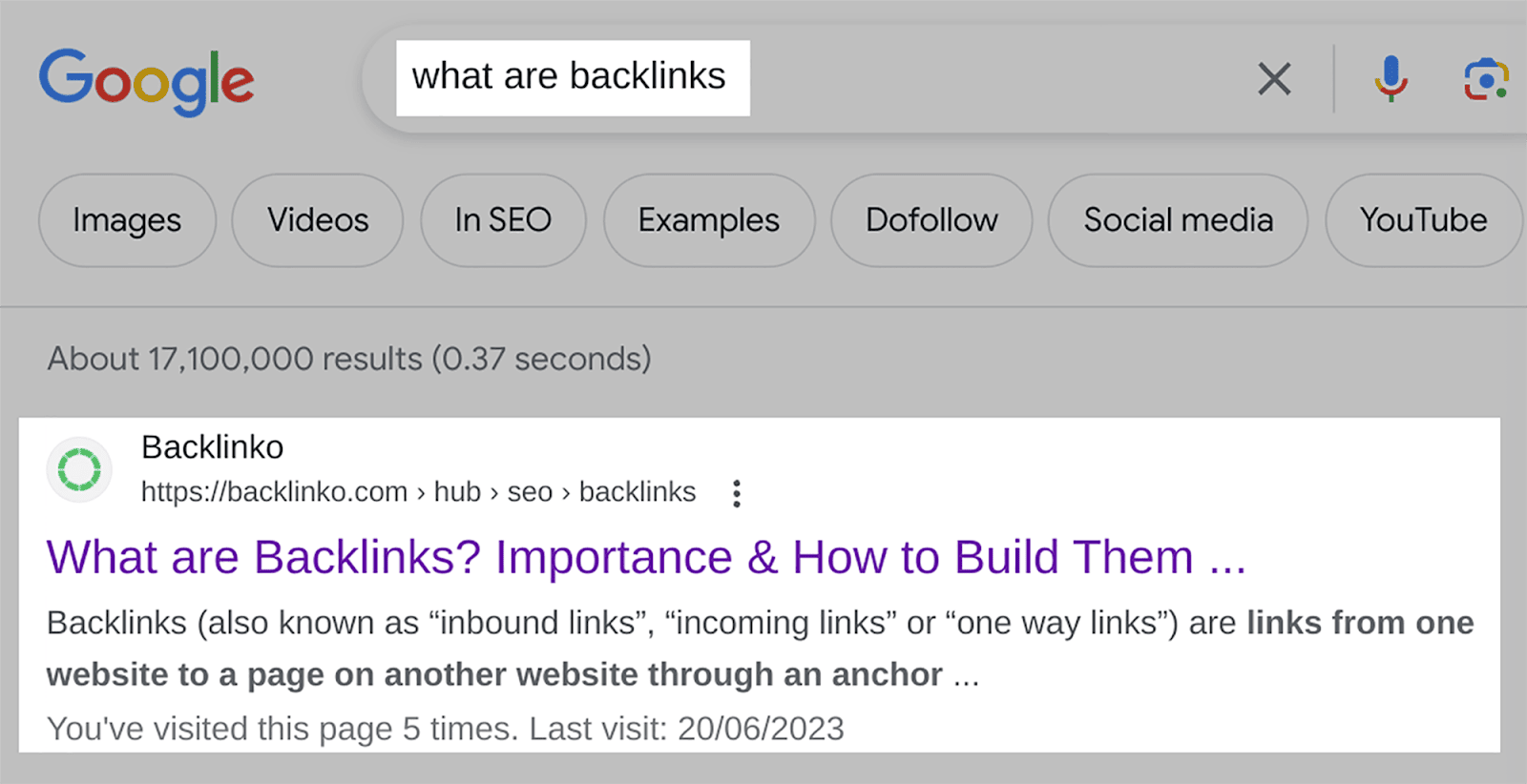 From this, it looks as though I am currently in the #1 spot for the keyword, but am I really in the number 1 spot?
While these results provide you with some insight into how you're ranking on Google, it's important to note that these results are not necessarily the results the average Google user will find.
Here's Google's reason why your search results may be different from someone else's: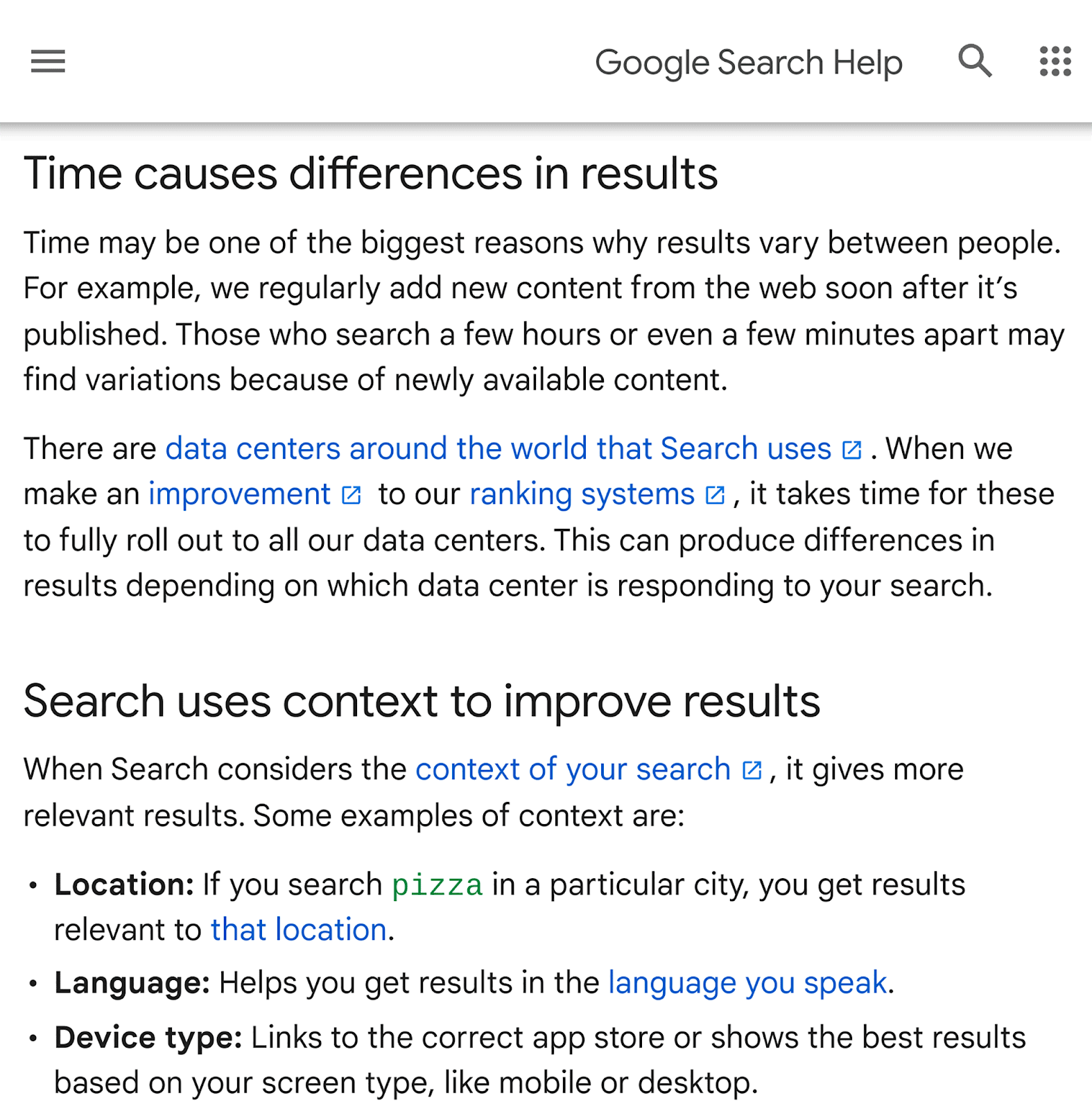 So, while location, time, language, and device type may directly impact the search results the average Google user sees, the results can also be impacted by their search history.
To view the SERPs in their most unbiased form (i.e., SERPs unaffected by the user's search history), you'll have to perform a Google search in private mode.
To do this, you have to first open up either an "Incognito" or a "New Private Window".
Then search for a keyword that you want to check where you rank for.
For example, let's search for "backlinks":
This is where Semrush actually ranks in the SERPs (#3 position), given that I'm currently searching in Incognito mode.
Now, look what happens when I search for the same keyword in regular browser mode: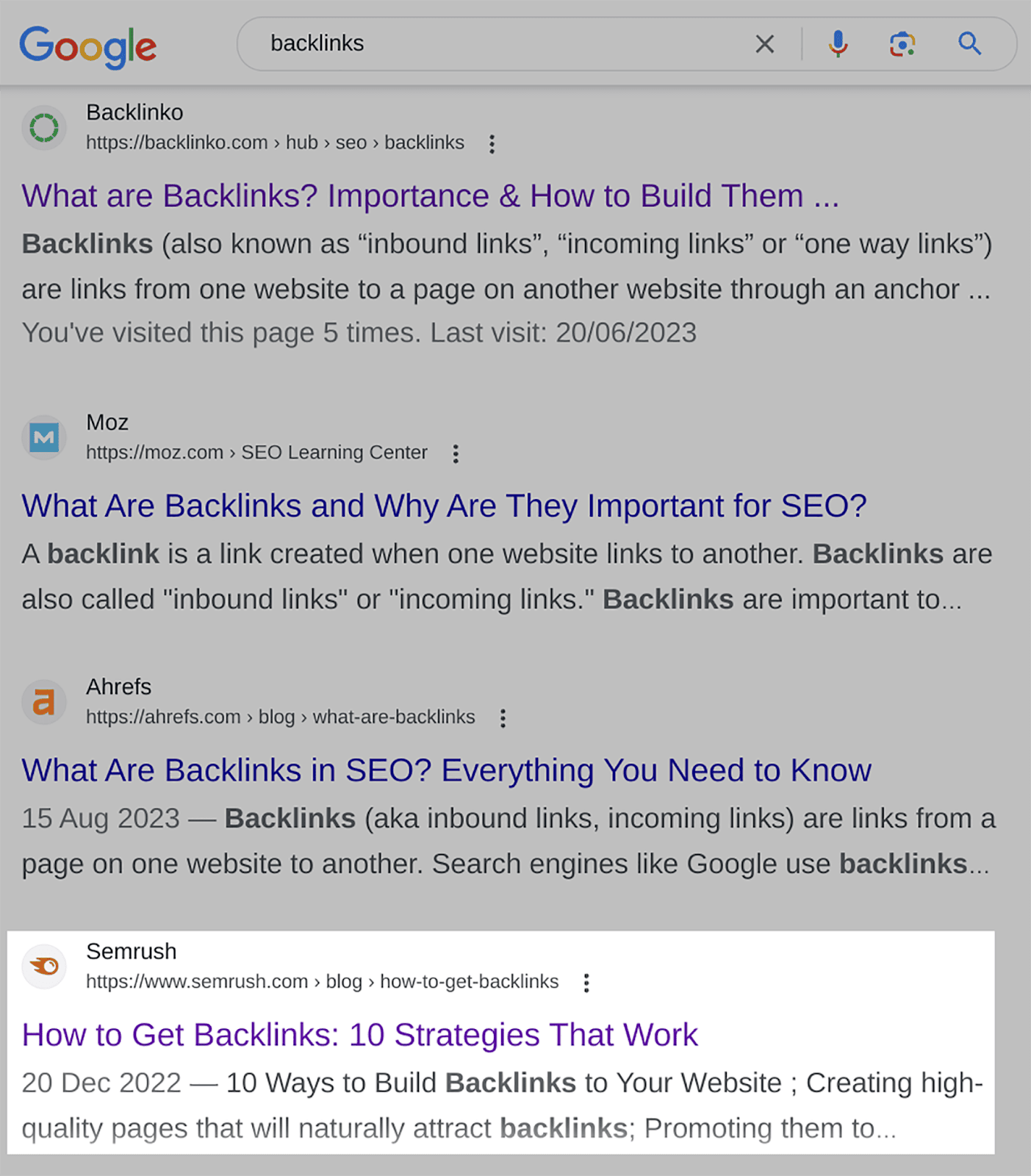 …Semrush has dropped to 4th position.
You may notice major adjustments to the SERPs that appear. Or you may see no adjustments at all. Either way, you'll gain a clearer picture of the SERP positions when using Incognito mode.
This is because Google doesn't track your search history when in Incognito mode. This means your search history can't manipulate the results that are presented to you.
Therefore, when using the manual method, I'd recommend always using Incognito mode to give you more accurate readings.
However, I wouldn't recommend using the manual method every time you need to find out your current keyword ranking position.
If you have a new website with only a handful of target keywords, sure, the manual method makes sense. But, if you're dealing with a large site containing hundreds of target keywords, the manual method would be too time-consuming to carry out.
For more accurate and efficient tracking, I'd recommend using either Google Search Console (if you're on a budget) or Semrush.
Tracking Your Keyword Rankings with Google Search Console
Using Google Search Console (GSC) to track your keyword rankings is way faster than the manual way.
Plus, if you don't have the budget for an external SEO tool (such as Semrush) I'd recommend using GSC as it's free.
Before you can use the tool, you'll need to make sure your site is set up. I've got a guide on how to get started on GSC if you don't know how. Remember, once you've got everything set up, you'll need to wait approximately 30 days to accumulate enough data.
Once sufficient data is gathered, click on "Search results", which you'll find in the "Performance" section: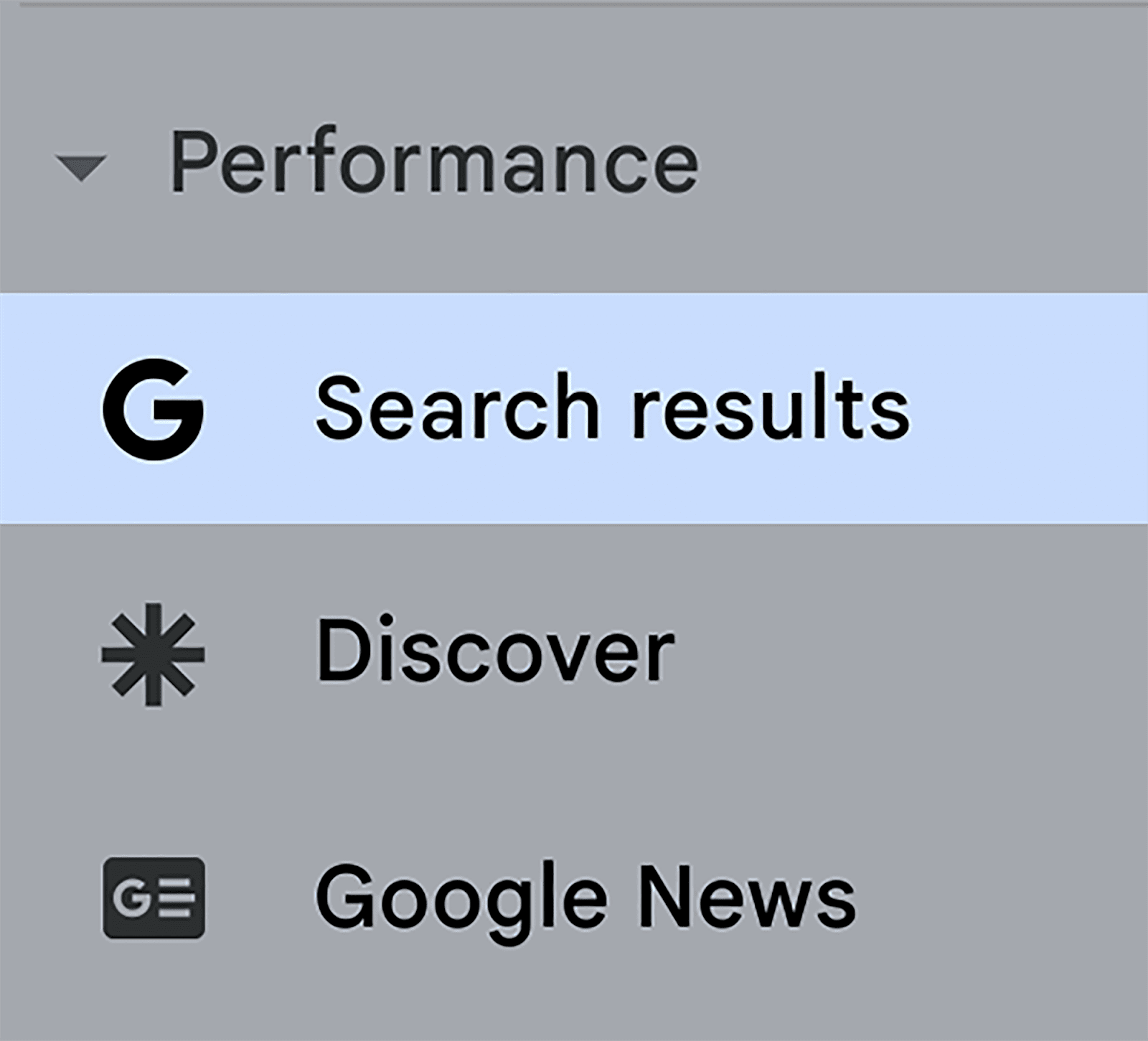 Next, click on "Average position":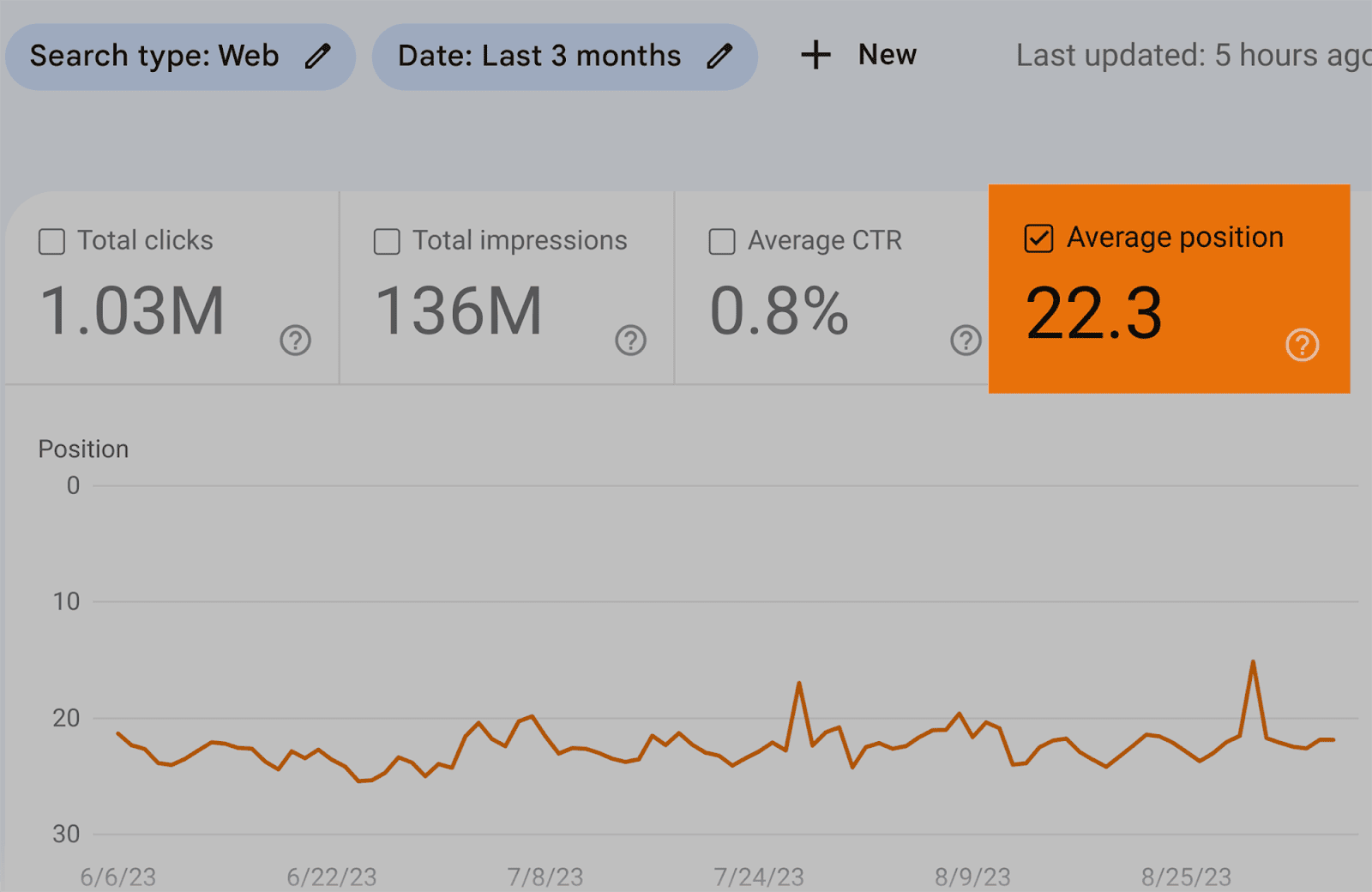 The Average position shows you roughly where your domain appeared for specific search terms within your chosen timeframe.
If you scroll down, you'll see a table below. This table will be preset to "Queries", which will show you the keywords your site is ranking for and their average positions: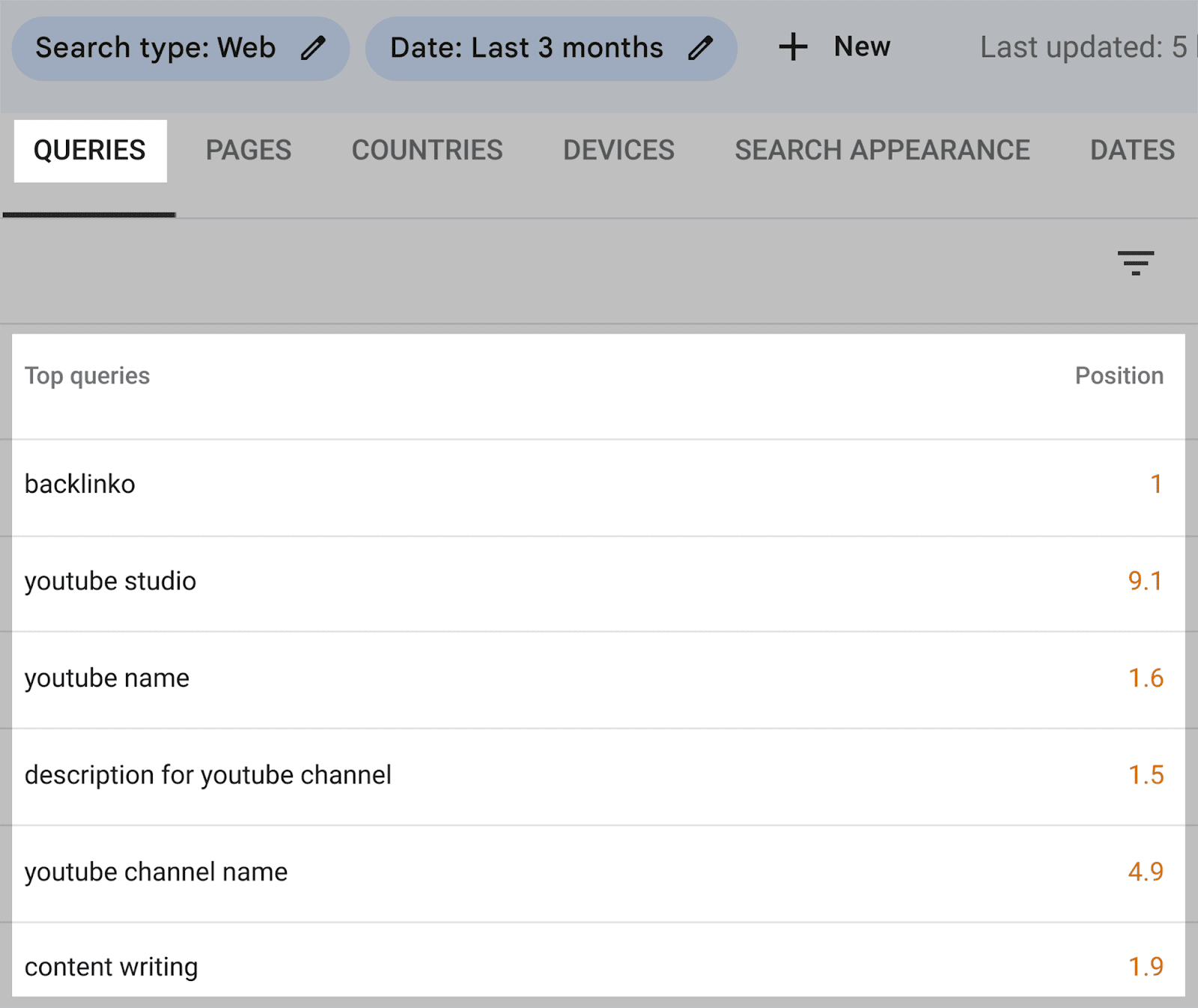 If you click on a specific keyword, for example, "content writing":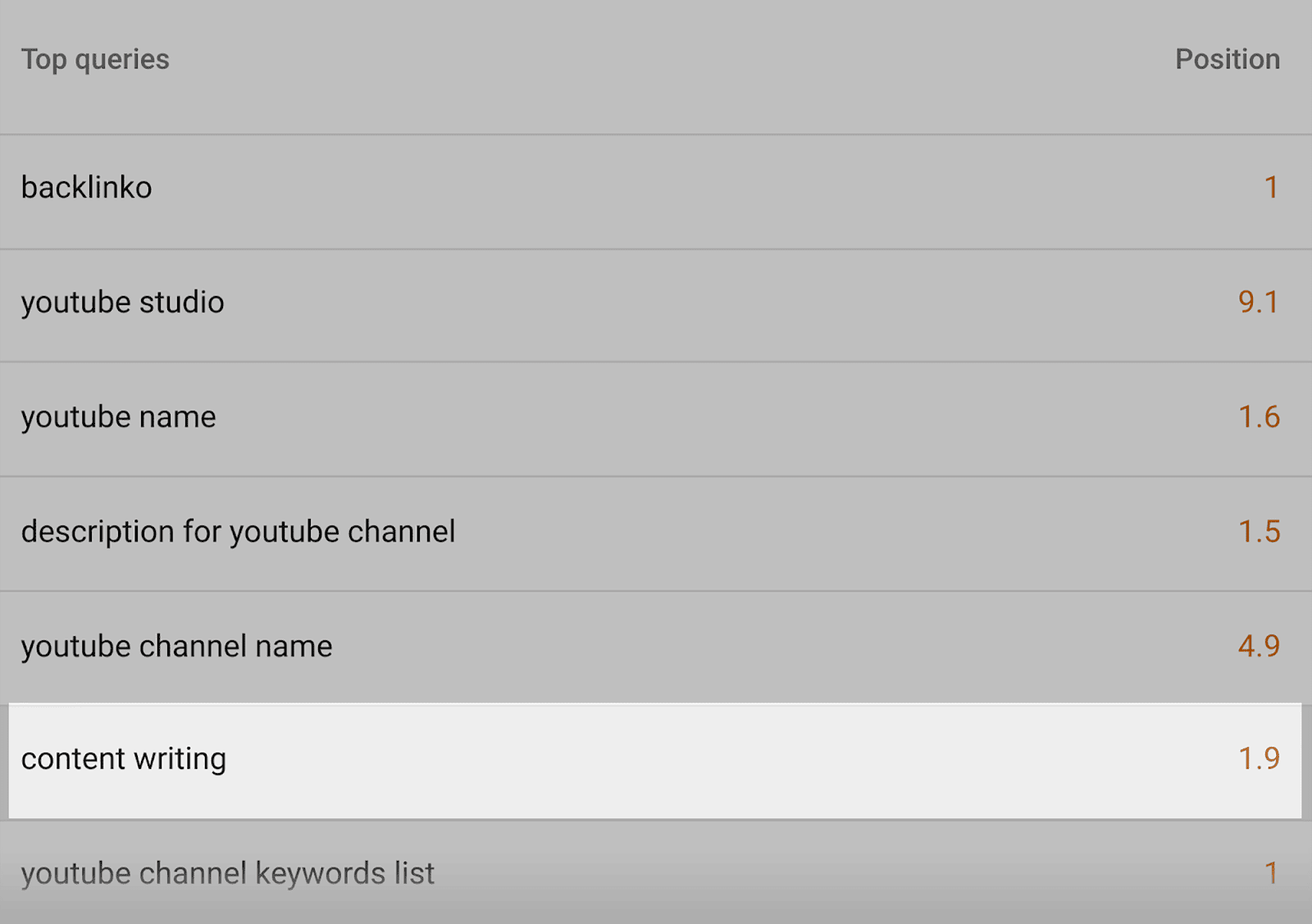 The line graph will display your keyword ranking history over the past three months.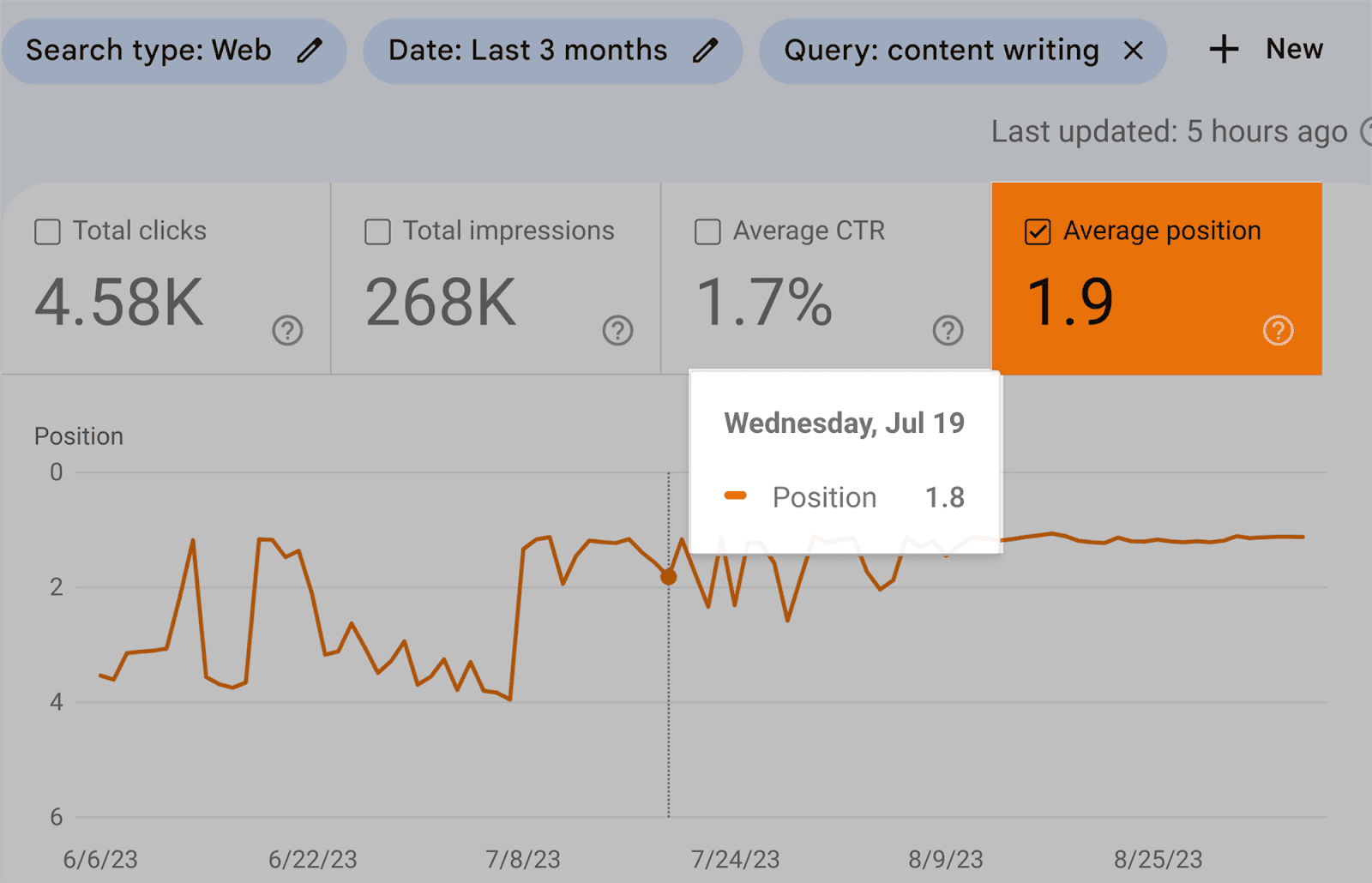 If you'd like to adjust your dates, click on the "Date: Last 3 months" option: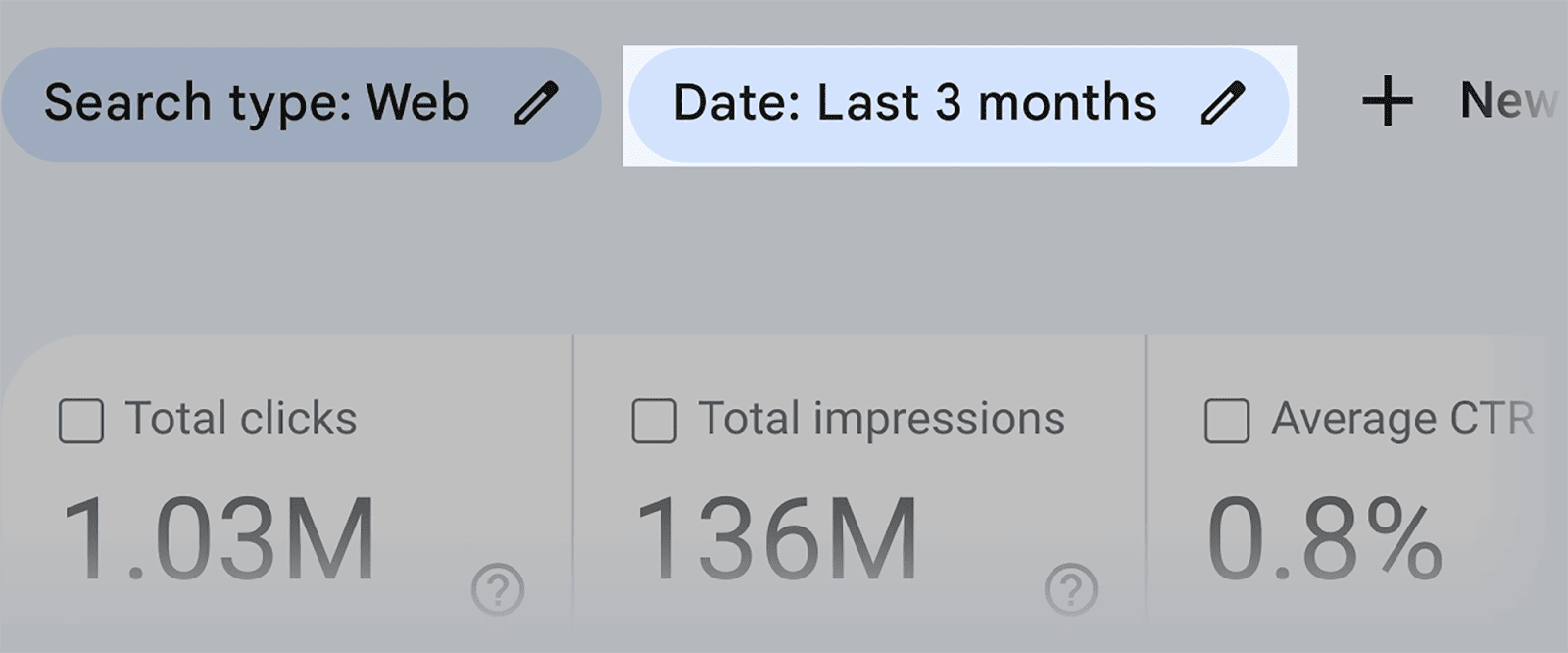 This will give you a few date range options to choose from:
If you click on the "Compare" tab, you'll be able to compare your rankings with the previous period's rankings. For example, I'm going to compare the last 3 months with the previous 3 months: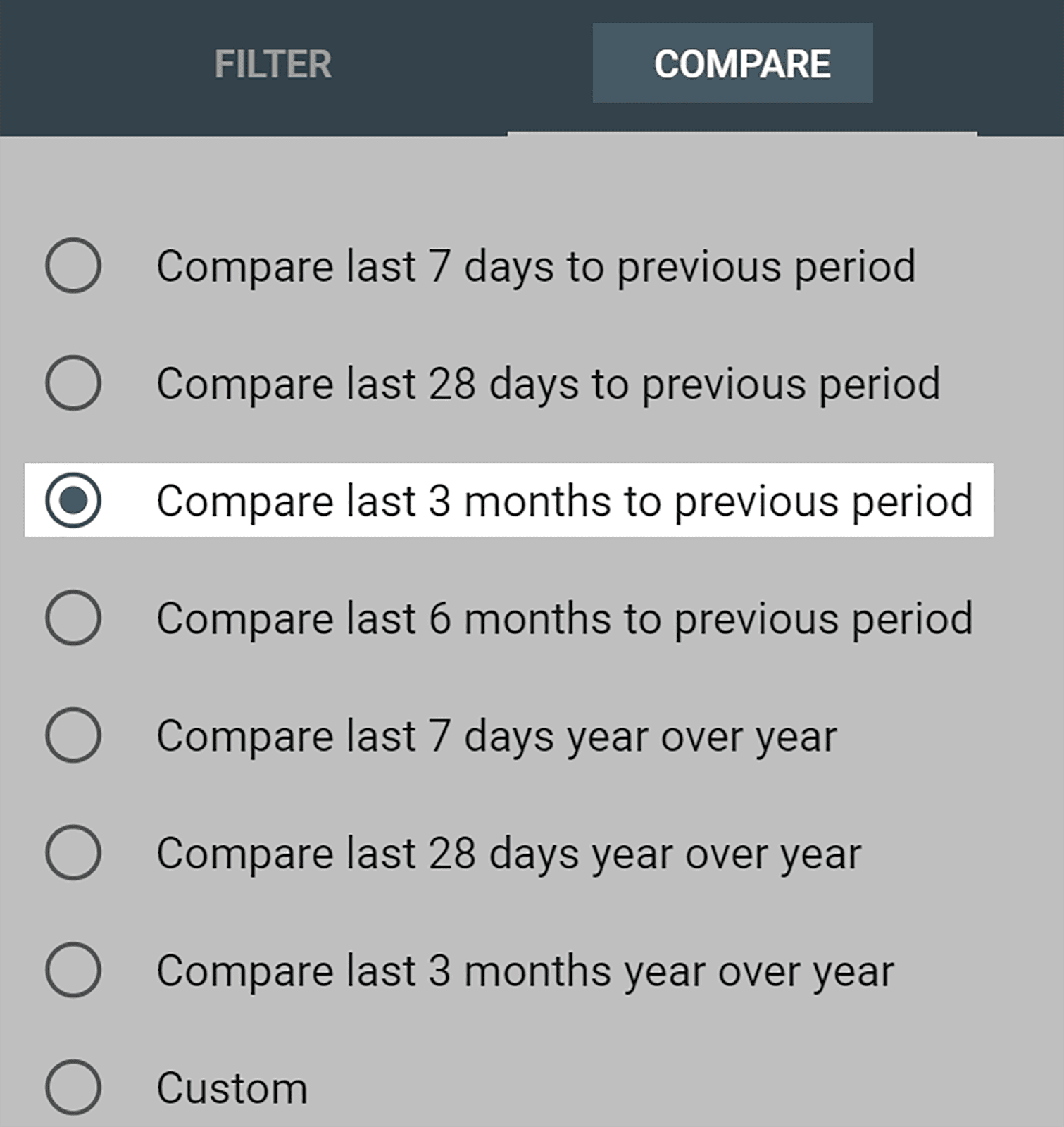 After you click apply, you'll be able to compare the two date ranges. This will give you a clearer picture of how your rankings have either improved or declined during that specific timeframe.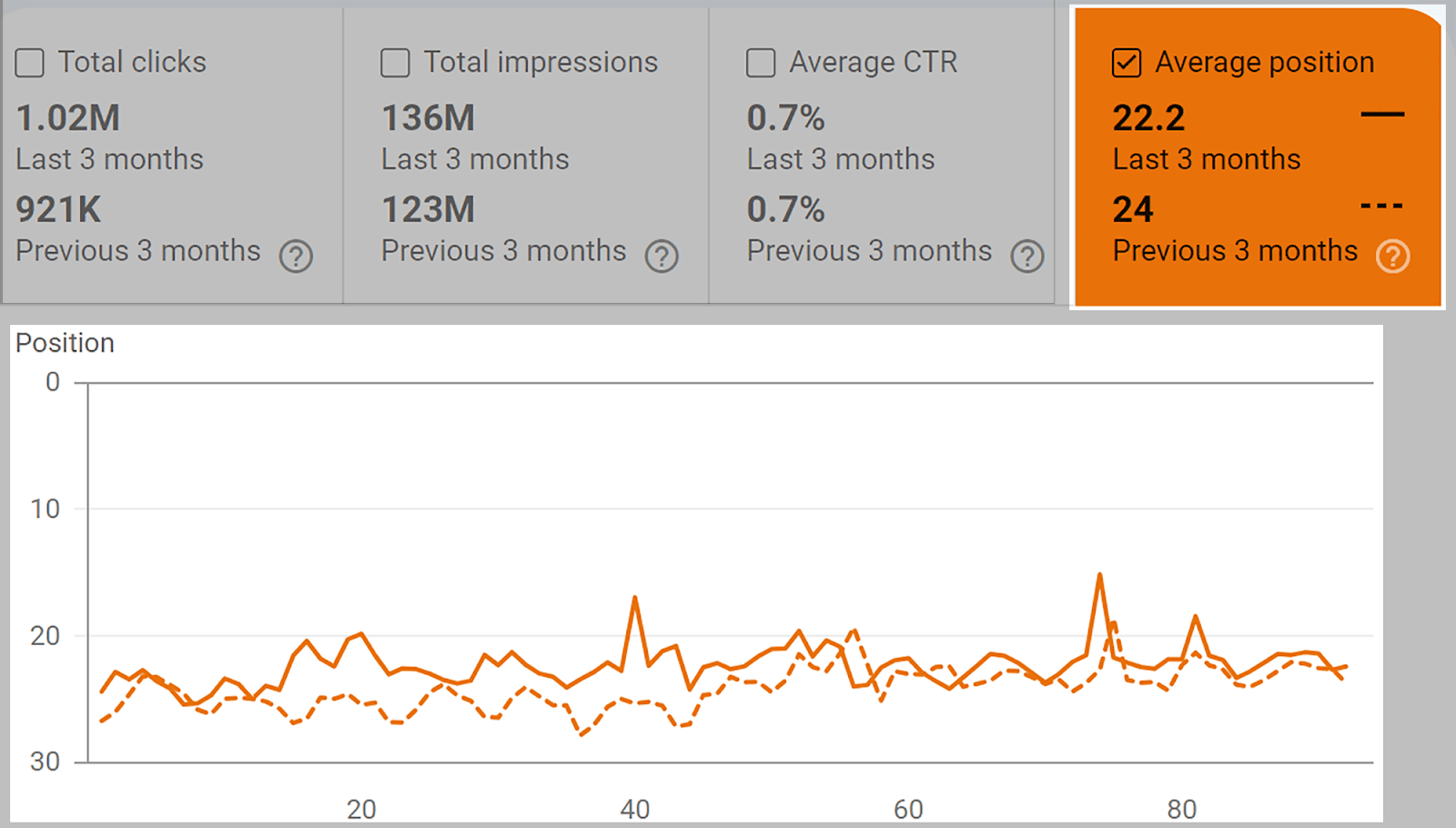 If you need to export these reports, you can do so easily by hitting the "Export" button at the top right:

Overall, GSC is efficient and free. However, it does come with its limitations.
For example, the platform can only let you track certain keywords. You have to stick with the keywords GSC has listed; you can't set up tracking for specific keywords. You can, however, do this with Semrush's Position Tracking tool.
Using Semrush to track your keyword rankings
Semrush is a multifunctional SEO tool that can be used to track your keyword rankings in several different ways.
With the Position Tracking tool, you can select keywords and the tool will periodically update you on how your ranking positions have changed.
To do this, click on Position Tracking: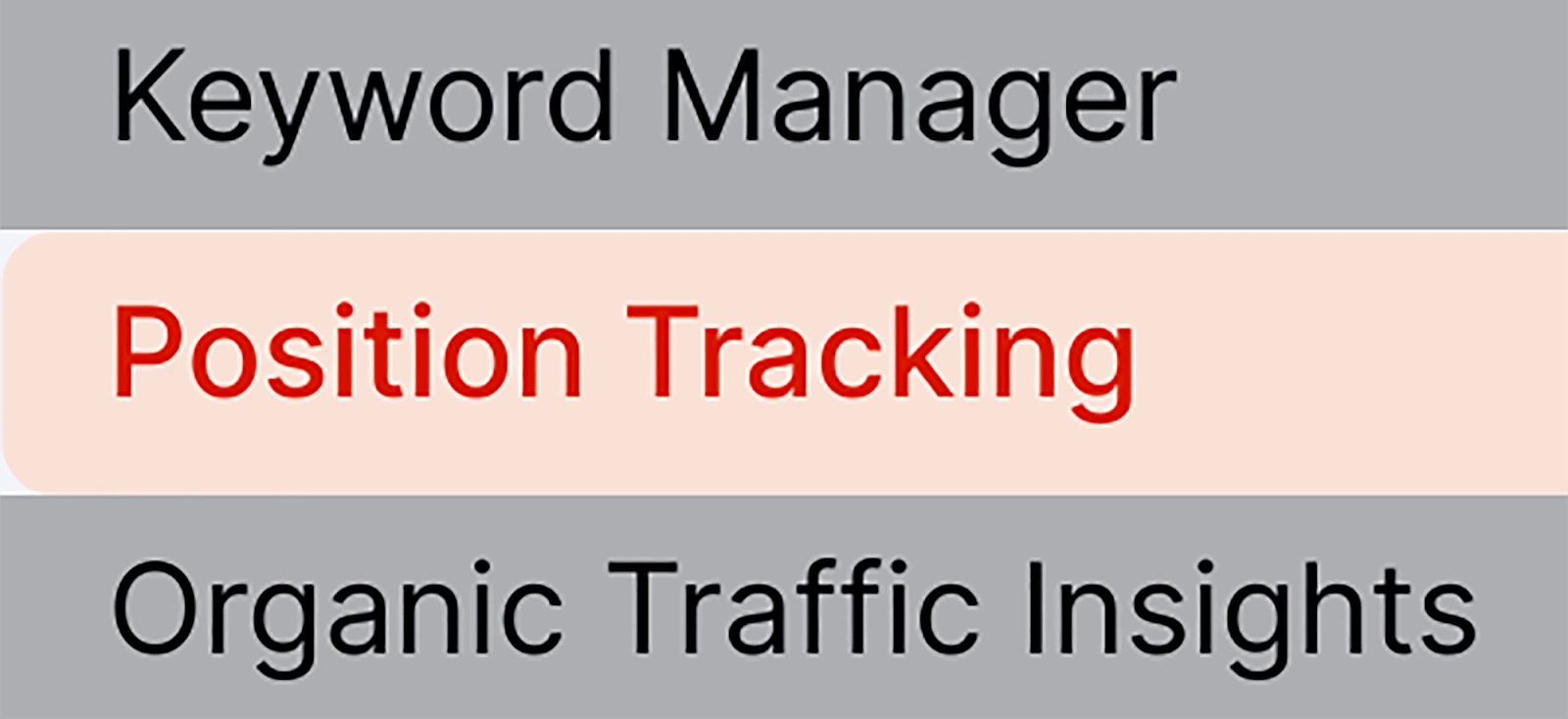 Type your domain in and click on the "Set up tracking" button: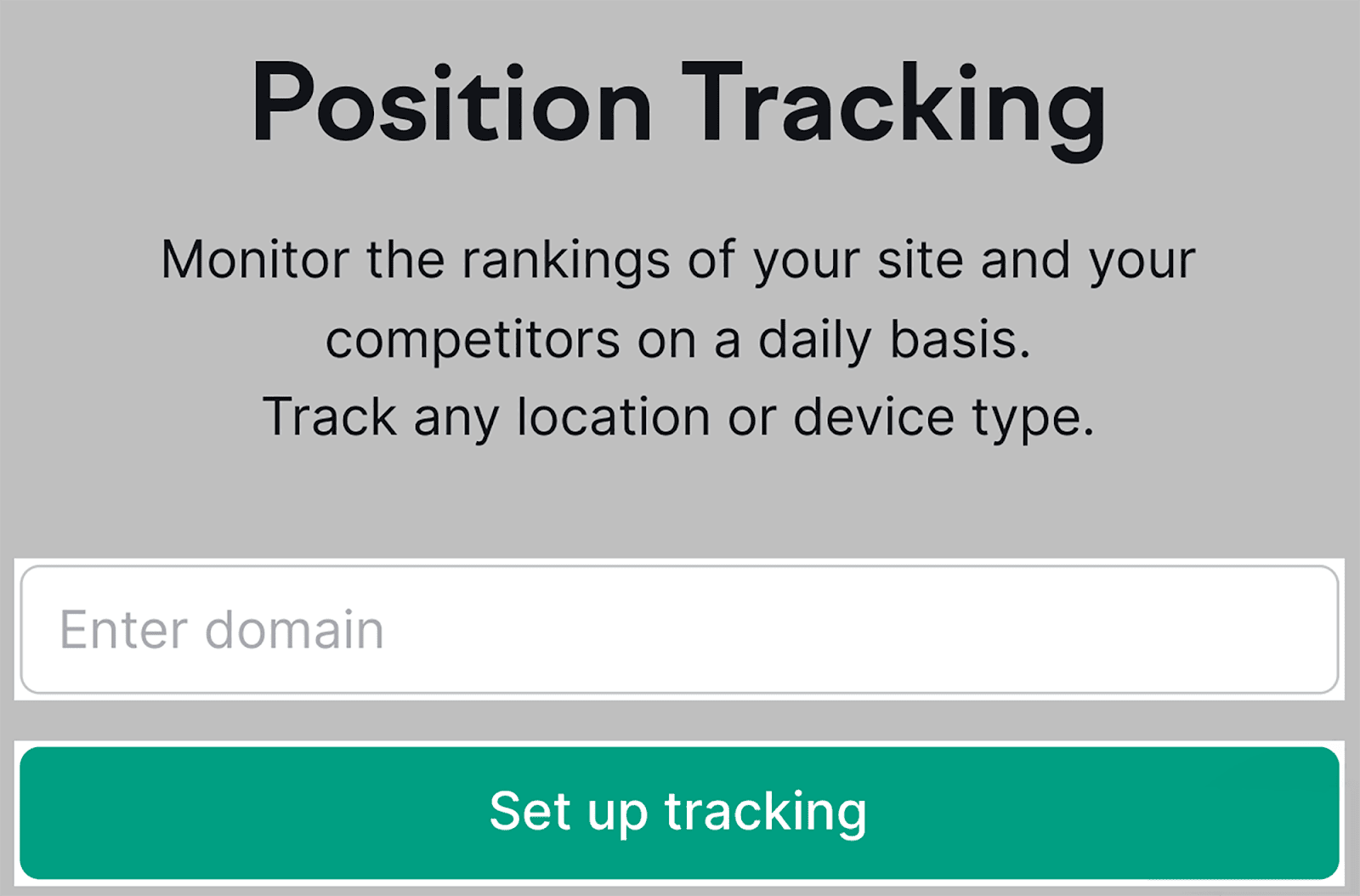 In the "Targeting" section, you'll need to select the search engine, device and location: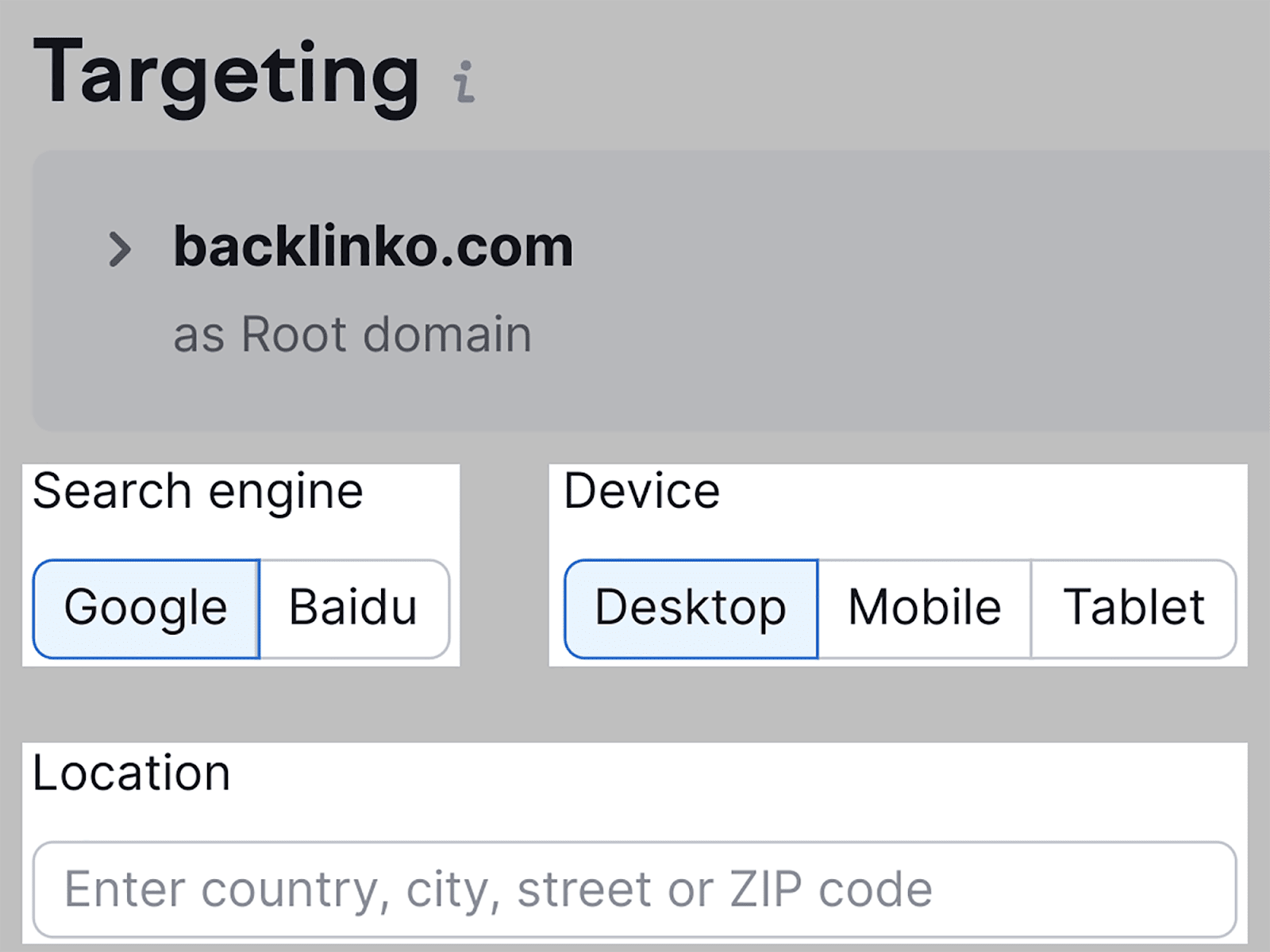 Once you're done, click on "Continue to Keywords" at the bottom of this window.
In the next section, paste in the keywords you'd like to track and click the "Add keywords to campaign" button: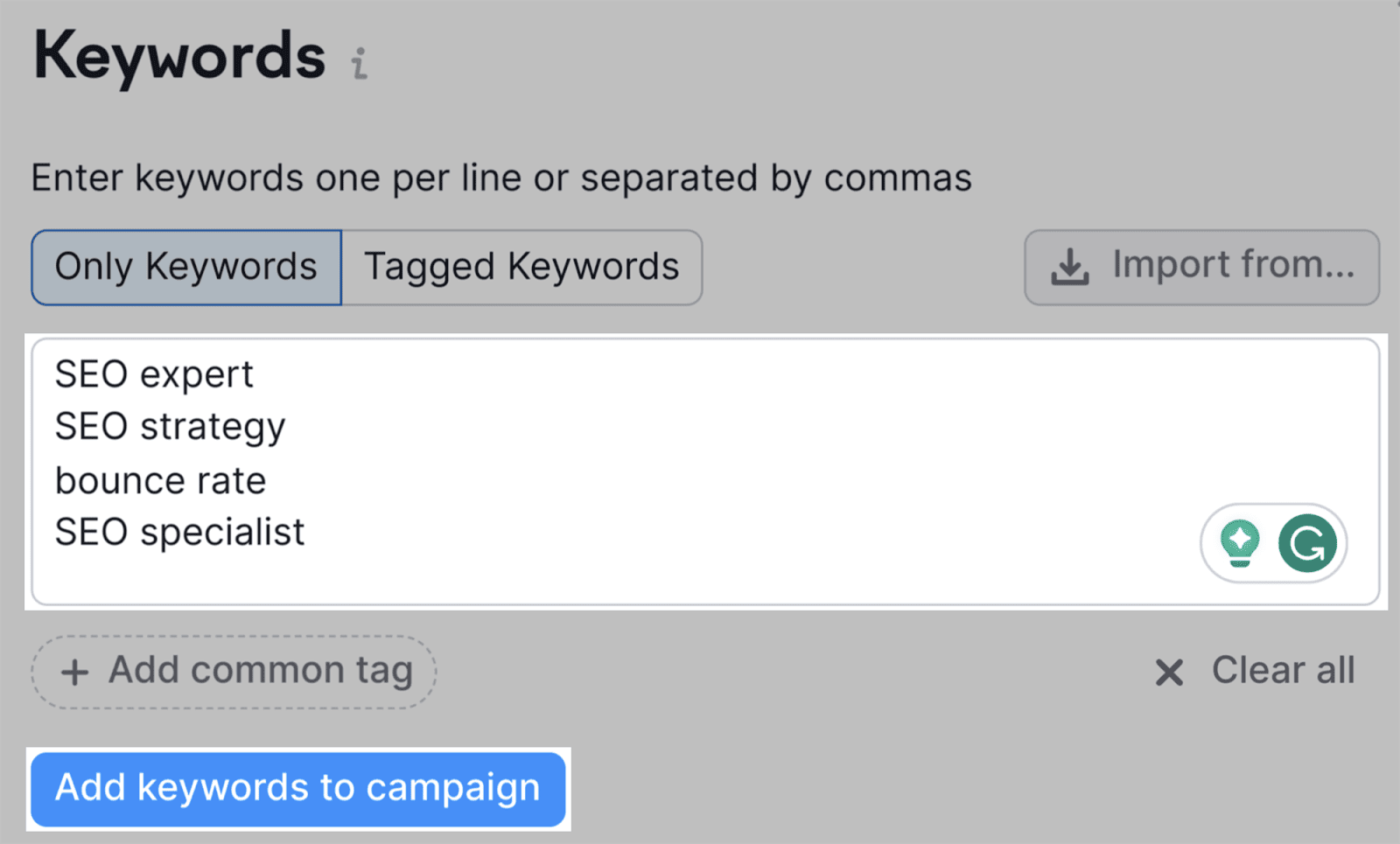 The keywords you've put in will then appear below the "Added to campaign" section: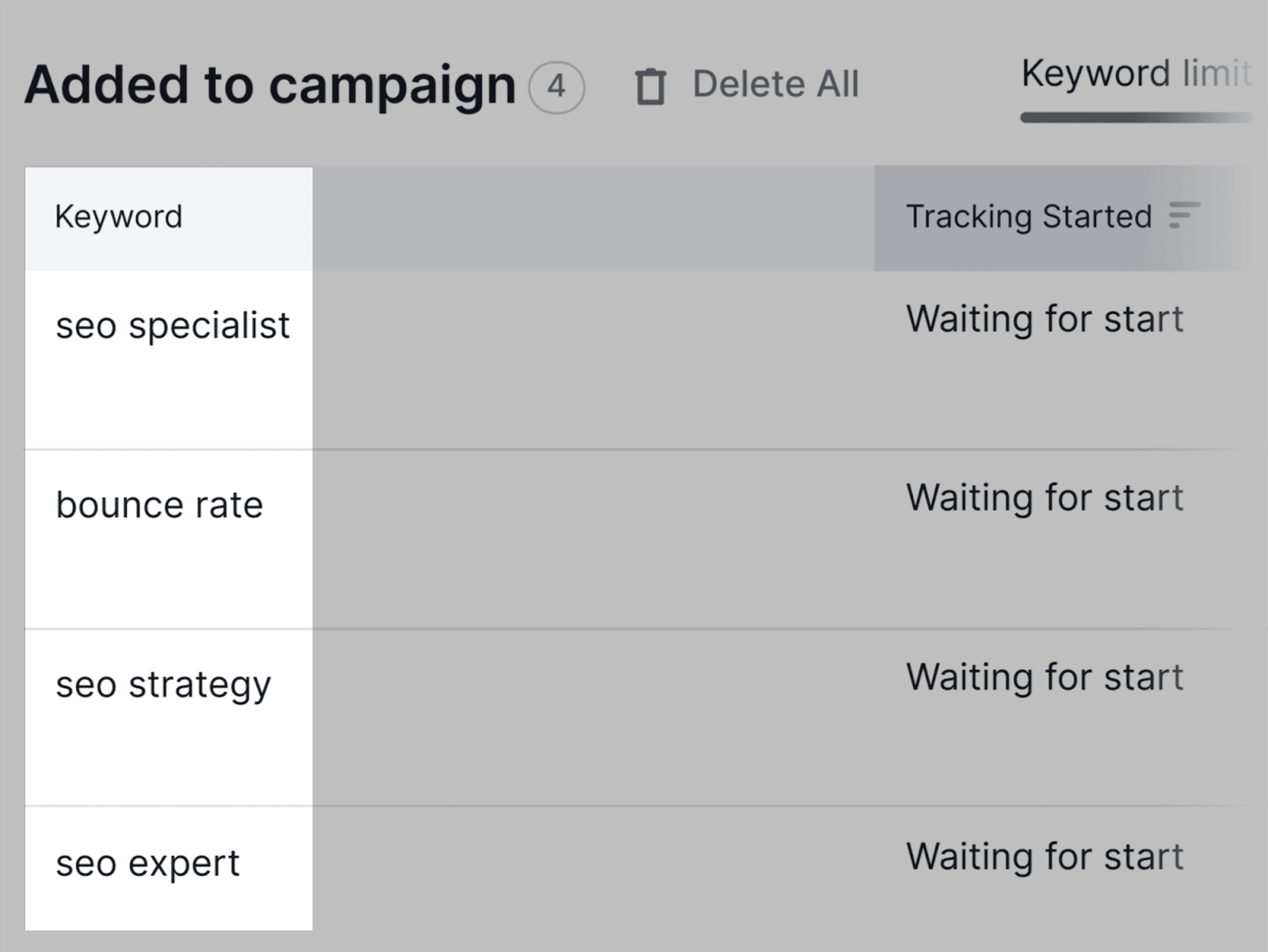 If you'd like to receive automated reports, you can tick the "Send me weekly ranking updates via email" option.

This will keep you in the loop of any changes to your ranking positions.
Once you're done, click "Start Tracking".
On the next page, click on the "Overview" tab:
Next, scroll down to the bottom of the page, where you'll see data about the keywords you've selected to track: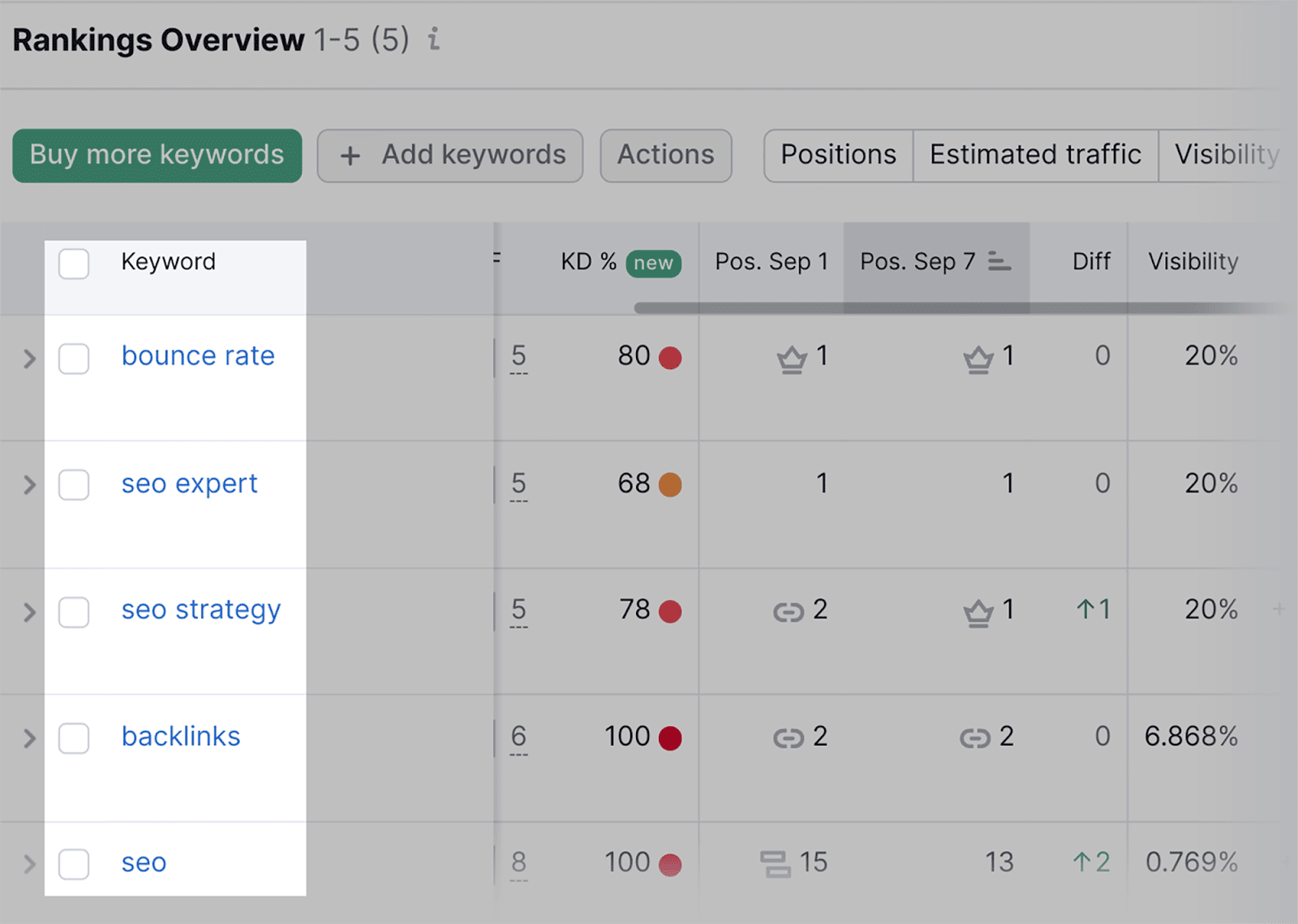 This includes their current position compared to their ranking from one week ago: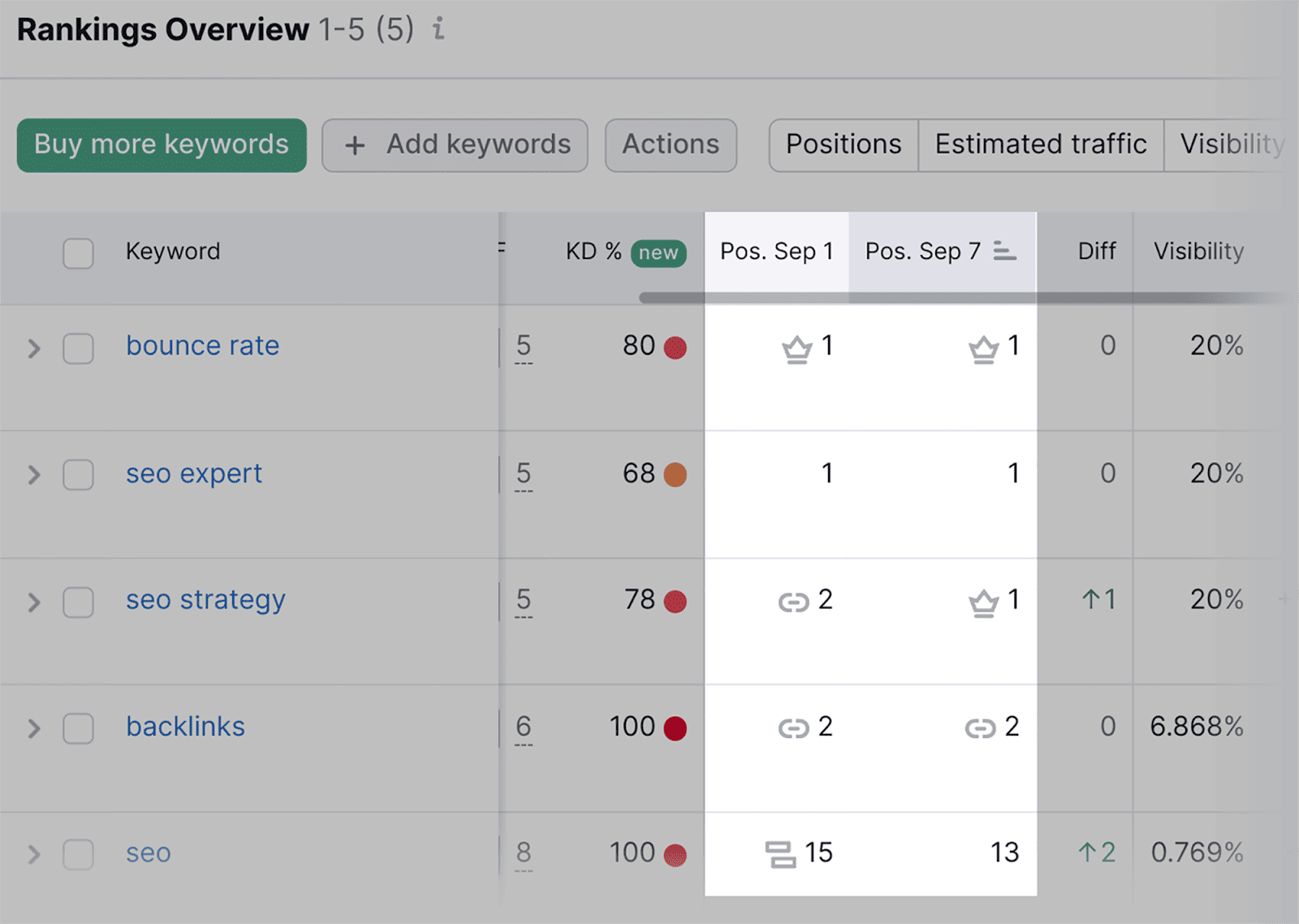 Within the "Diff" column, you can see the changes in your positions for each keyword: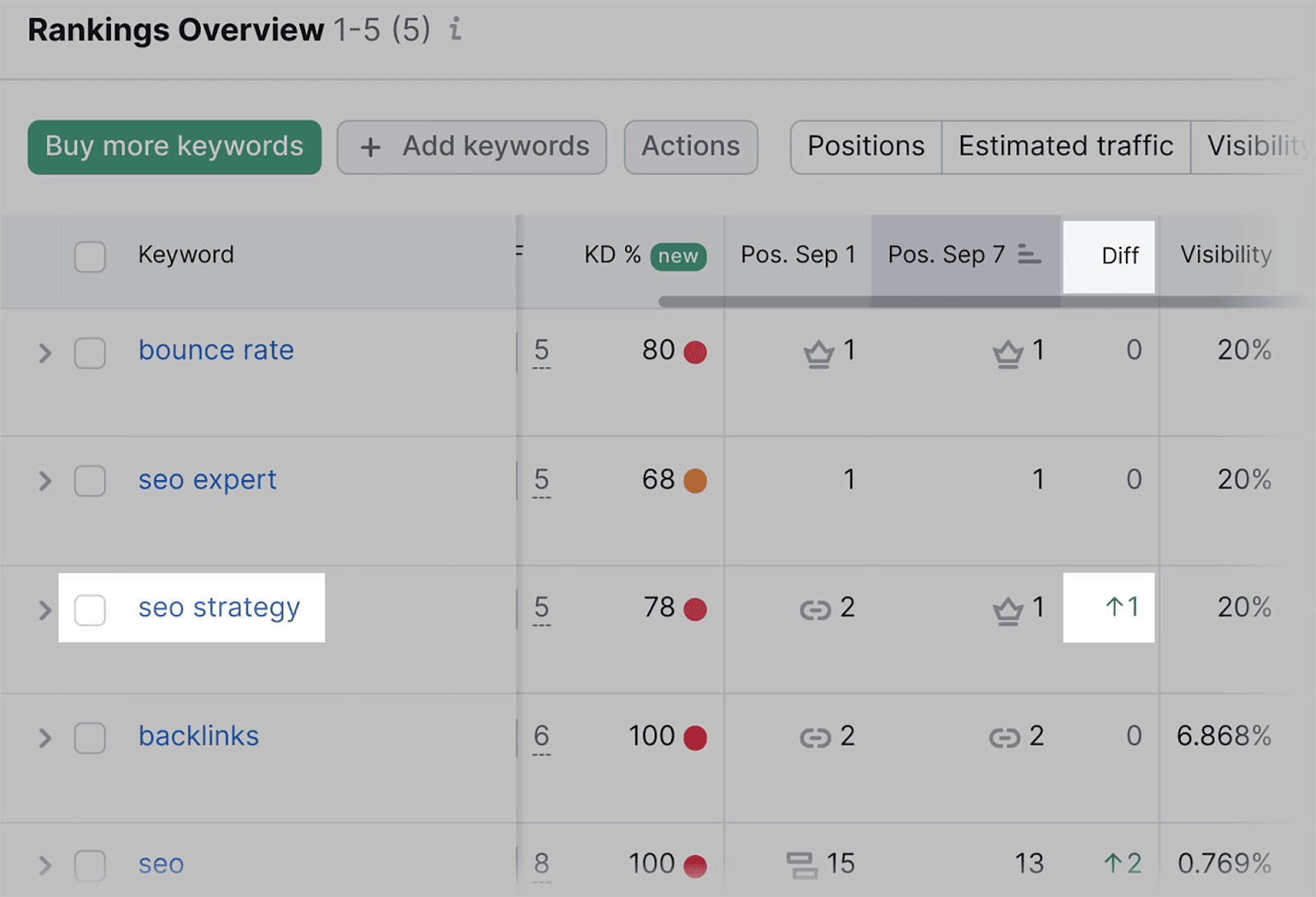 For example, I can see that I've gone up 1 position for the keyword "seo strategy".
How to compare your ranking history
Within the Position Tracking tool, you can also review how your keyword rankings have changed over time.
To do this, click on the date option (in this case "Sep 7, 2023") at the top right-hand side:

Here, you can choose to see how your rankings have changed over different time periods, for example, the last 60 days: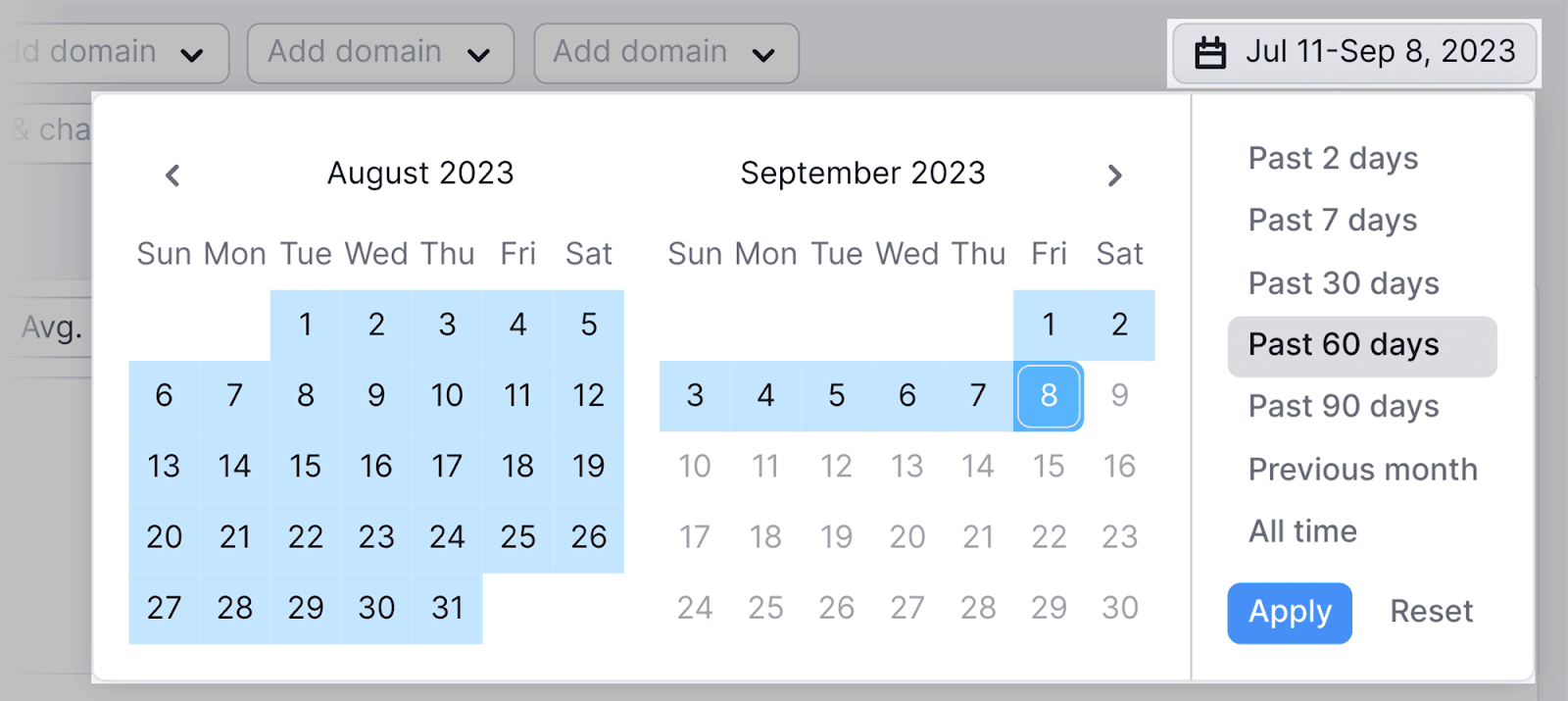 You can then review the position changes in the "Rankings Overview" section located further down the "Overview" page:

Track position changes with the Organic Research tool
If you're looking to get a better understanding of the total number of keywords you're ranking for, then you can use the Organic Research tool.
Within the tool, you can analyze your new, improved, lost, and declined keywords.
To get started, click on "Organic Research":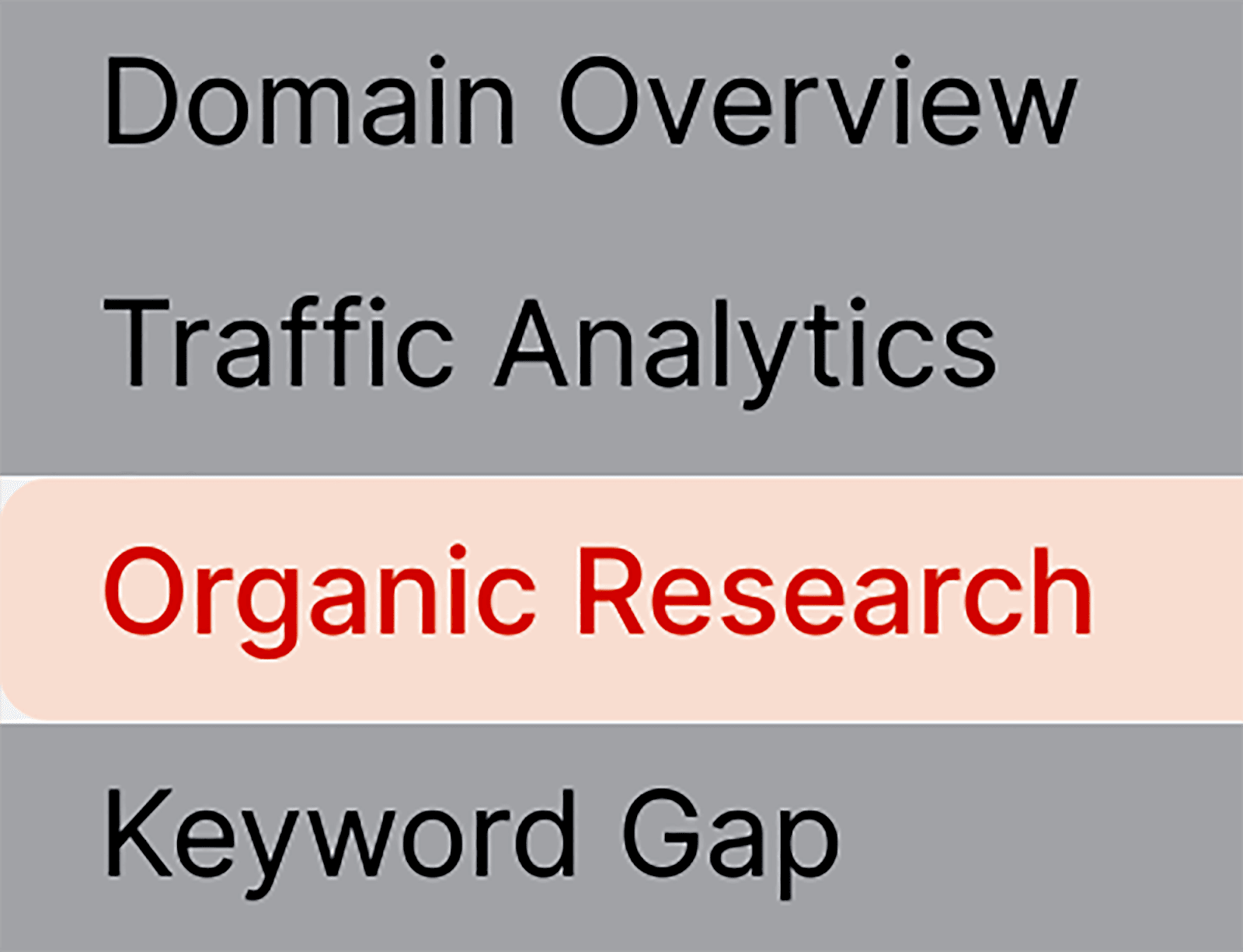 Then type in your domain and hit "Search":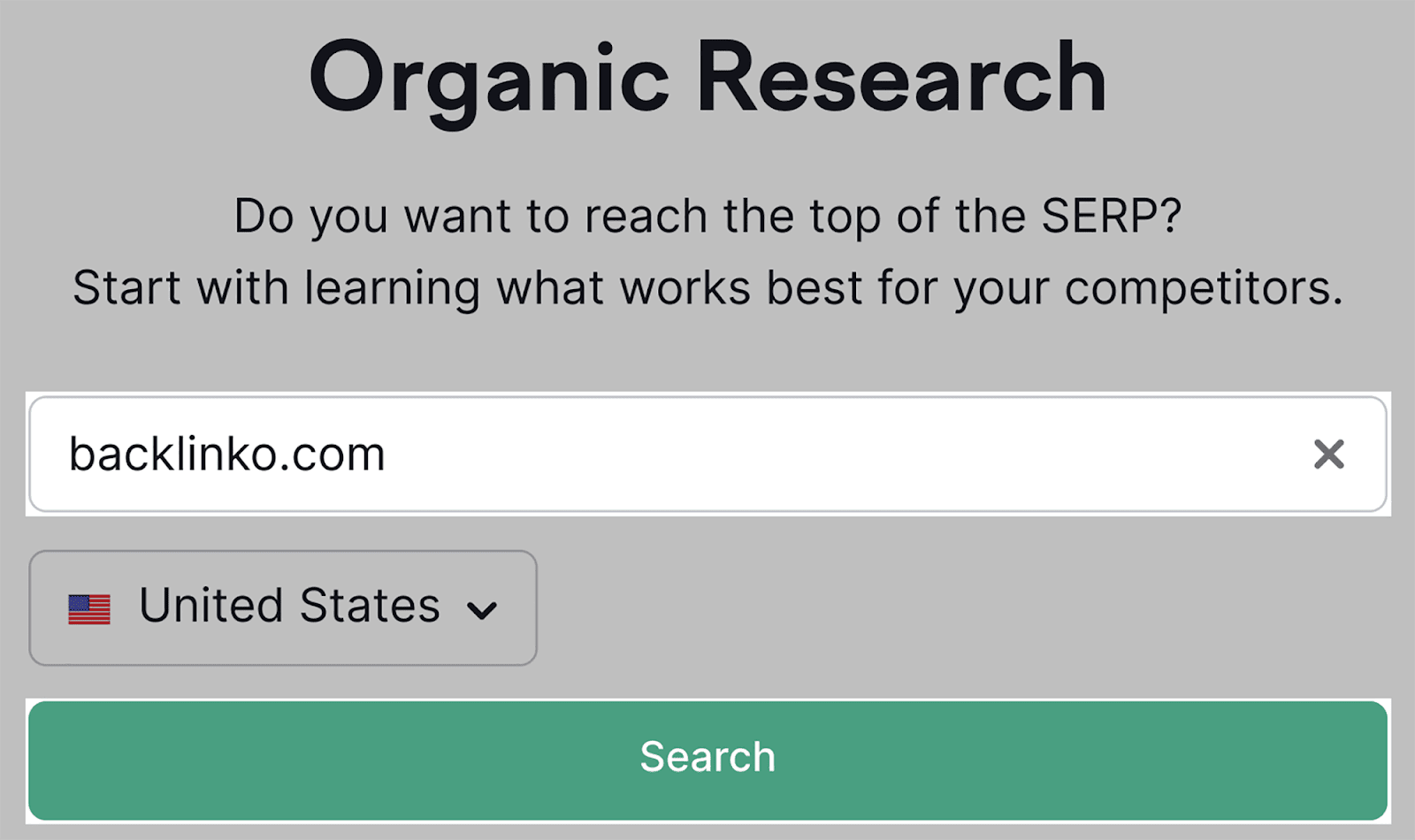 You'll then land on the Organic Research Overview page, which will look like this:
Here, you'll find a ton of insightful widgets and graphs.
The one you will need to pay close attention to is the "Keywords" widget. Here, you will see the total number of keywords your domain is currently ranking for.
As you can see, Backliko is currently ranking for 101.7K keywords: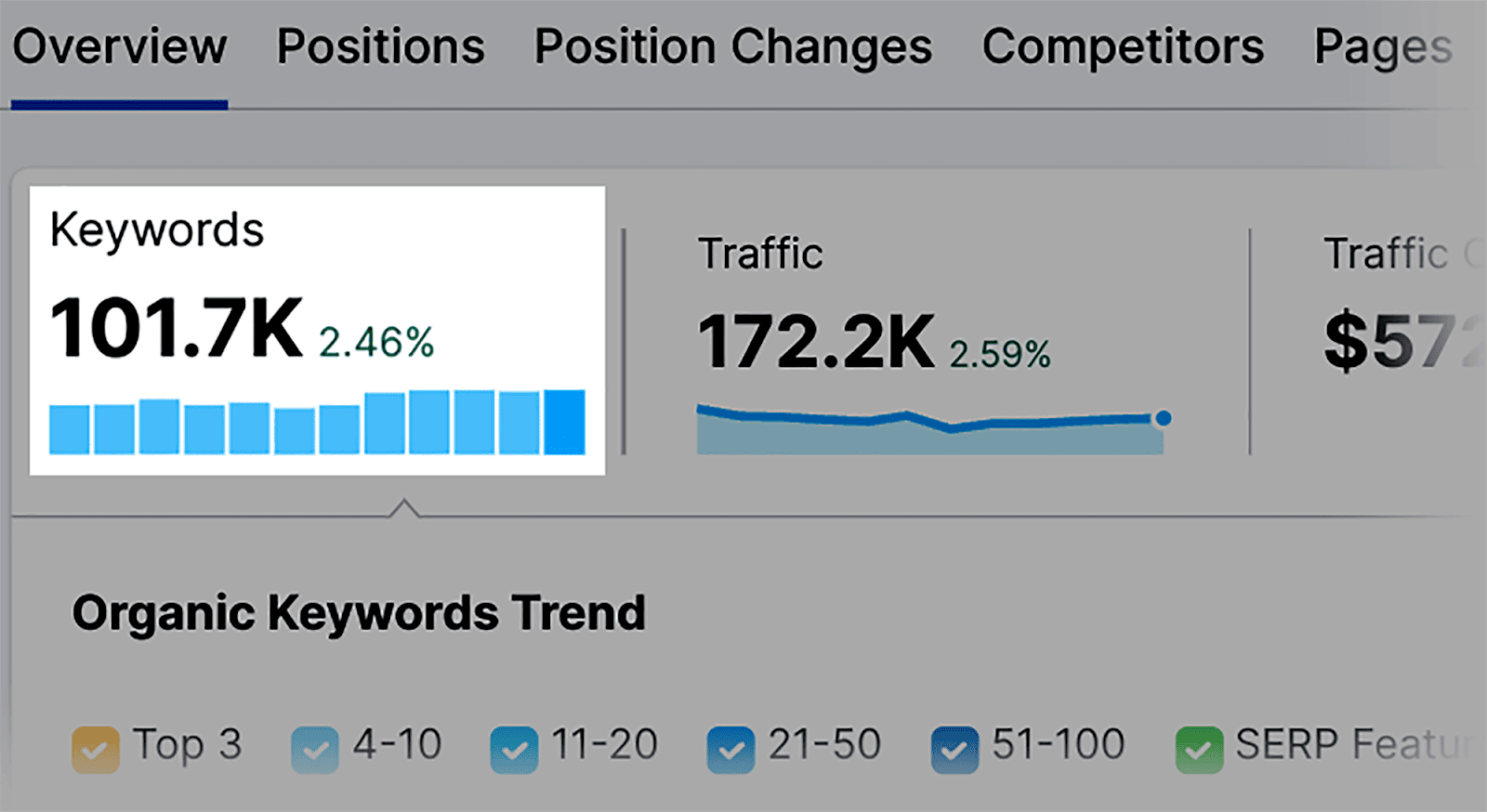 If you click on the "Keywords" widget, you'll be presented with a bar graph that provides you with further insight into your keyword ranking positions.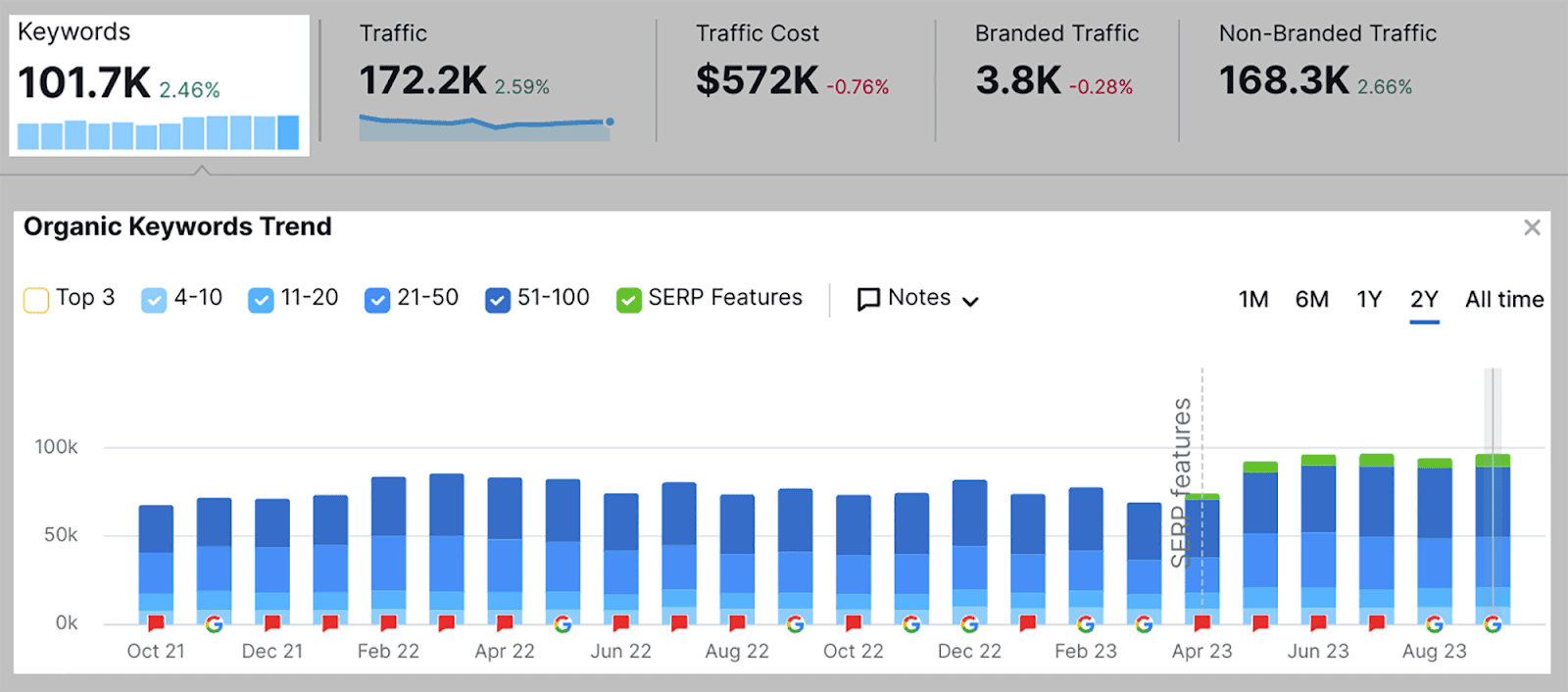 If you want to track the performance of your keyword rankings over a specific time period, you can simply choose a time frame on the right-hand side:

For example, when I choose the "All time" option:

I can see that I've been gradually gaining rankings for more keywords over time.
Now, if you only want to see the number of keywords ranking in certain positions, you can use the filter options below:

For example, selecting the box next to Top 3, provides me with a better understanding of how many keywords rank in the Top 3 positions on the SERPs:

As you can see, I also left the "SERP Features" option on, represented by the green bars. This allows me to track when I first gained SERP features for these keywords, beginning in April 2023.
It's also helpful to compare different ranking positions to assess your overall performance.
For example, you can compare the number of keywords ranking in the top 3 positions with those ranking in positions 21-50. This provides you with an opportunity to assess which keywords are performing effectively and identify those that may require some attention:

As you can see, I have more keywords in positions 21-50 than I do in the top 3 positions.
Overall, the Organic Keywords Trend graph is useful for obtaining an overview of your ranking positions. However, if you're looking for more detailed data, click on the "Position Changes" tab.

Here, you can use the filters to see keywords ranking in certain positions as well as any new, lost, improved and declined keyword positions.
It's worth noting that the Position Changes tab will only display keywords that have changed positions. So, it won't show you all the keywords your domain is ranking for.
With that said, let's begin with the "Positions" filter. You can use this filter to track position changes for keywords that are ranking in certain positions on the SERPs.
For example, if you only want to see keywords that are in the Top 10 positions on the SERPs, select "Top 10" and click "Apply":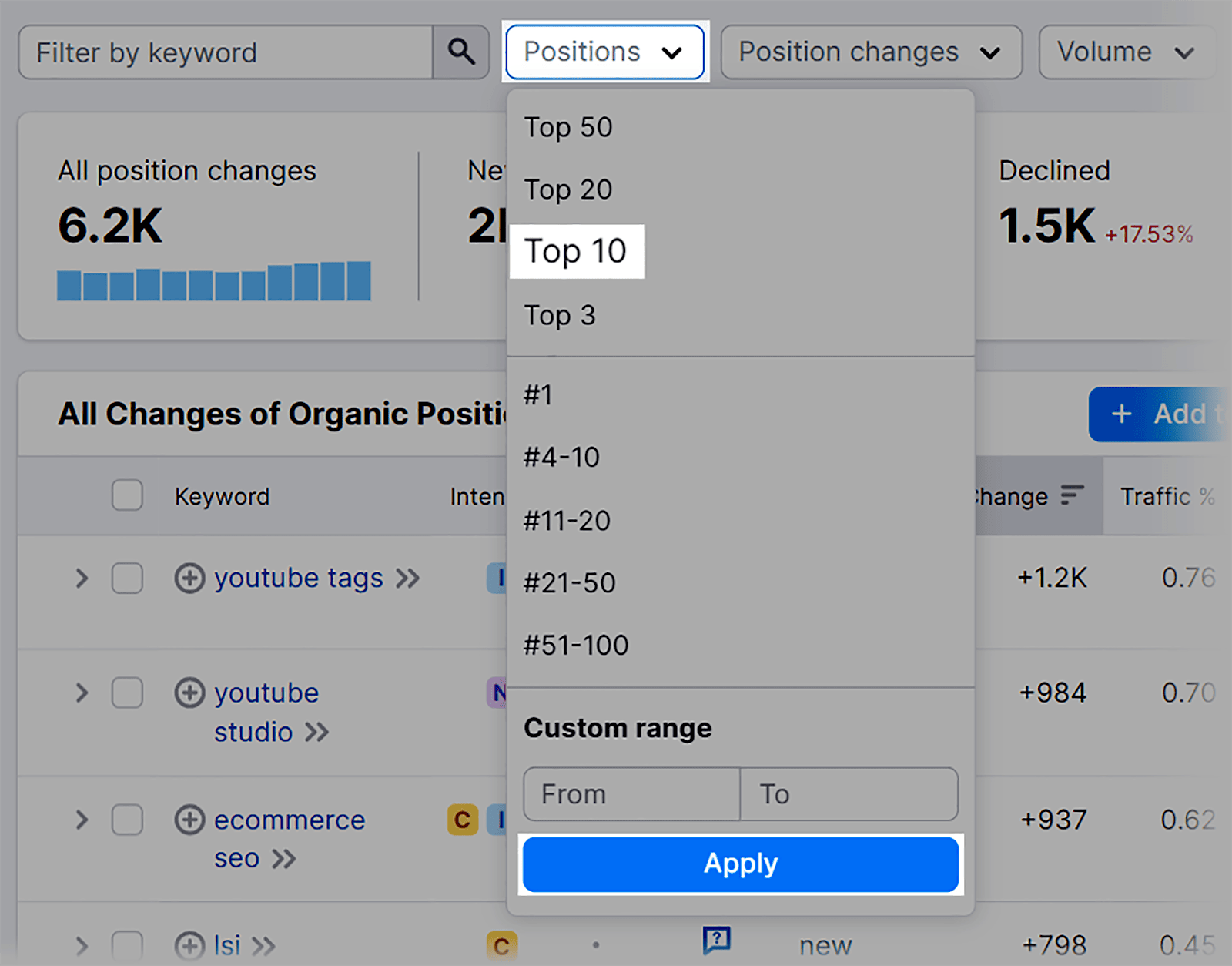 The tool not only shows you which keywords are in the top 10 but also tracks changes in their rankings. This means you can see if a keyword has moved up or down within the top 10 positions.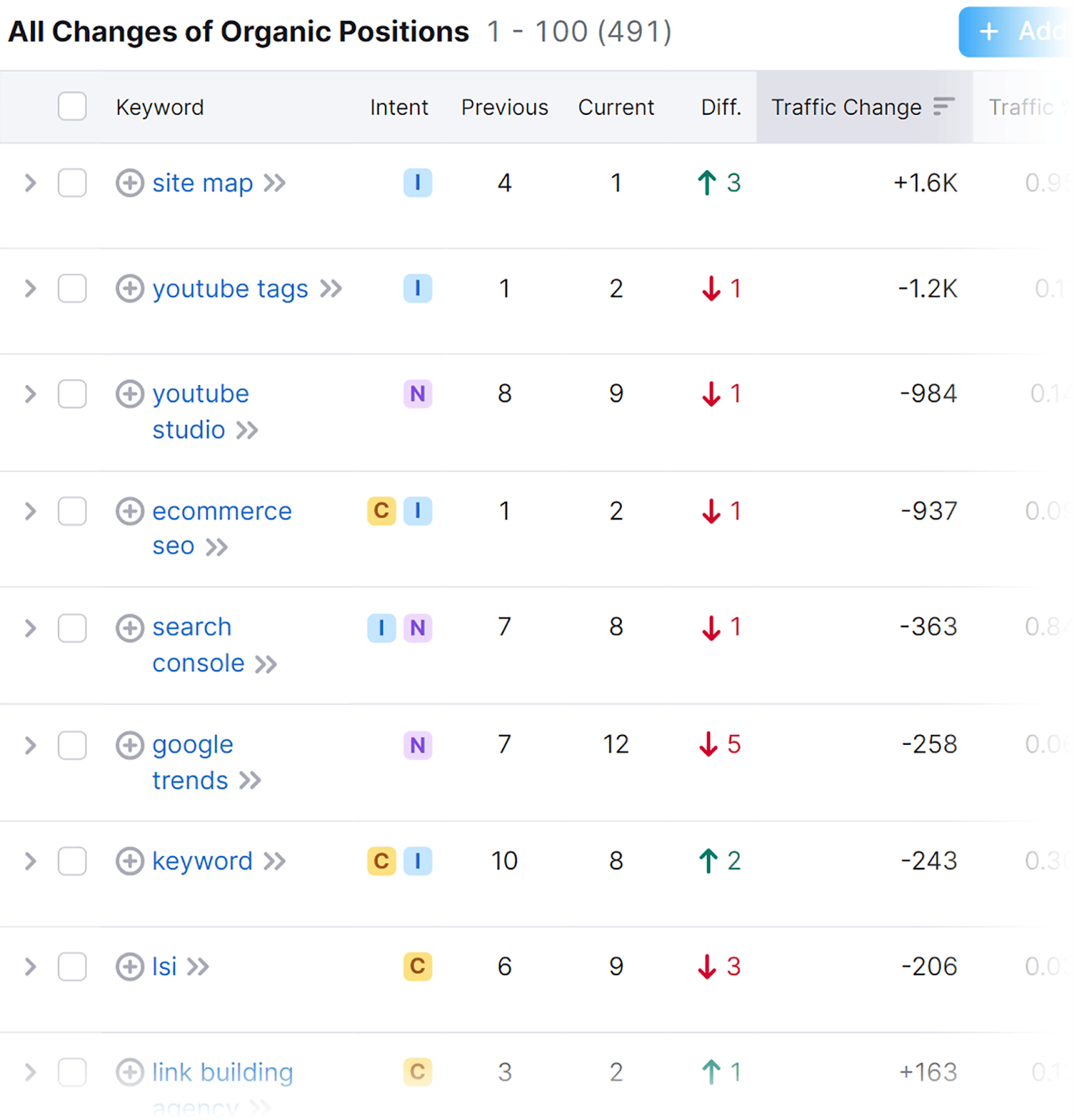 So, if we take the keyword "YouTube tags" as an example, you'll notice that it previously held the top position but has now shifted down one spot to the second position in the SERPs.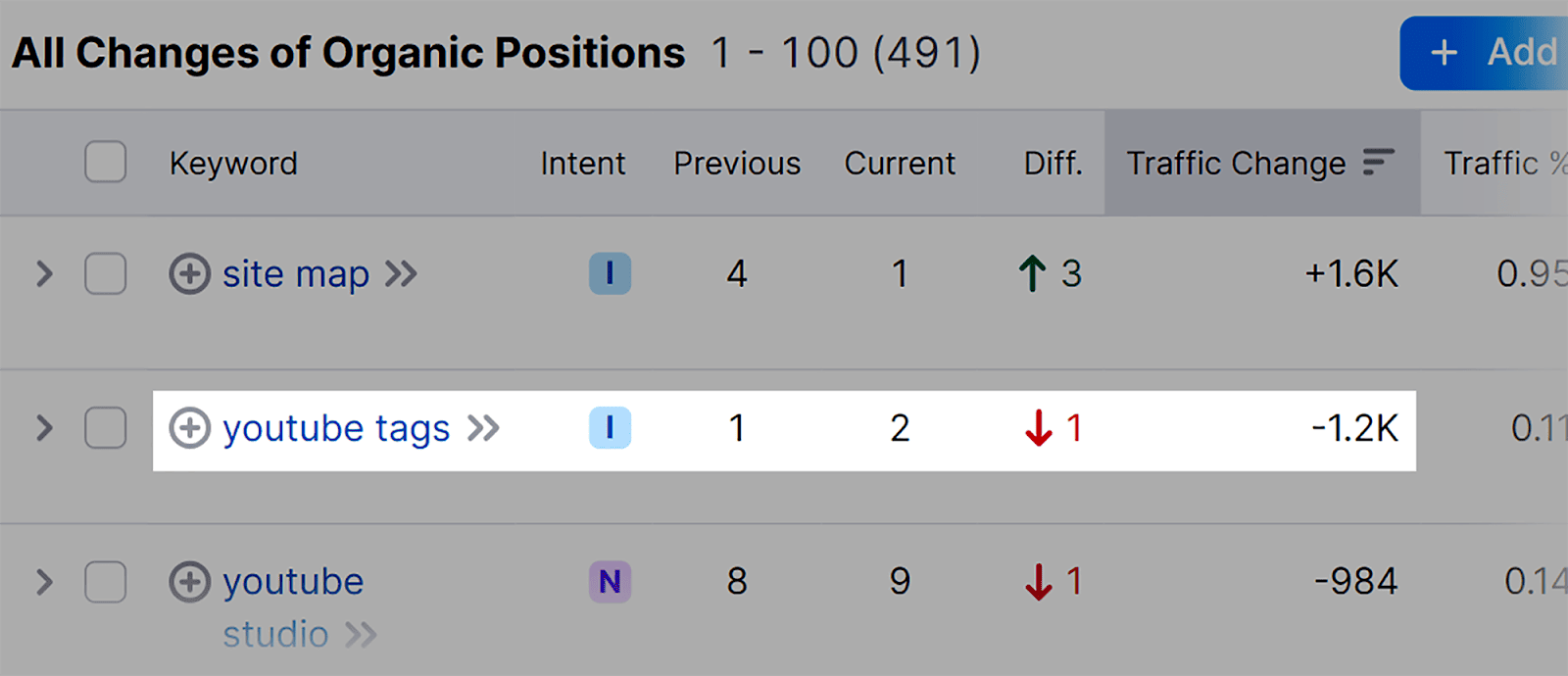 This shift in ranking has resulted in a decrease of 1.2K in traffic.
Next up, I'll show you how to track your search terms that have either improved or declined in rankings, new keywords you've recently started ranking for, and keywords for which you've lost rankings. To do this, you'll need to use the "Position Changes" filter.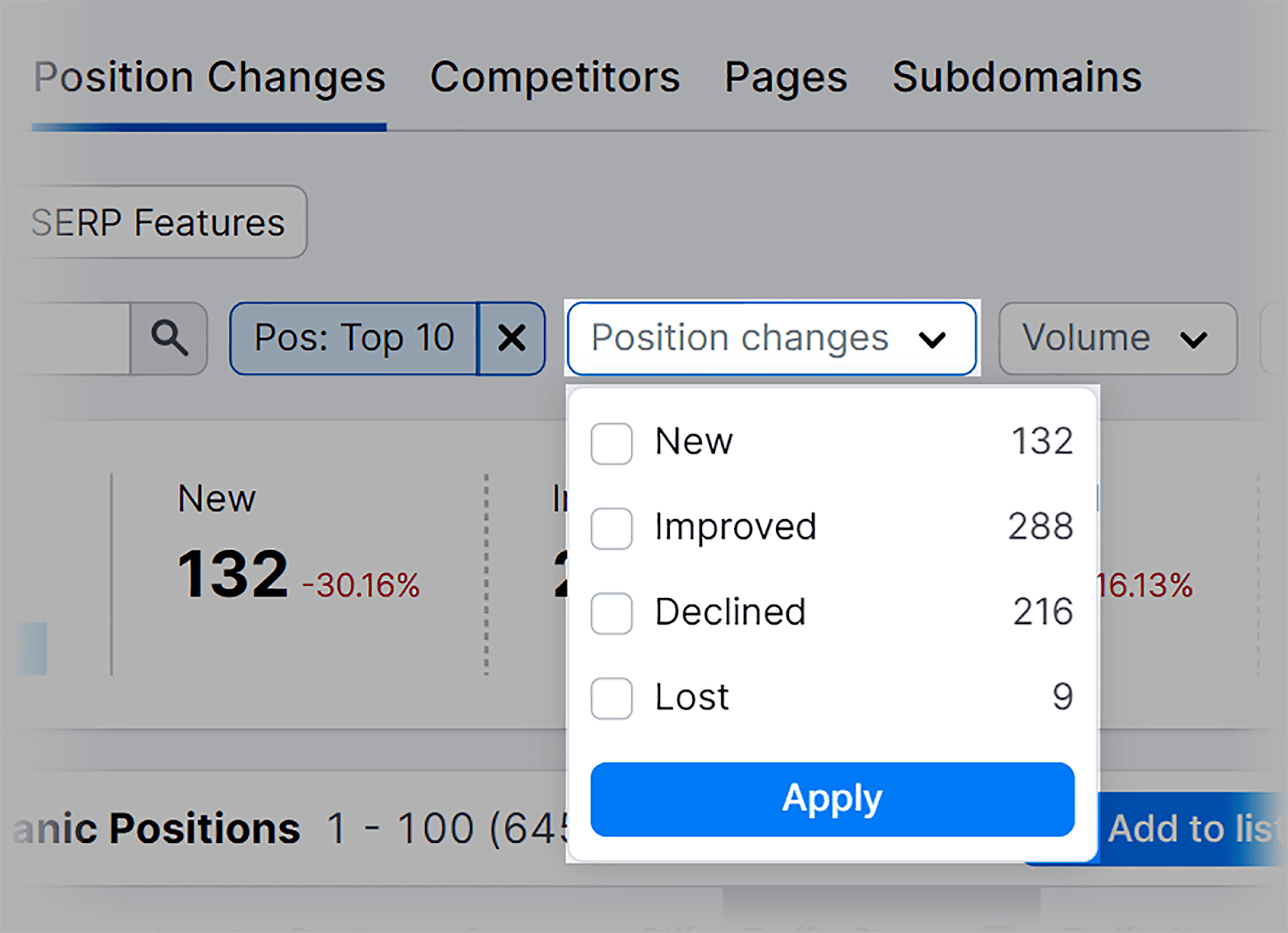 Let's take a look at the "New" keywords I've gained: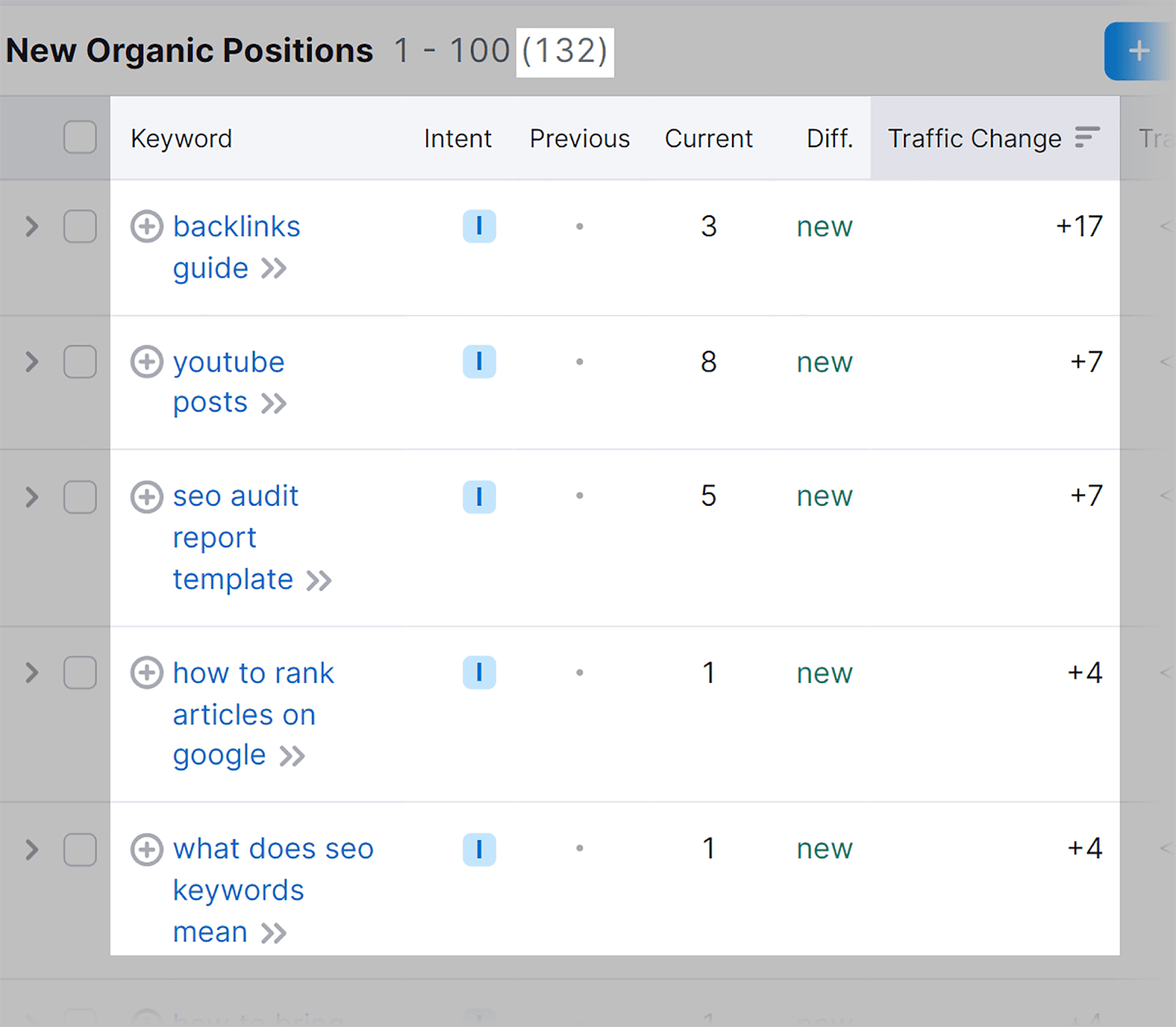 As you can see, I'm now ranking for 132 new keywords within the top 10 positions.
You can also use multiple filters at the same time as well. In this instance, I've chosen to only identify new keywords that are ranking in the top 10 positions on the SERPs.
To view keywords that have either improved or declined in rankings, along with those for which you've lost rankings, adjust the filter according to your requirements.
Overall, the Position Changes tab is a great way to keep track of your keyword portfolio quickly and easily. Rather than scrolling through all your keywords to spot ranking improvements or issues, you can streamline the process by using the filter options to gain insights more efficiently.
Moving on. Another useful tab to use in the Organic Research tool is the "Positions" tab: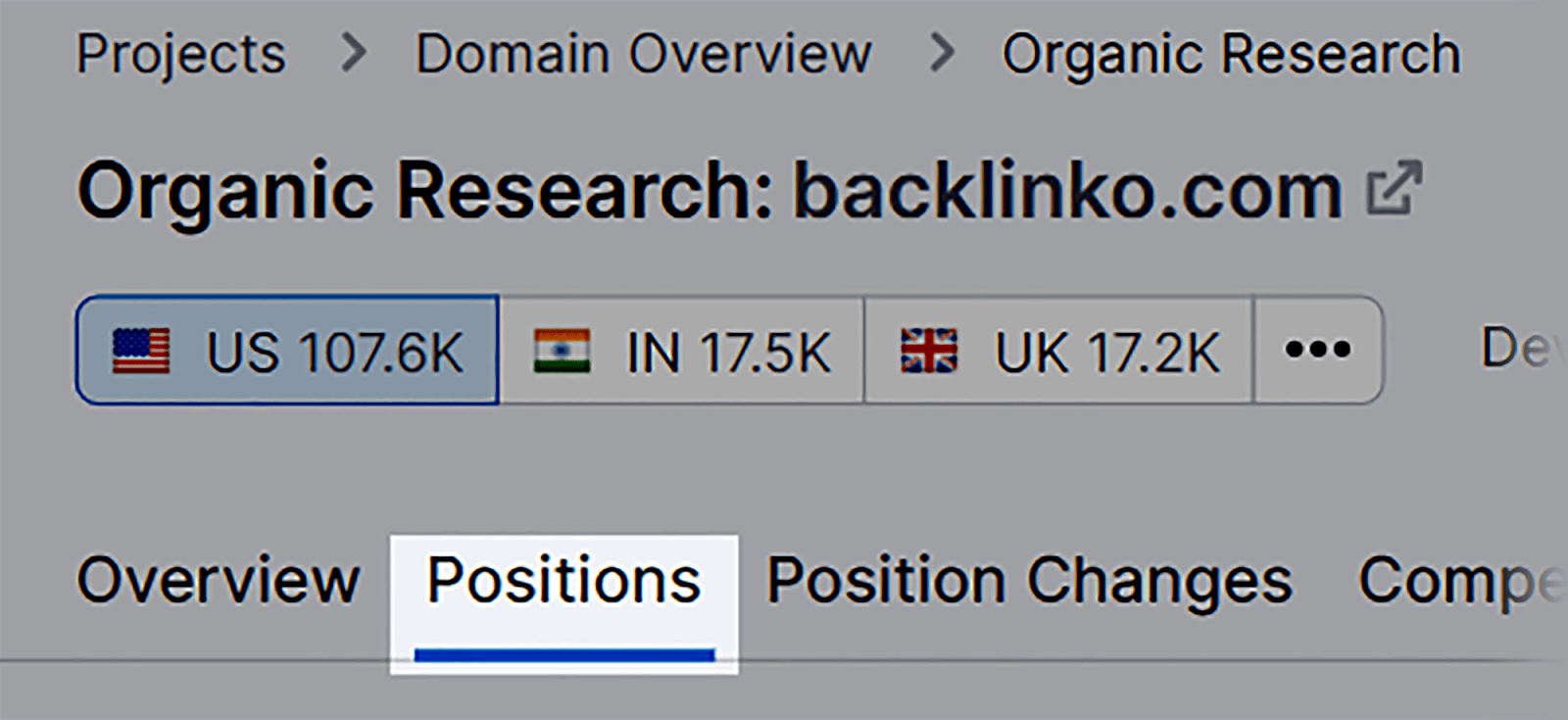 The big difference here between this tab and the "Position Changes" tab is that the "Positions" tab shows you all the keywords you're ranking for, while the "Position Changes" tab only displays keywords that have changed positions.
For example, if you want to see which of your keywords are in the top 10 positions on the SERPs, click on the "Positions" filter and select Top 10: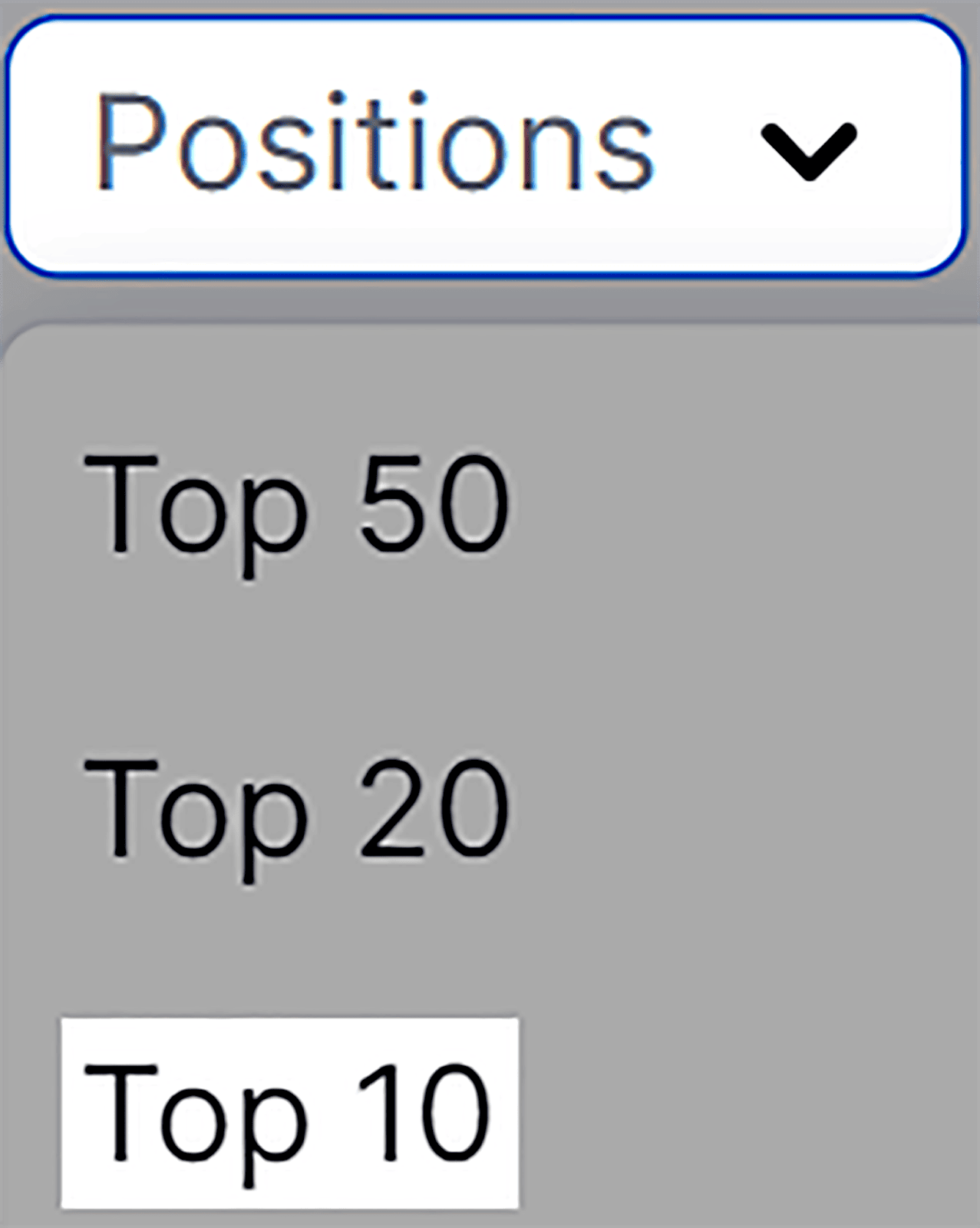 And you'll get a list of the keywords you currently ranking for in the top 10 positions: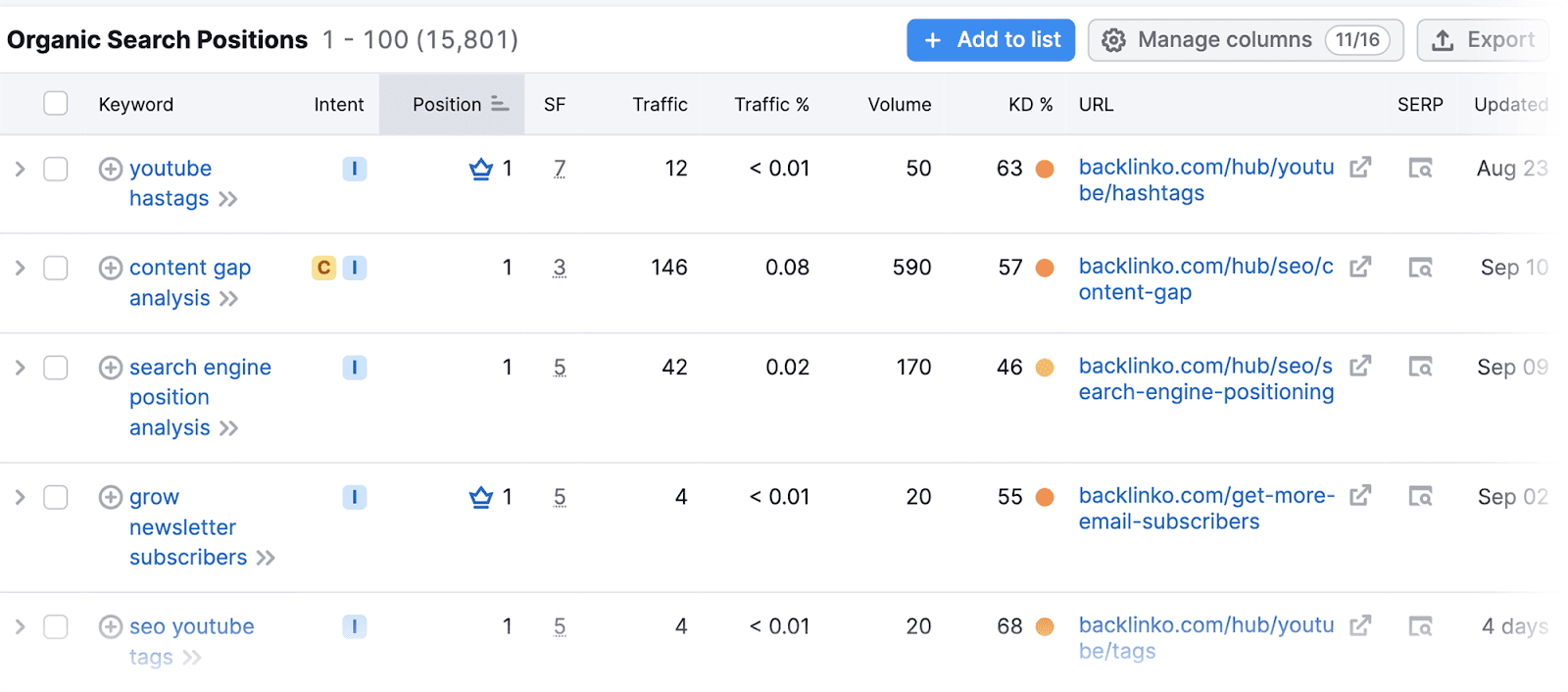 Another filter you can use is "SERP features"
For example, if you want to see which of your keywords are earning you featured snippets, select "Featured snippets" under the "SERP Features on…" option: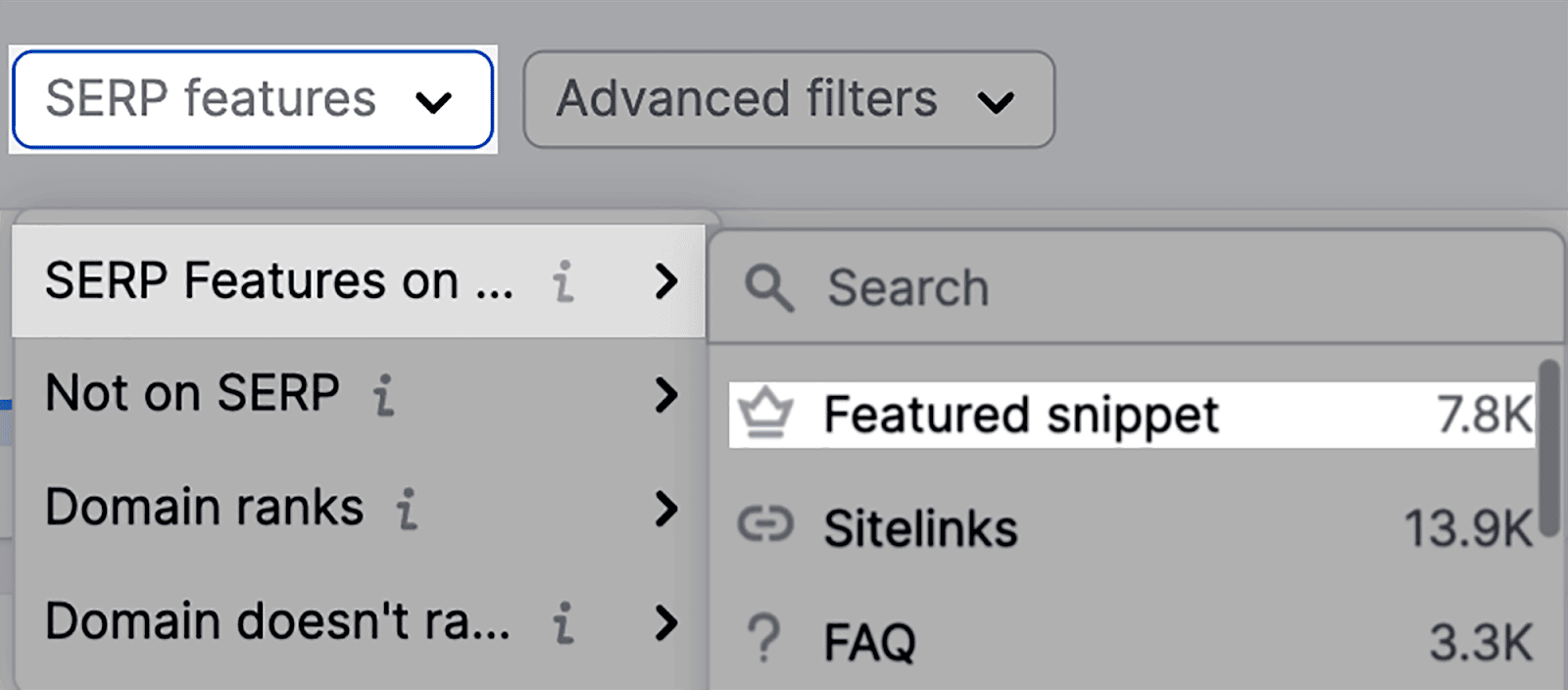 Semrush will then display a list of these keywords.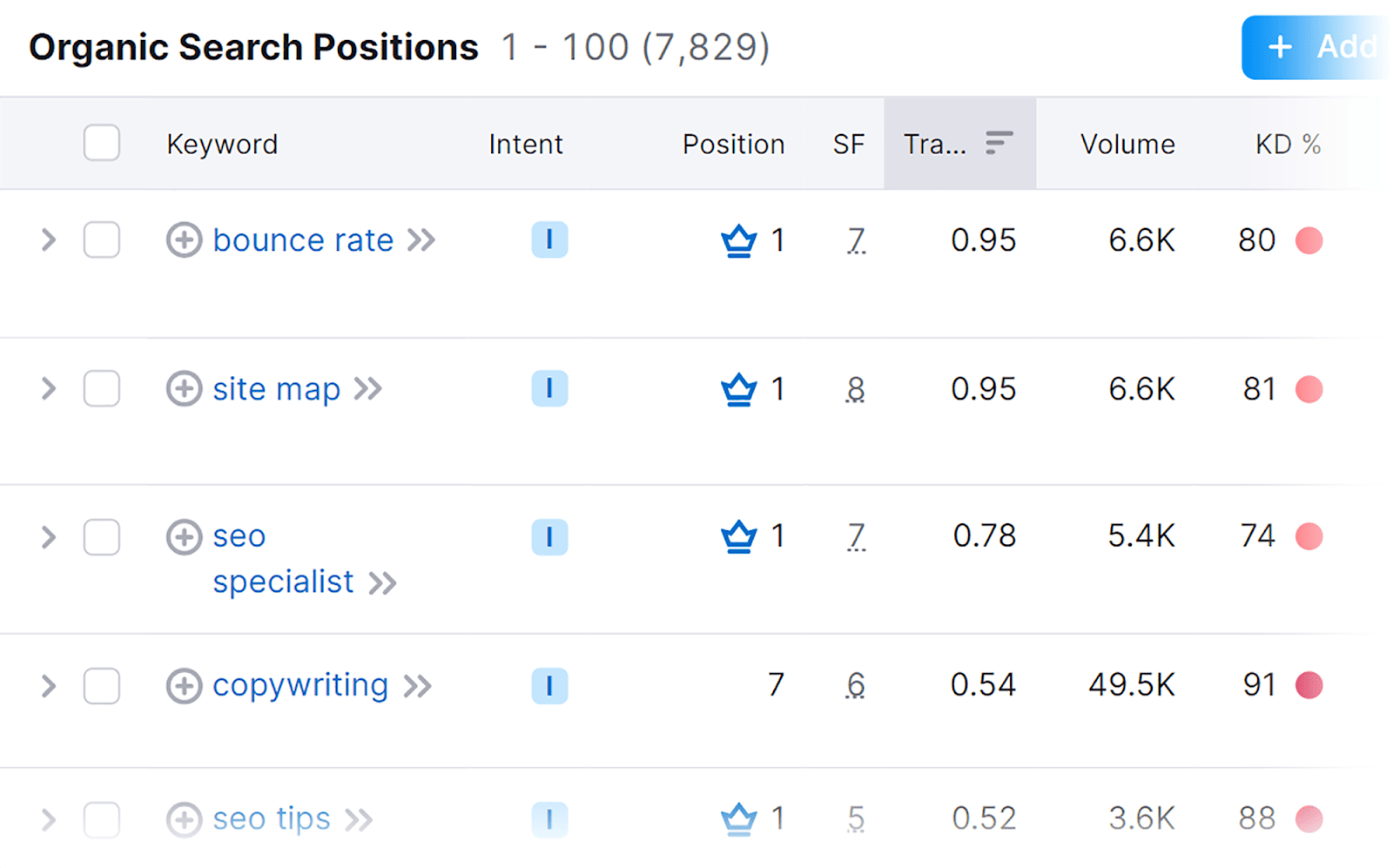 SWEET!
One specific feature within the Organic Research tool that I find highly insightful is the "Keywords by Intent" table: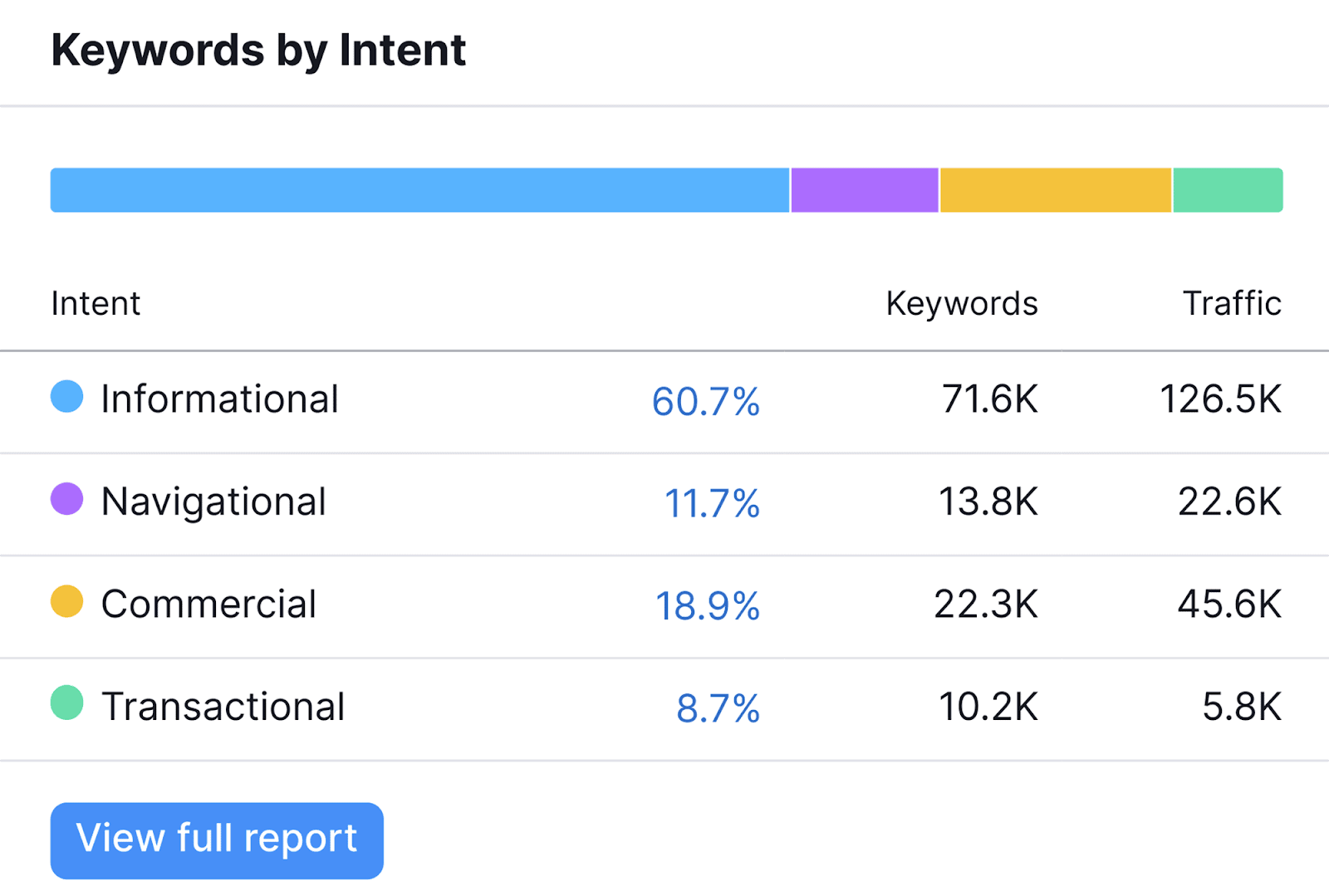 This gives you a comprehensive breakdown of the search intent distribution for the keywords you rank for. You'll be able to identify the number of keywords you have ranking for each intent: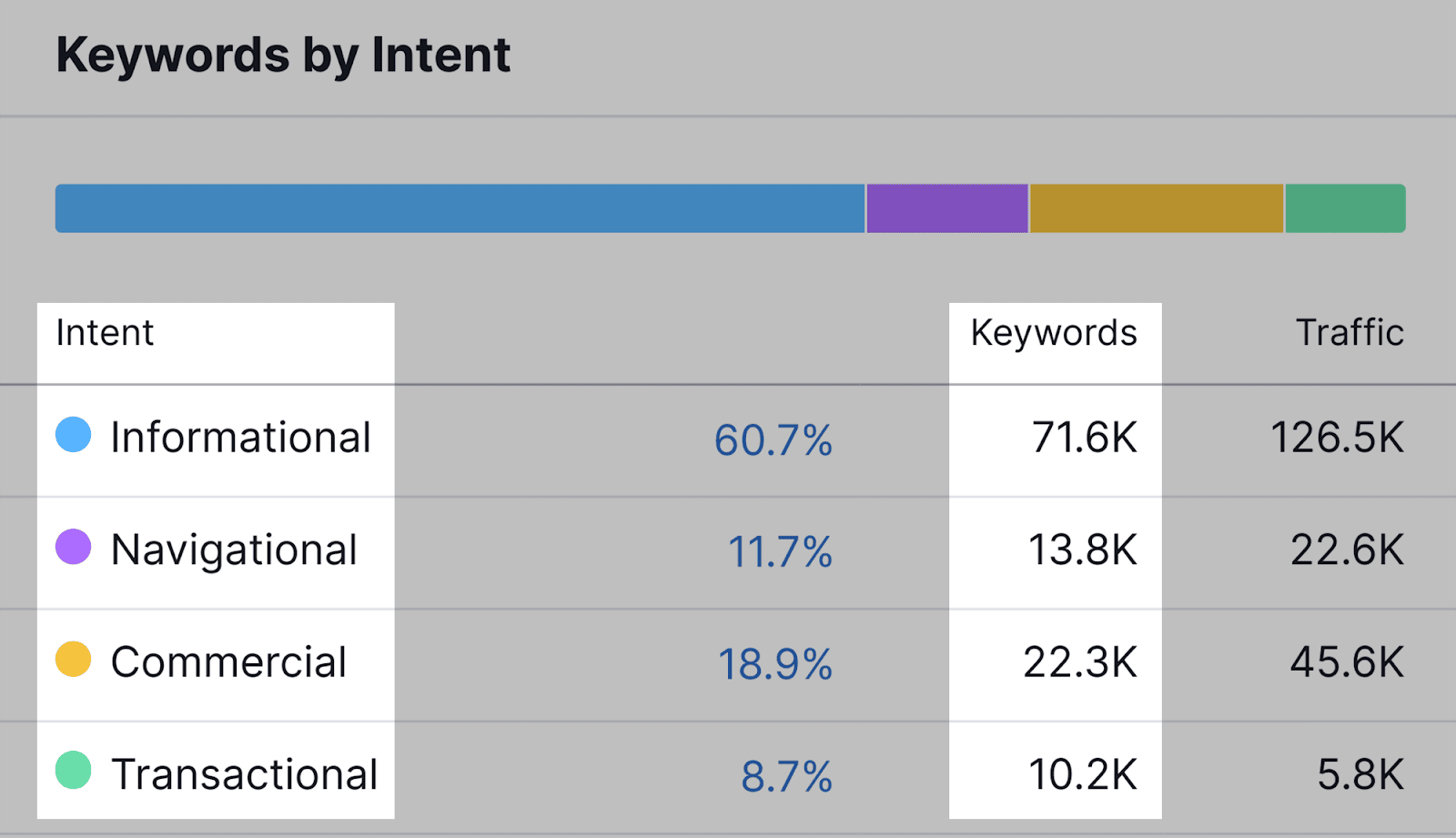 …as well as the amount of traffic each intent pulls in for your site: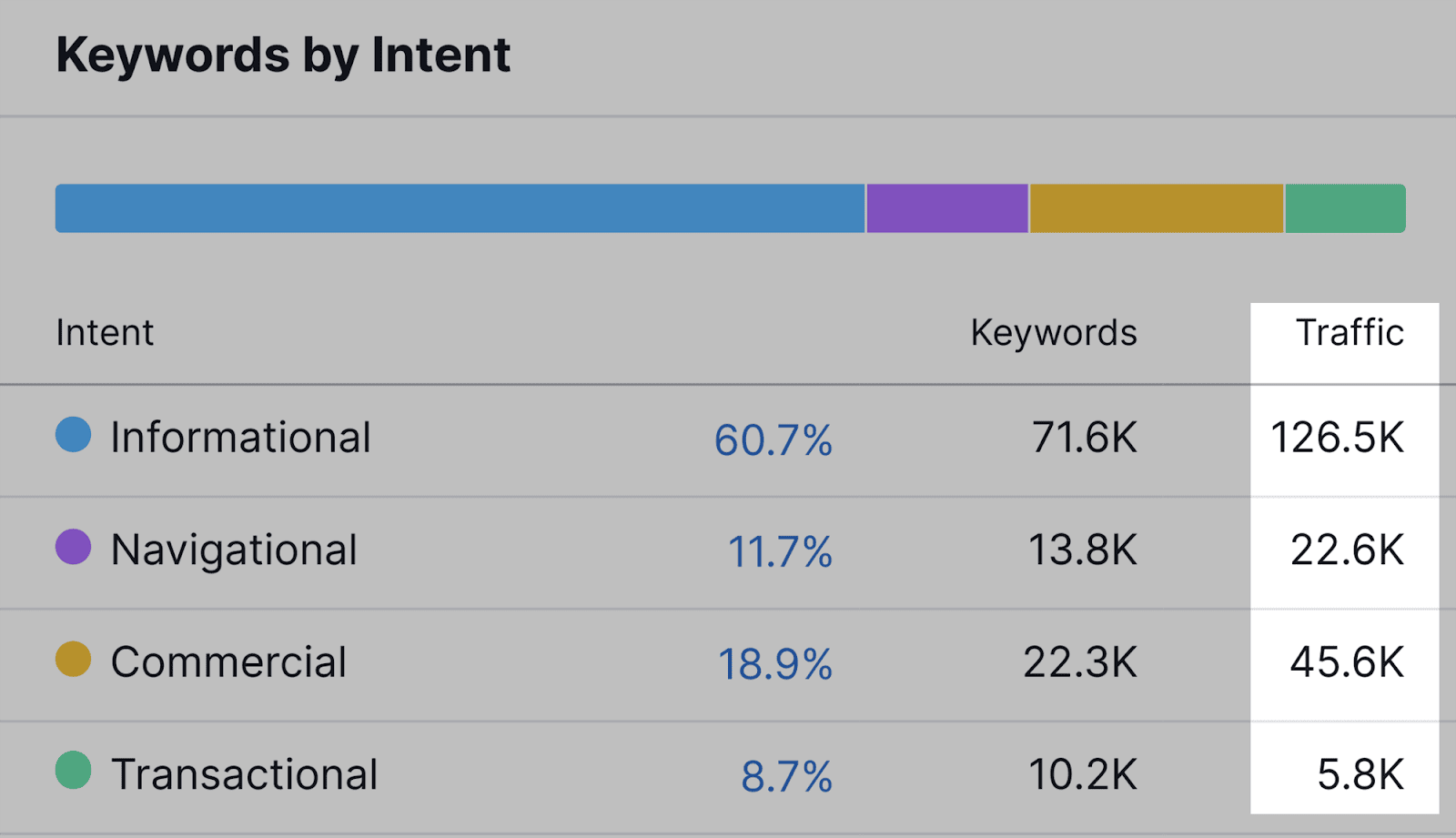 As expected, I'm mostly ranking for informational keywords, since most of the content I write is focused on teaching and informing people. This lets me know that my SEO efforts are aligned with the main purpose of my website, which is to provide information.
What Causes A Sudden and Significant Drop in Keyword Rankings?
I've already addressed one of the primary causes for a significant drop in keyword rankings: Google algorithm updates. However, there are other factors that can lead to substantial declines in your keyword rankings, including:
A change to your backlink profile
High-quality backlinks from authoritative and relevant websites are valuable assets. Losing such backlinks can impact your website's authority and credibility in the eyes of Google. As a result, your rankings might drop, especially for keywords that were influenced by the lost backlinks.
On the other hand, if you've acquired a large number of spammy backlinks recently, this could result in a Google penalty which, in turn, could lead to a significant drop in your rankings.
For this reason, it's necessary to audit your backlink profile regularly.
I've got an extensive guide on how to perform a backlink audit if you want to learn how to do it.
Content quality, removal, or changes
Poor quality content will obviously lead to poor quality rankings. If your content is inaccurate, shallow, or directly copied from somewhere else, it won't rank in the SERPs.
A sudden drop in rankings can also occur if you remove or dramatically change the content on your web page. When Google revisits your web page and finds that the content is no longer of quality, you could potentially see a drop in rankings.
Google Penalties
If Google detects that you've used black hat techniques to manipulate the algorithm, they may enforce a manual penalty that will cause your rankings to drop dramatically.
Black-hat SEO techniques include:
Shady link-building
Keyword stuffing
Duplicate content
Cloaking
Hidden text or links
Basically, anything you've done to manipulate the algorithm will likely come back and affect your rankings at some point.
Server migrations or HTTPS transitions
If you change the URL structure of your website, switch from HTTP to HTTPS, change your CMS, or undergo a site migration, you need to ensure you carry these out carefully and correctly. Failing to do so could result in a significant loss of rankings.
For example, when transitioning from HTTP to HTTPS, you need to set up 301 redirects from your old pages to your new ones. If you set up these 301s incorrectly it can trigger errors. These errors may result in a drop in rankings.
Technical issues
Tech issues such as slow page load speeds, 404 errors, broken links, server downtime, and non-mobile-friendly pages will likely increase the bounce rate of your pages. As a result, this could lead to a drop in your keyword rankings.
Another common technical issue is a robot.txt file with incorrect directives. These files provide directives to Googlebot, influencing its crawling behavior throughout your domain.
If you create a robots.txt file with incorrect directives it can lead to crawlability issues and, ultimately, ranking problems.
Seasonal keywords
If you're targeting seasonal keywords, you might experience natural fluctuations in rankings due to seasonality or changing user intent.
This is generally part of the package of targeting seasonal keywords. You may notice them climbing back up the rankings when the season comes back around again.
Evergreen keywords, on the other hand, stay relevant throughout the year.
How Do You Respond to a Drop in Keyword Rankings?
To finish off, let me address what you should do once you notice a significant drop in your keyword rankings.
Audit your site
The first thing to do if you experience a sudden drop in keyword rankings would be to audit your site. This will highlight any issues your site is experiencing, whether it be backlink issues, technical issues, or any other on-page or off-page problems.
By pinpointing your issues, you know exactly what you have to fix.
If you've read the guide I linked to above, you'll know how to audit your backlink profile.
Now I'll show you how to audit your site for technical and on-page SEO issues. Using Semrush's Site Audit tool, you can scan your entire site and get a comprehensive list of all of its issues, and recommendations on how to fix them.
You'll find the Site Audit tool under the On-Page & Tech SEO section in the left-hand menu: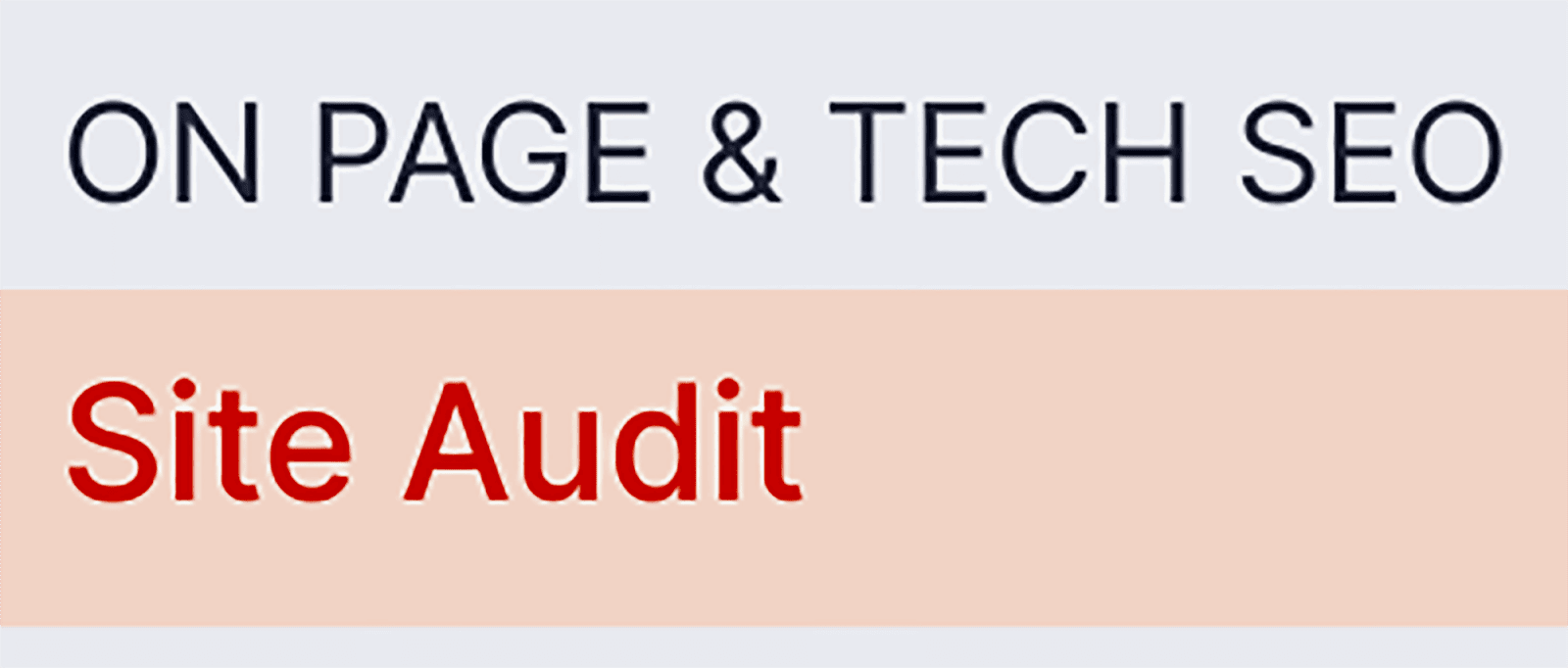 Next, type your domain in and hit "Start Audit":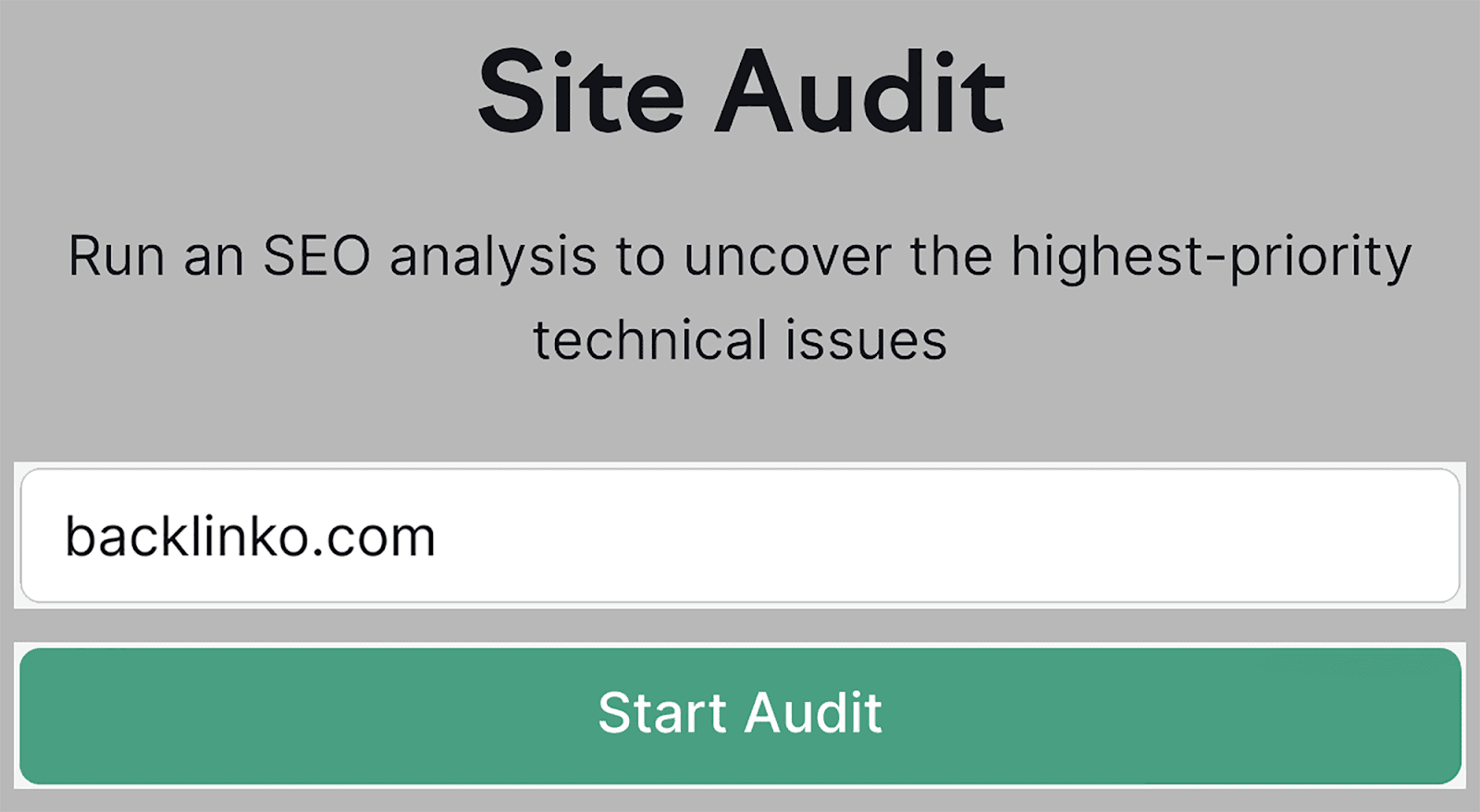 Semrush will then start to scan your site for any errors. Once the audit is complete, you'll land on the Site Audit Overview page: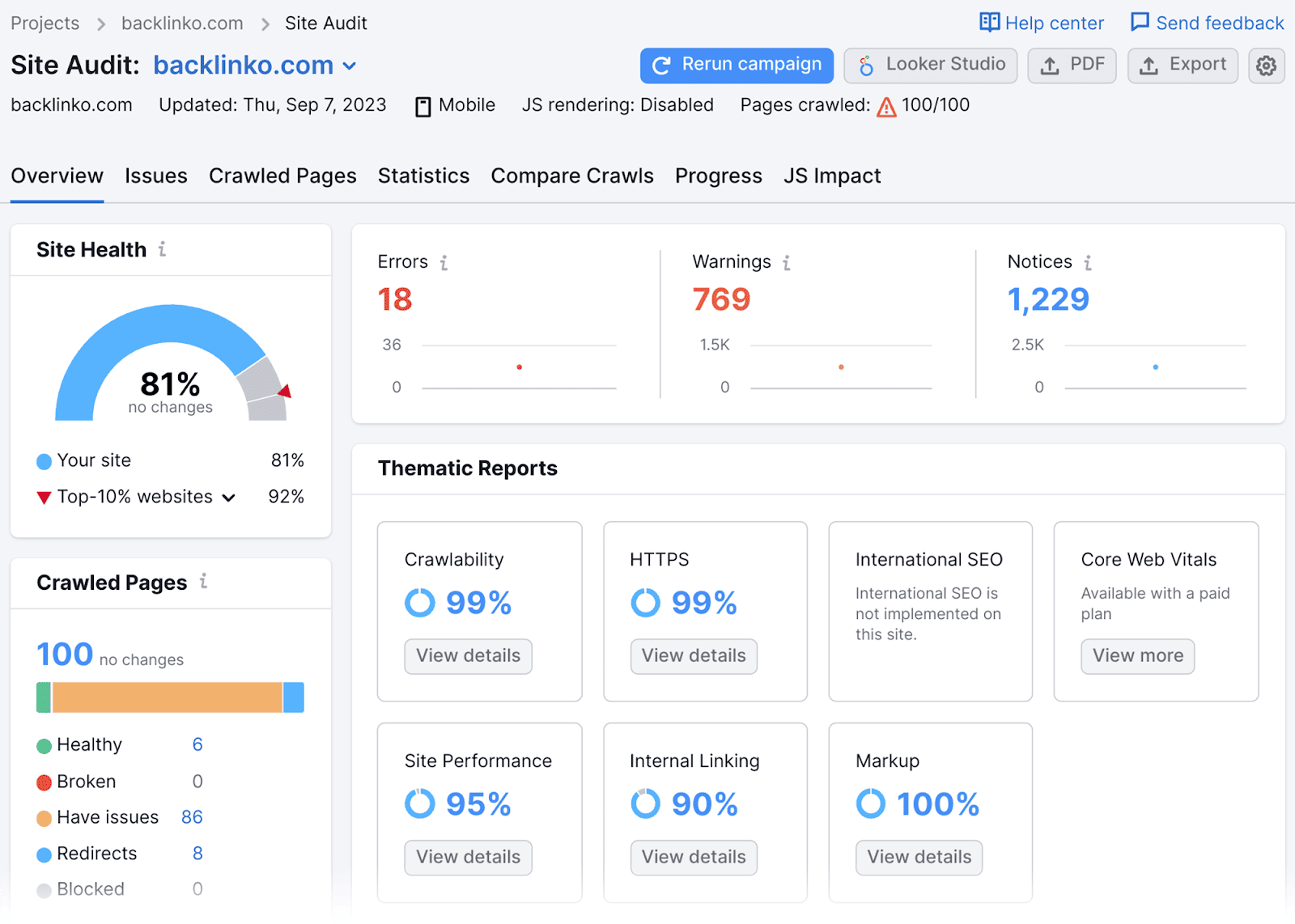 This will give you a general overview of the current health of your site. If you click on "View details" in any of the widgets, you'll be able to review more detailed information related to those specific reports.
By clicking on the "Issues" tab, you'll be able to see a full breakdown of errors, warnings, and notices: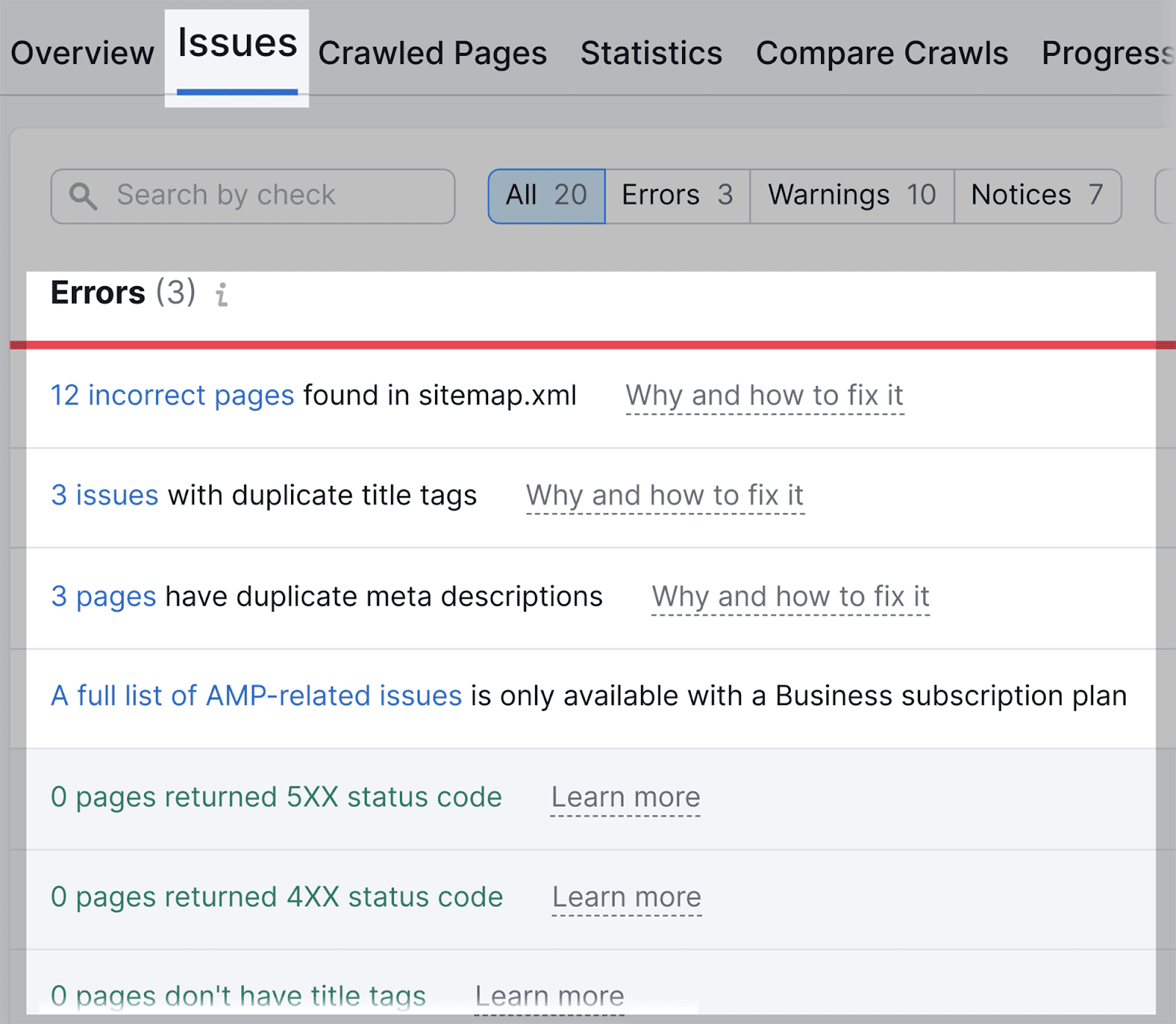 If you click on one of these errors, you'll be able to analyze the affected pages. For example, if I click on "12 incorrect pages found in sitemap.xml", I can pinpoint exactly which 12 pages are affected: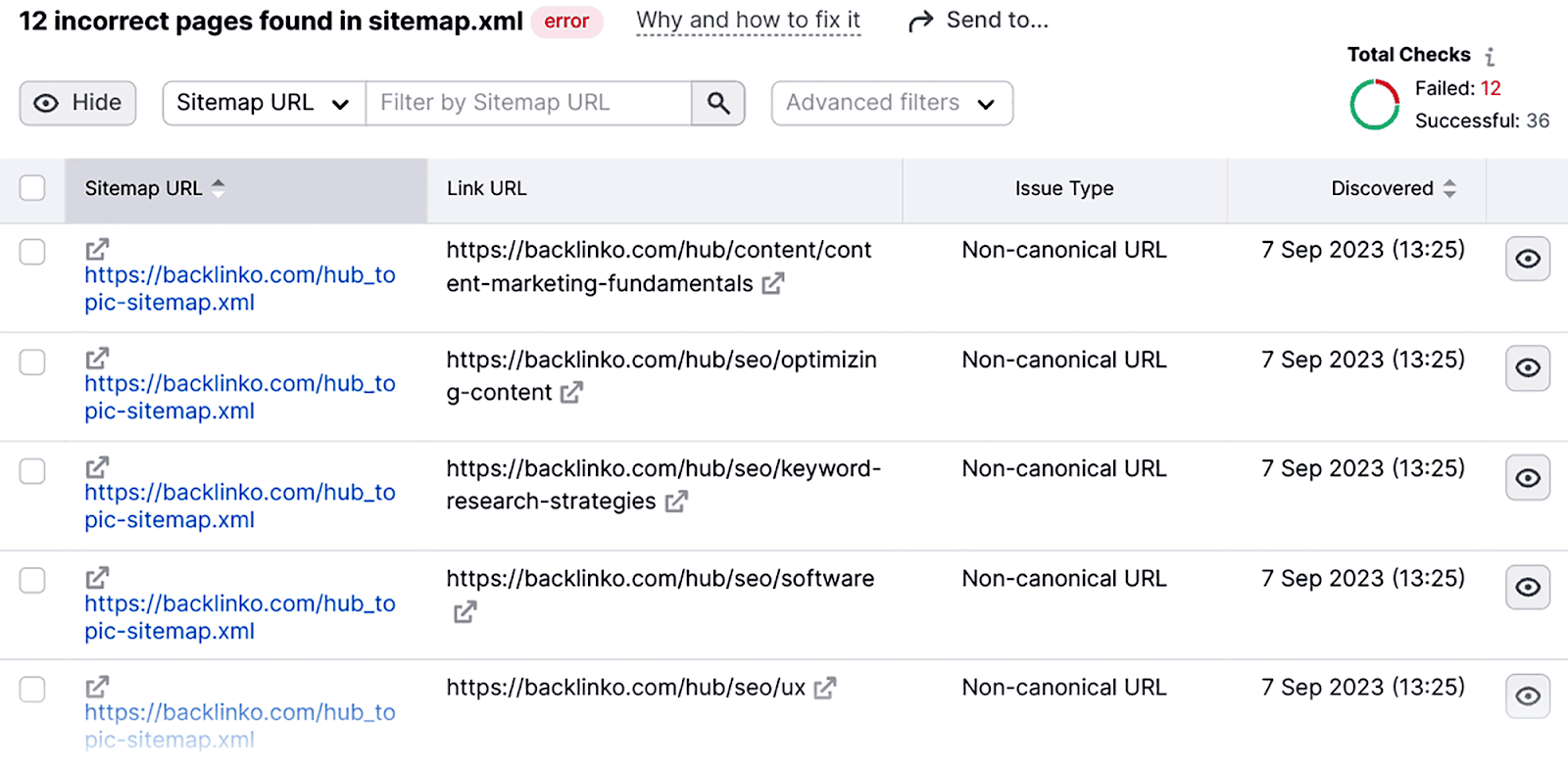 …which I can then go and fix.
Update your content
If you find that your rankings are declining, one possible contributing factor could be outdated content.
For example, an article titled "Best Paleo Diet Tips of 2020" looks pretty dated compared to an article titled "Best Paleo Diet Tips 2023".
Search engines place significant importance on delivering up-to-date and relevant content to users. When your content becomes outdated, not only does it lose its appeal to readers, but it can also negatively impact your search engine rankings.
Users are more likely to engage with and trust content that reflects the latest information and trends. To stay competitive, it's crucial to make sure you're consistently updating your content, refreshing your statistics, and revising your information as necessary.
Match search intent
You need to make sure that your content is actually answering the questions that web users are asking.
You need to engage your audience quickly and keep them engaged – the main way of doing this is by structuring your content in a way that addresses their main pain points and provides solutions to them.
Aim to answer your user's search query as soon as possible – i.e., within the first few lines of the article. Don't make them scroll through the entirety of your article, as they're highly unlikely to do so.
In fact, they're more likely to bounce and look elsewhere for answers. If enough users go elsewhere, then you could run the risk of losing your audience and your rankings completely.
If you do notice a drop in your rankings, analyze your pages and make sure your content is actually aligned to match the users' search intent.
Analyze your competitors
Your competitors will have analyzed your content and taken steps to optimize theirs in order to outrank you.
So, if you notice that you've lost rankings, and a competitor has gained the upper hand, you need to analyze their page and see if there are opportunities for you to optimize your page to provide more value and a better UX.
How Often Should You Track Your Keyword Rankings?
Like most SEO tasks, you need to track your keywords periodically.
However, the frequency in which you should track your keywords depends entirely on your industry, the competitors you're up against, and the amount of time and resources you must dedicate to keyword tracking.
To give you a rough idea of how frequently you should carry out tracking, here are my recommendations for different business types:
Monthly tracking
If your keywords are generally stable and if your competition levels aren't too high, then conducting monthly keyword tracking is recommended. Monthly tracking is the bare minimum you can do. So, if you don't have much time or resources, try and at least check your rankings once a month.
Bi-weekly
If you've just launched a new SEO campaign, you'll probably naturally be checking your rankings frequently. Checking on a bi-weekly basis should allow you to keep up-to-date with minor changes while giving you enough time to focus on other SEO tasks.
Weekly tracking
I'd recommend tracking your keywords on a weekly basis if you're in a highly competitive industry. As in, if your rankings naturally fluctuate on a regular basis. Tracking this frequently will allow you to catch fluctuations before they get out of hand. By identifying these ranking changes, you can make adjustments to your content to overcome them.
Daily tracking
I only recommend daily tracking for the following reasons: if you've recently encountered a Google penalty or are actively working on recovery, or if Google has recently rolled out a major algorithm update. Daily tracking can provide crucial insights into their impact on your rankings.
FAQs
Can you use Google Keyword Planner to check keyword rankings on Google?
Google Keyword Planner is not designed for checking keyword rankings on Google. Instead, it is a tool you can use for keyword research purposes.
For example, you can use it to analyze prospective keywords by determining their average search volume, competitiveness, and bid estimates.
This all helps you determine whether the keyword is worth targeting or not. Once you have selected your keywords and have written your content, you can track your rankings using Google Search Console or Semrush.
Can I track keywords for different regions or countries?
Most SEO tools that are designed to track your keyword rankings can be used for different regions and countries. For example, if you're using Semrush's Position Tracking, you can upgrade to Multitargeting to track your domain rankings in different locations and languages.
Is tracking keyword rankings the only metric I should focus on for SEO?
No, to make your SEO campaign a success, you need to track more metrics than just your keyword ranking. Your keyword ranking is a good indicator of how visible you are on the SERPs, and how well you're competing against your rivals, but it doesn't reveal how web users are actually interacting with your content. For this, you would need to track your organic traffic levels, clickthrough rate, conversion level, and so on.
Source link