How to Choose an SEO Company in 8 Steps
SEO is a critical component of increasing your online visibility. It boosts high-value organic traffic and, as a result, revenue.
But what if you aren't an SEO pro? 
Luckily, you don't have to tackle it without guidance.
Here's how to choose an SEO company to help improve your digital presence.
How an SEO Company Works
The overarching job of an SEO business is to boost the rank of your website on search engine results pages (SERPs).
Why?
Because the click-through rate (CTR) tends to be highest for the first three organic search results and decreases rapidly after that.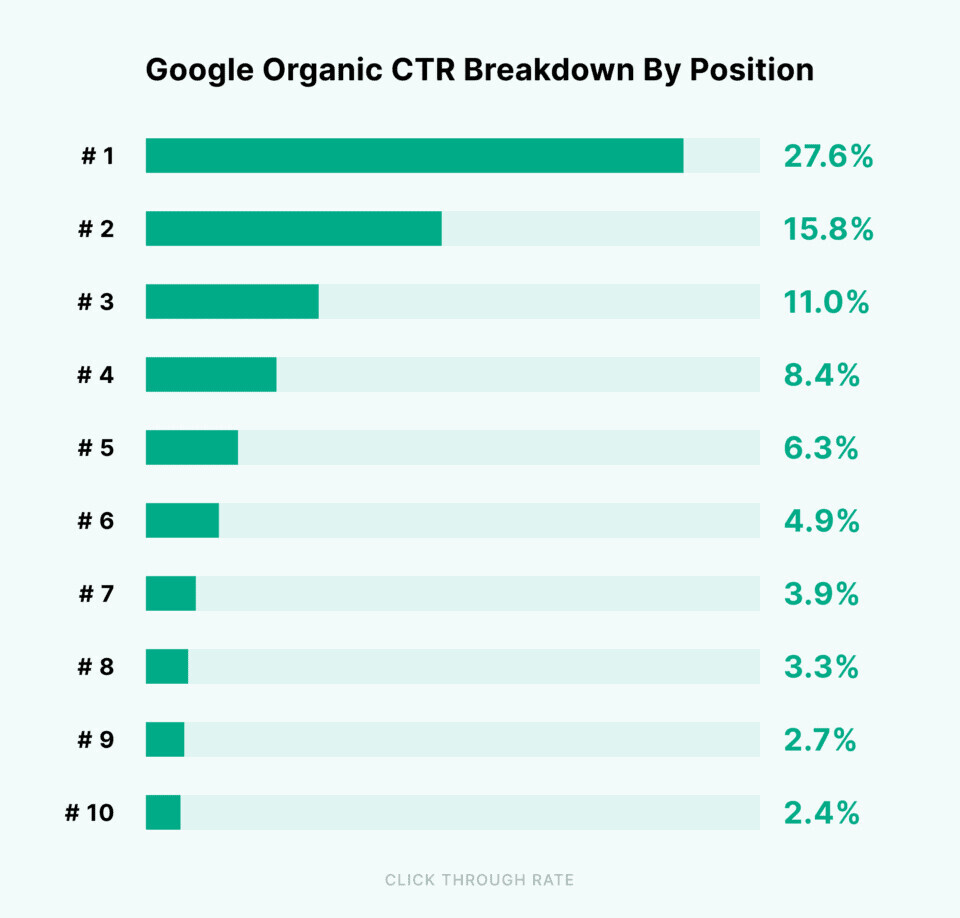 Image Source: Backlinko
Since Google dominates the field with over 90% of the search engine market share, an SEO company will usually start there. 
However, they can branch out to target other search engines—like Bing. Especially if research indicates some of your target audience engages there.
SEO companies typically take on this task by developing a multifaceted approach that makes sense for your business and the people you want to reach. We'll explore some of these techniques later. 
An SEO agency will usually have an established system for reporting their efforts, progress, and successes. 
Tracking and measuring your SEO campaign can help you understand your baselines, determine if you're happy with the strategy, and observe growth over time.  
Use this step-by-step guide to help find an SEO company that can assist you in meeting your business goals.
1. Familiarize Yourself with SEO
It might be difficult to hire the right agency if you're unfamiliar with SEO.
So, get to know the core services most well-rounded partners will offer.  
SEO Auditing
An SEO audit is an extensive analysis of your website to determine its SEO health.
A comprehensive audit should look at technical elements of your website, such as indexing and architecture. It should also consider content performance, backlinks, and overall ranking. 
It may even include a competitive analysis on how other websites in your space handle SEO as a reference point.
In the audit stage, an SEO company should document flaws or problems that could be impairing  your website's performance and provide suggestions for enhancements.
On-Site SEO
On-site SEO, or on-page SEO, is the practice of improving specific components of your website to perform better in search results and receive more traffic.
These elements can encompass:
To upgrade and manage each one, an SEO company may build a content development strategy. This includes the process of creating content—from planning to creation, sharing, optimizing, and measuring its success.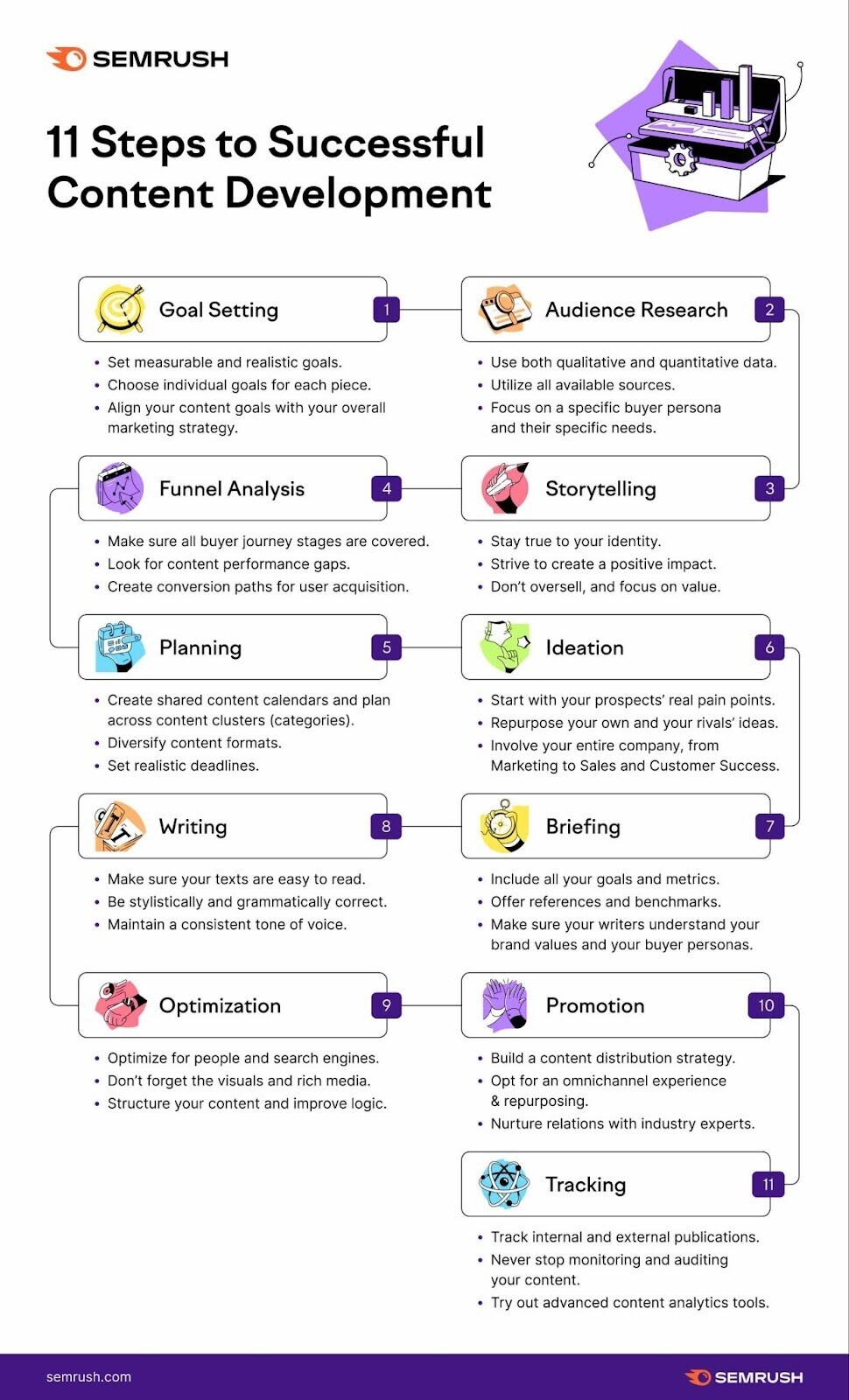 Off-Site SEO
In addition, there's off-site SEO, also called off-page SEO. 
Off-site SEO strategies still aim to raise your ranking, but they take place outside of your website. 
Tactics in this category include: 
Technical SEO
Technical SEO focuses on updating your website to make it easier and faster for both human users and search engines to consume.
Here are some technical SEO approaches: 
Local SEO
If you want your business to appear in local search results, local SEO might be a good strategy for you.
Local SEO focuses on generating local brand recognition and location-specific traffic for your website. 
To do so, here are some of the on- and off-site tasks an SEO company may undertake: 
Optimizing for location-specific and "near me" keywords 
Focusing on your Google Business Profile (formerly known as Google My Business) 
Getting you listed on local business directories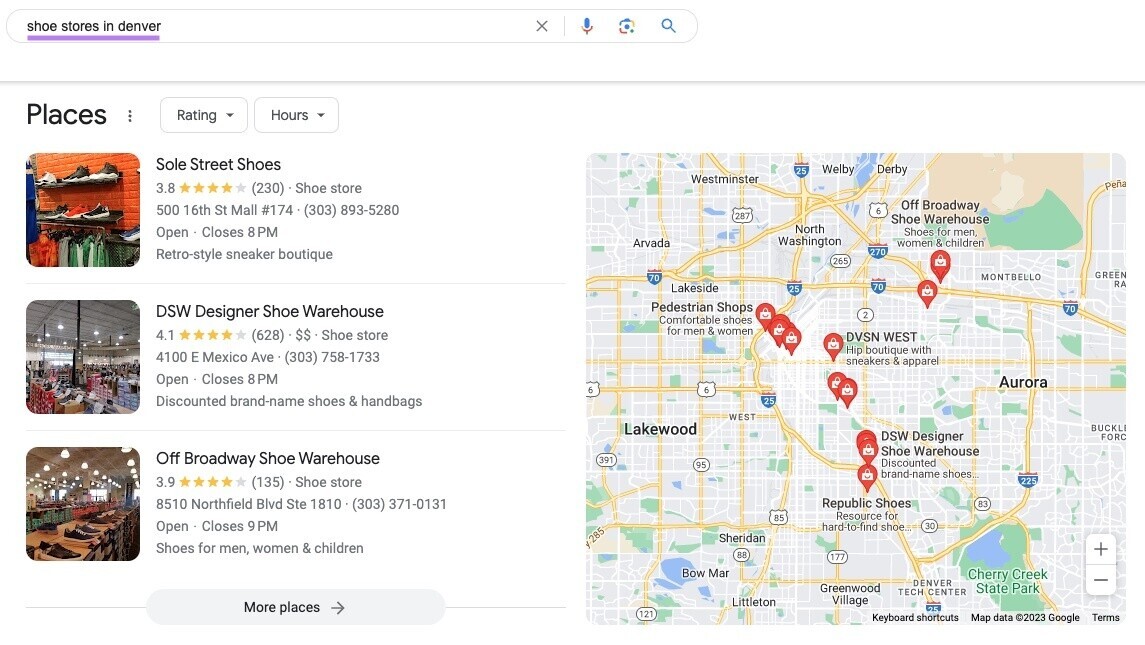 2. Outline Expectations & Goals
Understanding where your business is and where you want to take it will help you communicate your goals with any SEO agencies you interview—and help you make the right hire. 
So, what do you expect to gain by outsourcing SEO to an agency?
Your objectives should determine the direction you take:
Need help establishing your business in a new market? 
Expanding into new offerings and looking to grow conversions? 
Finding your business rivals consistently outranking you and grabbing the lion's share of traffic from SERPs? 
Already have SEO strategies in action that you want to generate more—or faster—results from? 
For example, if you're breaking into a new market, look for an SEO agency located in that market that specializes in local SEO. 
Thinking through these questions should help you and any agency better understand what SEO metrics and strategies will fuel your success.
3. Get to Know Pricing and Service Packages
Pricing among SEO agencies can vary greatly.
You want to understand the various pricing structures and what the agency includes with each. This way, you can make an informed decision as you compare your options later.
Here are the most common pay structures:
Monthly Retainer
With a retainer, a specific set of services and tasks are generally performed for the same price every month. This is a popular pricing structure with both SEO vendors and their clients.
Monthly retainers give companies the best opportunity to work with devoted, experienced SEO agency teams. This makes them an ideal way to meet and exceed big SEO goals.
Small- and medium-sized businesses should budget between $700 and $2500 for SEO services. More aggressive budgets will generally lead to faster results. 
If you have a healthy budget and cashflow—as well as competitive SEO targets—consider a monthly retainer.
Project-Based Pricing
With this pricing strategy, you pay a single price for a project. The cost will depend on the project's scope, timelines, and goals. According to Clutch.co, these projects, on average, can range from $10,000 – $49,999.
Project-based pricing may be best for you if your business is interested in SEO but hasn't fully fleshed out its needs or wants.
This approach makes it possible to dip your toe into the world of working with an SEO agency team without making a long-term commitment you may not be ready for.  
Often, a good first project to take on with a new firm is an SEO audit. 
A firm will typically quote a price for the initial audit and subsequent fixes. 
However, other firms may have a set pricing for the audit itself and report preparation, but follow up with an hourly rate to do the actual implementation. 
Hourly Consulting Rate
Some SEO agencies and individual SEO consultants bill clients hourly. 
Costs for hourly consulting can range from $50 to $150, depending on the scope of work required.
Consulting may be a good fit if your company is looking for guidance on one or a few singular SEO topics, rather than an ongoing partnership.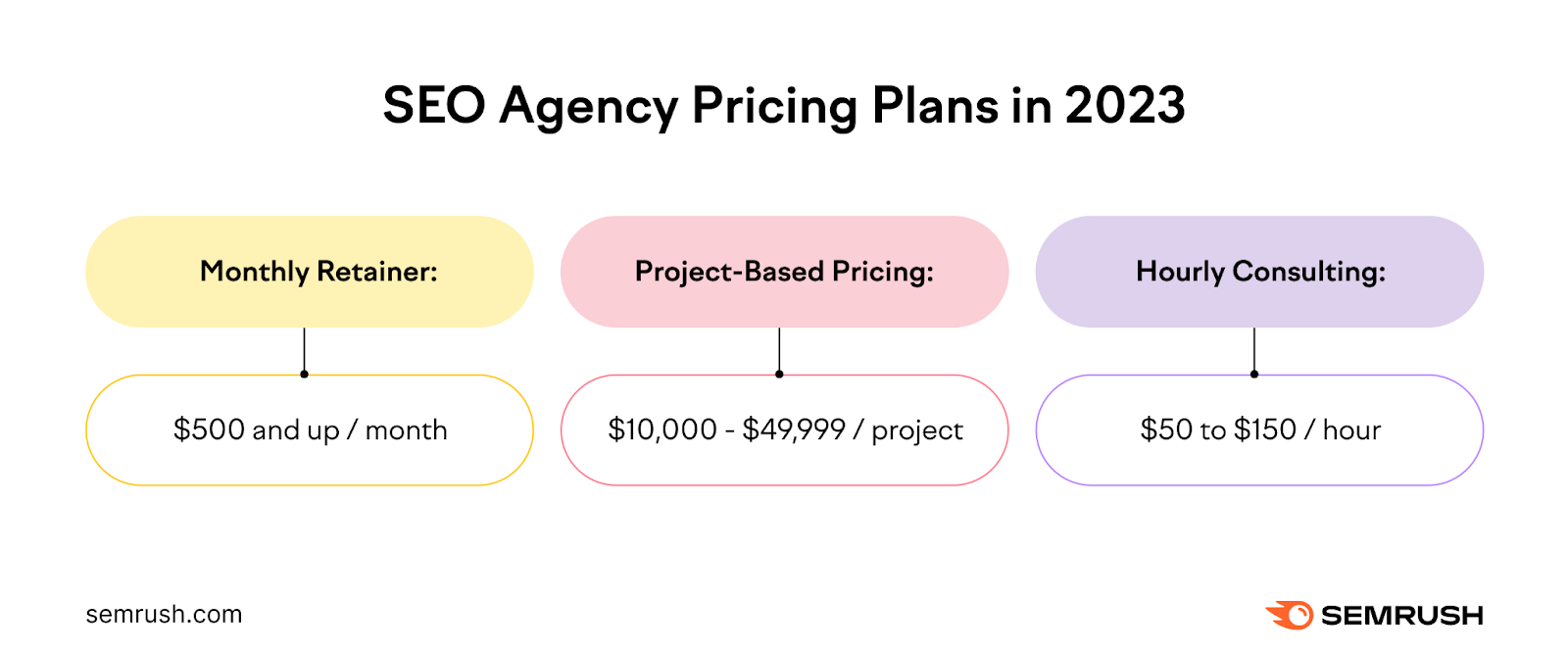 4. Set Your Budget
Setting a budget will help you narrow down agency partners that could fit your goals. 
Plus, it will help make sure that your expectations align with what you can afford to spend.
Compared to other marketing strategies, SEO can take a while to generate obvious results.
The upside is that the impact of SEO campaigns can continue to grow even after the initial investment.
Keep in mind, higher costs don't always guarantee better results. Focus on the agency's track record and expertise rather than solely on budget.
And while you might not always get a straight answer, it's never a bad idea to request an estimated timeline for when you can expect to see tangible SEO results based on your budget allocation.
Also, your budget doesn't have to be set in stone. 
Ideally, you'll be able to plan with flexibility in mind. Your budget should be able to scale as your business grows and SEO needs shift.
Or, look at starting with a consultant or paying for SEO projects on an as-needed basis if you're working with a lower budget.  
5. Start Your Research
Asking for referrals is a good first step to tracking down a trusted agency. 
When it's time to start figuring out which agencies to consider, ask friends, colleagues, and professional communities who they've worked with in the past. 
Another common way to find SEO vendors is via an online search. 
Here are some phrases you could type into a search engine to get started: 
"Best SEO agency for [your industry]"
"Top SEO company for [your business size]"
"SEO agencies near [your location]"
You can also head to an agency marketplace like MarketerHire or Legiit. Or, check out trusted marketing companies to see if they have any agency partners to recommend.  

The first step in evaluating each vendor is diving deep into reviews. 
Do a search to see what third-party reviews you can pull up. You'll likely find reviews from social media, Google, and Glassdoor.
While online reviews are valuable, consider reaching out to previous or existing clients of the agency for direct feedback.
You could check if the agency has received any industry recognition or awards, as this can indicate expertise. 
You might also research the agency's involvement in thought leadership, like writing articles or speaking at conferences. This shows they stay up to date with industry knowledge.
Remember, researching an SEO agency isn't just about learning what results they can muster. It can also be helpful to paint a picture of how they treat staff and clients. 
And how they'll likely treat you.
6. Compare Top Options 
The goal after perusing reviews is to have a manageable list of top contenders. 
Now that it's getting pretty serious, there are a few final areas in which to conduct due diligence and help ensure an SEO company can deliver when it comes to expertise and results.
Portfolio
In the SEO world, experience matters. 
A company that can demonstrate a record of success is likely equipped to understand your SEO challenges and opportunities. 
This is when you really should lean into their online resources.
Find out how long they've been around and what industries and clients they have experience with.
Read case studies that closely match your business model to get a good idea of their tactics and performance.
Check out what they publish on their blog, social media, and elsewhere to get a feel for their personality and understanding of the SEO space. 
When reviewing an agency's work, you want to keep an eye out for poor SEO tactics that violate search engine guidelines.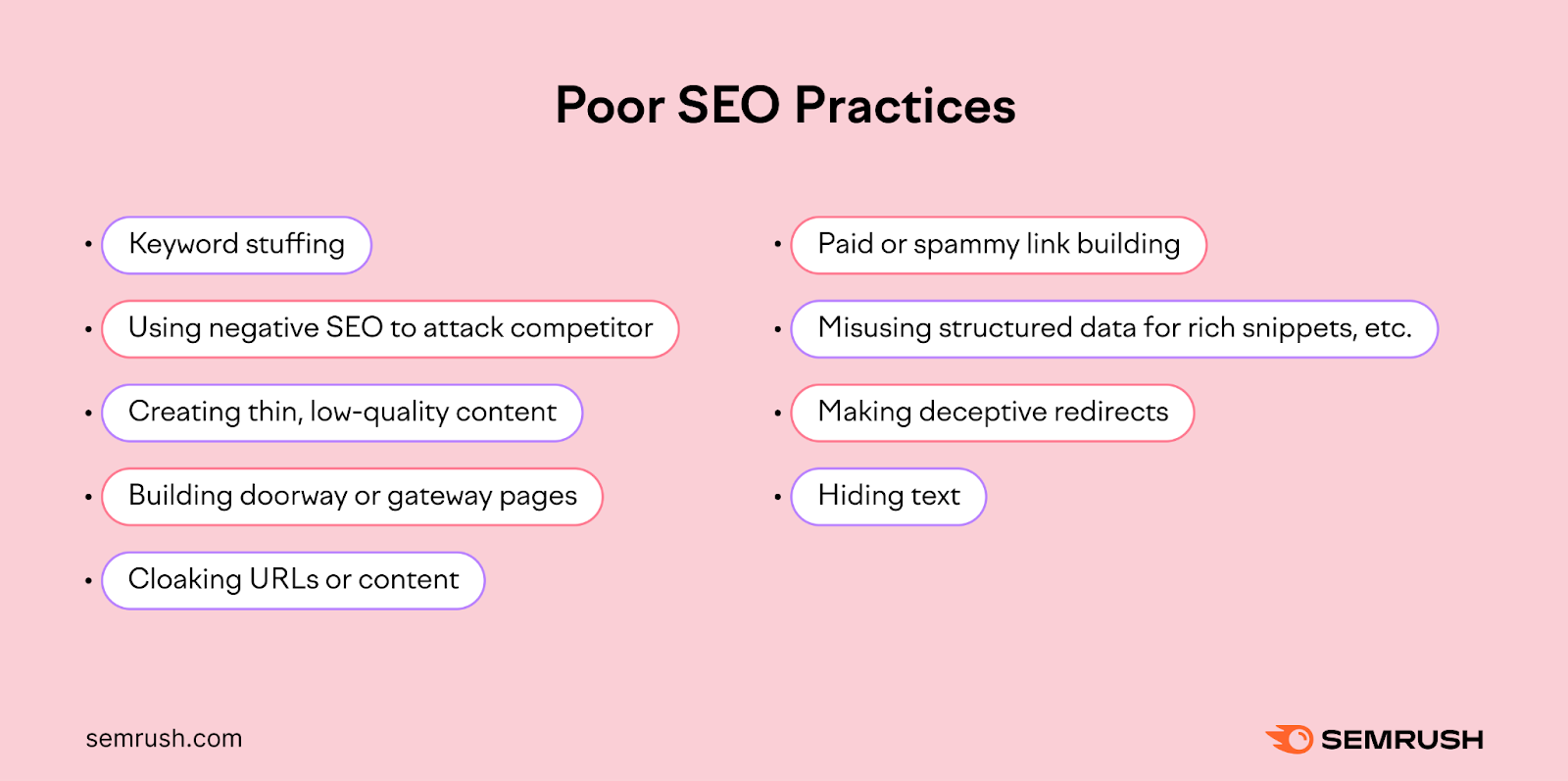 Techniques 
It's critical to comprehend what kind of SEO tactics a company may deploy before you agree to work with them. 
The ideal strategy for continuous success will include SEO practices that closely align with Google's guidelines to improve a site's ranking.
It should also incorporate a plan for handling algorithm updates and adjusting strategies to maintain success.
For instance, if you're interested in traffic within a specific geographical area, ask about their approach to local SEO. 
The same goes for any of your business objectives.
Ensure that an agency you're interested in can tailor their techniques to help you fulfill your specific goals.
Team 
SEO is multidisciplinary. That's why multifaceted SEO agency teams tend to be the most effective at what they do. 
To learn more about the team at the agency you're considering, visit their company website as well as their LinkedIn profile. Make sure they invest in hiring and retaining SEO experts in all the various services offered. 
This doesn't just bode well for your SEO outcomes. It can also be a sign of wise leadership and a healthy company culture—so you will likely deal with less turnover and rookie missteps.
At this point, you should have a few solid options for your SEO company partner. 
It's time to reach out. 
The goal is to fully confirm they have the skills and bandwidth to meet your needs. And it's a great way to get to know the team and how they share information before you commit. 
Working with any outside agency successfully often requires regular communication. 
So if you're in talks with an SEO company, ensure that part of their strategy is regularly sharing with you about what they're doing and how it's working. This will likely be a report and/or meeting one or a few times per month. 
How many times per month? And what metrics are included in these check-ins to help you gauge the success of their SEO efforts? 
Those are great questions to ask. 
In addition, they should also provide a primary point of contact within the SEO team. This is someone you can reach out to with any questions or suggestions.
And remember, communication is a two-way street. 
Your firm may need input from you from time to time. What they request and how often will depend on what kind of strategy you've agreed to. 
Try to make yourself available for conversations to avoid bottlenecking your own SEO success. 
8. Ask for Proposals
Finally, it's time to get proposals from your top SEO companies.  
An SEO proposal is their sales presentation. It's their chance to persuade you that their company is the ideal fit for your team.
You can learn much about a company and how seriously it will take your business from the details it provides.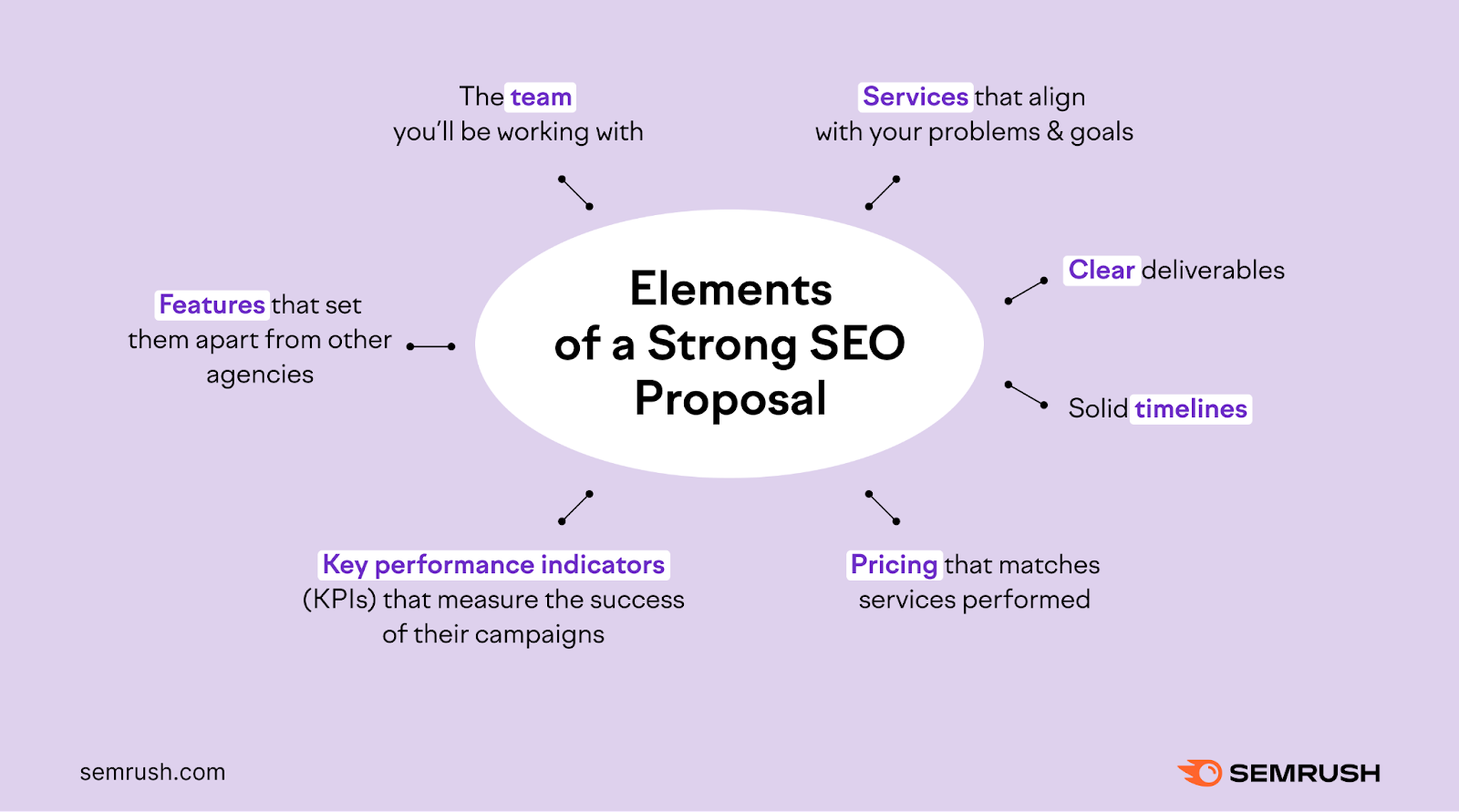 Of course, pricing matters in your final decision on an SEO company. However, it shouldn't be the only deciding factor.
In fact, focusing on the lowest cost possible might actually derail your goals. 
SEO Company Red Flags to Avoid
If you come across any of the following red flags during your search, take a beat to make sure you're pursuing the right SEO company fit for your business. 
Guaranteeing a Specific SERP Ranking
Nothing can guarantee you a certain position on a search engine results page. 
Search engines—especially Google—continually update their highly intricate algorithms to rank content and websites.
Which means results are constantly changing.
An SEO firm that thinks it can beat this system may be inexperienced, untruthful, or planning to do something nefarious to help you shoot to the top of Google.
And you'll probably come crashing back down. 
Promising Immediate Results
Agencies saying they'll get instant results should throw up a red flag.
In most cases, SEO is considered a long-term, steady growth strategy.
SEO firms promising overnight results might deploy shady tactics that can damage your site's ranking over time. In some extreme cases, this damage can be irrevocable. 
Setting Unreasonable Expectations
Great SEO agency partners should show you up front that you can trust them by setting realistic expectations and establishing transparency where it makes sense. 
A massive part of working with clients successfully is clear and intentional expectation setting on the part of the agency.
From the moment you begin talking to an SEO company you're considering, they should be communicating with you about: 
What is feasible
In what amount of time
With what resources
They should position SEO as an ongoing strategy and themselves as a partner in that strategy. 
As an element of that partnership, they should be upfront about what documentation, updates, and metrics they will share to remain aligned with your goals. 
Red flags that may indicate reasonable expectations aren't being set are: 
Hinting at a relationship with search engines or their algorithms that will give them an "in" when improving your SEO. It's very unlikely they have special insider knowledge.
Promises that your content will maintain a certain rank permanently. Which is nearly impossible because of how often algorithms update.
Mentioning "secret" methods to skyrocket SEO. These are almost short-sighted and harmful—most good SEO agencies follow similar best practices.
Suspiciously Low Pricing
If an agency's prices are significantly low for the full gamut of SEO services—and you get the gut feeling that it's "too good to be true"—you might want to think twice about the quality you could possibly receive. 
Getting a low price shouldn't be the only goal when choosing a provider. In fact, accepting the lowest-priced offer might cost you more in the long run. 
Work may need to be redone by a more reliable partner, or poor marketing tactics could damage your company's reputation.
Can I DIY My SEO Instead?
Yes, you can manage your own SEO strategy. 
You might choose not to hire an SEO firm.
Whether you don't have the resources or just prefer to learn and do it all on your own—you can empower yourself to maximize your digital marketing efforts.
First comes the research: 
Then, branch out into purpose-built SEO tooling to start applying your new knowledge.
You can sign up with a tool like Semrush for free and use the SEO Toolkit to: 
Conduct competitive research
Carry out thorough keyword research 
Analyze and improve your backlinks
Run an SEO audit and improve your on-page and technical SEO 
Track it all from your Semrush dashboard 
Start Boosting Your SEO Today
SEO can be a complex topic.
But when you know how an SEO company functions, what red flags to watch for, and how to hire an agency, you can form a partnership that boosts your business and your SEO. 
Or, you can improve your online visibility when you tackle SEO using Semrush. 
Start with a Site Audit to fix the most impactful on-page and technical SEO fixes first. Then, grow from there by using the On Page SEO Checker to upgrade your content.
Source link