13 Print on Demand Companies to Grow Your Business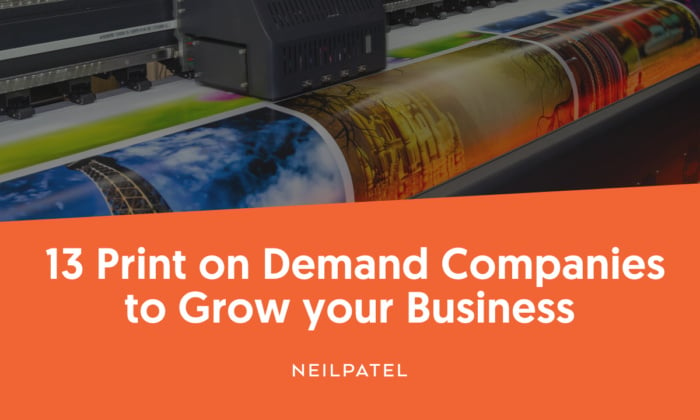 Print on demand can be a convenient, cost-efficient way to get your creations out there. Of course, like anything in business, there are pros and cons to using print on demand.
However, the many opportunities available with print on demand services are almost limitless. Putting your creativity to work, you may find print on demand is a great way to supplement, experiment with, or support your business goals.
What is Print on Demand?
So you have a great new idea. Maybe it's a new design or a new book.
What if you could get it out on the market without the expensive overhead of a bulk order?
That's where print on demand comes in. As the name suggests, an item is printed when the demand calls for it. When you or one of your customers orders a product, only then is it printed and shipped out.
A type of dropshipping, print on demand allows you to engage with a third-party seller who customizes a blank item from their inventory of options with your design or personalization. Your customers can place their order through that seller, or you can purchase your products in smaller quantities.
Print on demand is available for a wide range of items from a variety of vendors. We'll discuss a few specific vendors below, but here are a few categories of items you can print:
Books: Fiction and non-fiction books, e-books, workbooks, notebooks and journals, photo books, coffee table books
Apparel: T-shirts, sweatshirts, hats, socks, bibs, kids' clothing
Household Items: Kitchen towels, cushion covers, tote bags, pet products, mugs
Office Items: Pens and pencils, notepads, mousepads, thumb drives
Paper Items: Posters, stickers and labels, folders, bumper stickers
Create something new. Get it out there quickly. That's what print on demand is all about.
The Benefits of Print on Demand
Print on demand is a popular revenue stream or marketing strategy for many businesses, and for good reason. Here are a few of the benefits.
Print on demand can be a convenient, cost-efficient way to get your creations out there, and there's a massive demand for such products.
The ongoing popularity means the POD niche is on course to reach a compound annual growth rate (CAGR) of 26.1 percent between 2023 and 2030. In other words, the only way is up.
Of course, like anything in business, print-on-demand has pros and cons.
However, the many opportunities available with print on demand services are almost limitless. Putting your creativity to work is a great way to supplement, experiment with, or support your business goals.
What Is Print on Demand?
Print on demand (POD) is a business model in which companies produce products like books, apparel, and accessories when customers order. There are no upfront costs.
You can use them in two ways.
First, you can set up a store and upload your designs to a site like Cafepress or Zazzle and earn a commission when you make a sale or buy products in bulk to sell.
Alternatively, you can list a POD product on an e-commerce store like Etsy or Shopify and let your chosen POD company manufacture and deliver the item once you make a sale. You then make a commission on that sale.
It's like a type of dropshipping.
The print on demand process allows you to engage with a third-party seller who customizes a blank item from their inventory of options, like apparel, household, and office items, with your design or personalization.
Create something new. Get it out there quickly. That's what print on demand is all about.
The Benefits of Print on Demand
Print on demand is a popular revenue stream or marketing strategy for many businesses, and for a good reason. Here are a few of the benefits.
Using a Print on Demand Service Means Lower Overhead
You can sell items one at a time rather than purchasing inventory, which often requires large, bulk orders. That means you only have to pay when someone buys an item. Whether you're starting lean or unsure how popular a product will be, you can keep your overheads low and costs in line with exactly how many you have sold.
Also, if you're not sure your next big idea will hit it out of the park, print on demand lets you test the idea among your customer base. In fact, you could create some products using print on demand and send the image or sample products to your most loyal fans to get their feedback before you spend too much time on it.
There May Be Less Work With Print on Demand
If you want to sell a new product line, you may want to avoid looking for a new vendor or being responsible for research or shipping. Print on demand solutions like Printful or CafePress take care of the printing and shipping for you, letting you focus on more product lines or ideas. Print on demand is a great way to get the product out with little work.
Using Print on Demand Companies Often Takes Less Time
We've all been there. You come up with a great idea in the middle of the night, and it needs to become a reality the next day. However, you don't have time to print and gather inventory. Print on demand allows for this kind of spontaneity and flexibility.
You May Face Lower Risk With Print on Demand
Let's be honest: Not every idea is a winner. Rather than shelling out a lot of money on inventory, putting you on the hook for selling those products, print on demand companies allow you to test an idea without putting all your eggs in that basket.
You may find your customers respond to your design but only on certain products, or they may love the design for a limited time.
With lower risk and lower overhead costs, print on demand is an option that makes sense in many circumstances.
Grow Your Audience With Print on Demand
Print on demand allows you to create new products during a specific season or for a niche customer base. You can get the products out to them practically overnight and reach an audience you could have missed otherwise.
Advertising your brand through merchandise can build a small income stream and support your overall marketing efforts by spreading the word about your brand. This is especially useful if your brand has connections with a local market or a specific audience that tends to gather at special events.
Print on Demand Could Increase Your Customer Base
Printing on demand often allows you to diversify your product offerings and reach more buyers. For example, if you offer one-offs or customized products, print on demand can let potential customers who aren't ready for a larger investment connect with your brand at a lower price point.
Print on Demand May Level Up Your Image
Many print on demand services have been around for a while and built some street cred with buyers. Rather than taking a chance on printing items yourself, leaving customers to wonder about the quality, print on demand lets you engage with popular third-party companies that do the work for you—and make you look good by association.
The Drawbacks of Print on Demand
There are many reasons to turn to print on demand for your next idea, but there are also downsides. Consider some of these drawbacks before deciding whether this option is right for you.
Print on Demand May Have Lower Profit Margins
Generally, print on demand costs more per item than inventory you purchase in bulk. This means you'll either have to pass these costs on to your customers by charging more or absorb the costs and make less per item. It may not be a problem if this is a supplemental or side project, but it's worth calculating.
There Are Often Limited Product Options With Print on Demand
Print on demand vendors often have a limited inventory. Maybe you would prefer that sweatshirt in plum or a more modern-style hat? Well, the company doesn't necessarily have that kind of flexibility. You usually have to just go with what the vendors have available.
You Have Less Control When Printing on Demand
With print on demand, you don't have much control over the products, including design quality, manufacturing location, and so on.
For some, this isn't a big deal. You're just trying to get the design out there. However, for others, this could be a sticking point. You may not want your brand or designs associated with a product you don't have ultimate control over.
Printing on Demand Means Shipping From Somewhere Else
Potential issues can arise regarding customer service and general follow-up. When a customer orders a product from a print on demand vendor, it's not coming from you—the vendor ships it directly.
This means their logo and address are associated with the shipping, and they have control over when it ships and tracking. However, you may be the one customers come to when there are problems, not the vendor.
Overall, print on demand could be a great option if you can handle a more hands-off approach. If you're the kind of business owner who needs that hands-on touch throughout the process, you may want to consider if print on demand meets your needs.
Print on Demand Options for Businesses
The options for print on demand are almost as limitless as the ideas you can create for them.
If you already have an e-commerce shop, such as a Shopify site, you may want to look for a print on demand app or integration with your e-commerce platform. This could make creating and listing a seamless experience.
Here's a list of some of the best print on demand companies to get you started.
1. Printful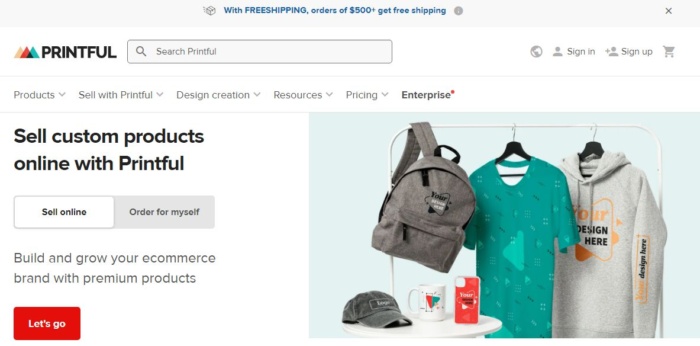 This print on demand service is a favorite among many Etsy sellers. When one of your customers buys a product, Printful fulfills the order and dispatches it.
With simple-to-use design tools, a host of graphic elements, and 80 million plus images from Getty, you won't be stuck for inspiration.
Printful delivers worldwide, has a three-step quality check service in place, and provides full automation for the fulfillment process.
2. SPOD
SPOD has over 200 print on demand products and 50k free designs you can use.
Sign up for free, design your products, set your pricing, and work out any shipping costs, taxes, and fees. Then sit back and let SPOD do the rest.
The print on demand tools are easy to use, and you can connect to various platforms, such as Amazon, eBay, and Etsy.
Discounted samples are available for a 20 percent discount, and SPOD has a 48-hour production service.
3. JetPrint
JetPrint has over 400 products ready and waiting for customization, including jewelry, photo gifts, and pet products.
You can select from numerous styles and then add your unique design using the print on demand company's mock-up generator. After submitting your design, you can order a sample product to check for quality. These are available at a 10 percent discount.
Other products available include customized shoes and personalized embroidery for branding.
JetPrint integrates with major E-commerce platforms, including Shopify, WooCommerce, and Etsy.
4. CustomCat
The Custom Cat print on demand company provides hundreds of POD products like mugs, hugs, and hoodies.
After signing up, users can connect Custom Cat to their stores, upload their designs, choose products to customize, and export products TO their sales platform.
Then, it's time to start marketing your print on demand store and let Custom Cat fulfill your orders.
It also offers POD for businesses if you're looking for high-volume products.
You can place a sample order to test the quality, and it has a professional subscription for $30 monthly.
5. TeeLaunch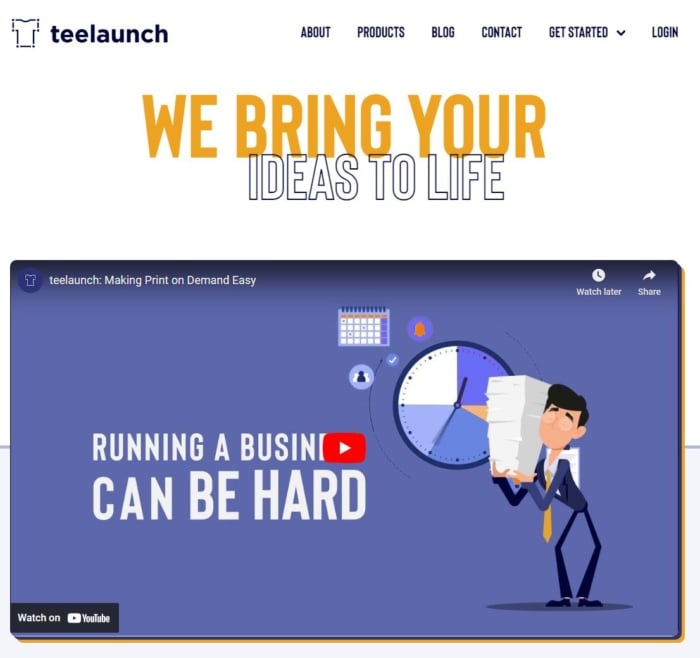 Although it doesn't have the flashiest of websites, Teelaunch has an extensive range of products, such as kitchenware, clothing, and jewelry.
Click on the "Get Started" link at the top of the page, choose your preferred sales platform (Woocommerce, Etsy, etc.), and follow the instructions.
Teelaunch also details a short list of resources for those looking to build their businesses. Click the "Get Started" link and scroll through the dropdown list to check it out.
6. Tpop
This print on demand store lets you launch your own store in seconds. Tpop ships internationally and takes sustainability seriously.
If you want to focus on branding, Tpop has several options, like branded order forms, packaging, and package inserts.
It's free to join, but there are two monthly subscription packages starting from 30 euros. Paid subscriptions give you a blog, your store, and personalized customer emailing, among other benefits.
7. Gelato
On its website, Gelato says it's "the #1 most trusted global print on demand platform," and it has a firm commitment to sustainability.
Its broad network of 32 global printing partners sets it apart, which means reduced shipping costs and fast delivery for buyers.
Gelato stocks a vast range of products like wall art, stationery, and photobooks and integrates with popular e-commerce platforms like Magento, Wix, and SquareSpace. You can also use Gelato's APIs to connect with your store directly.
If you order multiple of the same product, you qualify for a discount, and it has 24/7 support available.
New sellers will find the Gelato Academy helpful. As well as providing video training, it has a live weekly sales and marketing print on demand workshop to help you grow your print on demand business.
8. Apliiq
Apliiq provides print on demand services for fashion and lifestyle brands. Products available include accessories, activewear, and women's and unisex clothing. It also has a range of branding clothing, including Nike, Fruits of the Loom, and Yupoong.
Other services include screen printing, labeling and branding, custom packaging, and cut and sew.
Aside from print on demand, Apliiq dropships products, provides services for high-volume sellers, and sells products wholesale.
Additionally, if you plan to run print on demand ads, Apliiq has a paid ads expert team that can run them for you.
You can start selling by downloading the Shopify, Woocommerce, or Etsy app.
9. Zazzle
One of the early players in this space, Zazzle has been around for a long time and has built a solid reputation. When you create on Zazzle, you can leverage their expansive marketplace and potentially build your audience there.
If you're looking for ideas. It's worth viewing the "Trending" items to see what's capturing buyers' attention.
Sellers can customize an existing product, upload designs, or sell customizable products on the platform.
All the usual products are available here, like tees, stationery, and gifts and cards for all occasions. Click on the "Sell" link on the left-hand side of the page to sign up, and click on the "Create" link to choose products or look through templates.
10. Printify
In addition to hundreds of product options, Printify provides state-of-the-art features to simplify creating and selling.
The mock-up generator lets you "see" your design on a product before you order a sample. They also have a wide range of integrations with e-commerce platforms.
11. Lulu
Lulu is a self-publishing platform giving authors and similar types of artists a print on demand option for their creations.
For instance, rather than looking for a traditional publisher to take a chance on your book, you can get it out there immediately with Lulu's publishing options. You can also build an author platform on the Lulu website.
Aside from soft and hardcover books, Lulu prints calendars, notebooks, yearbooks, and photo books, among other items.
Lulu is free to use, and you can also sell your books through Shopify or WooCommerce.
12. Society6
Catering to artists and designers, Society6 boasts a range of products from apparel to home decor. It focuses on prints and canvases, making it appealing to artists who want to sell reproductions of their work. It also has a range of home furnishings like throws, wallpaper, and rugs.
Additionally, Society6 actively promotes its artists, highlighting top sellers with a strong aesthetic style.
Look at the trending items on the home page to get ideas for your products, and sign up for free to start selling.
13. Spring (Formerly TeeSpring)
Spring (formerly TeeSpring) encourages the success of its creators through incentives. Working slightly differently from other print on demand services, Spring offers more products to design and sell as your monthly sales increase.
They also have a tiered system that charges less per product as your sales increase, giving you a higher profit margin if your creations succeed. Additionally, Spring has Merch Shelf, a YouTube integration that can further market your products if you qualify for this option.
Click on "Discover" to see some trending shirts, or select "Start Creating" to get taken to the signup form.
How to Find the Right Print on Demand Company for You
Begin with some research. Look at the range of products available on each site and see which sites offer the biggest range/flexibility. If you're looking for specific products, you can narrow your print-on-demand search by niche. For instance, Apliiq caters to the fashion and lifestyle niche.
Next, you'll want to check the pricing, shipping, and any sales fees. Print on demand companies Gelato has worldwide shipping partners for faster shipping and reduced shipping costs.
Look at online reviews and consider what others say about delivery times and quality. Perhaps order a few samples to determine the quality yourself.
You'll also want to look at integrations. The more platforms a print-on-demand company integrates with, the broader your reach.
Design tools are worth assessing, too. Each platform has its own design space, and you might find some tools easier to work with than others. Sign up to a few sites and test them to see if you can get what you want from a design.
Evaluate customer support and the educational resources available to you as well. Send a few queries to see how knowledgeable (and responsive) customer services are.
Finally, don't overlook sustainability. This issue is increasingly important to consumers, so check the site's sustainability commitments, too.
FAQs
How to advertise a print on demand business?
Social media channels like Pinterest, Instagram, and TikTok are good starting places for sharing your items. Depending on your budget, you could run paid ads to see if this boosts sales.
Additionally, Facebook has many groups you can join to help with promotion.
If you have a significant budget, you could also try influencers.
How to grow a print on demand business?
First, apply the 4 Ps of marketing: product, price, place, and promotion. This gives you a clear strategy to get started with.
Hone in on a niche and keep up with trends. The print on demand sites often have trending items on their websites, so you can see what's selling. Pay attention to seasonal trends like Valentine's Day and Mother's Day; list seasonal products three months before the occasion, as people like to plan. 
Optimizing your store and creating a blog are excellent ways to grow your print on demand store. You can enhance your SEO for print on demand by finding keywords using digital marketing tools like Ubersuggest and include them naturally in your copy or in a promotional blog to attract organic traffic.
Add a signup form to your blog and store, and build up your mailing list to mail your customers directly with new products. Maybe offer a discount for subscribers who buy from your mailing list for the first time.
Next, gather testimonials and reviews from your happy customers and share those online.
You can also list your products on multiple sites for the widest reach.
Running ads for your print on demand products is another option, but you'll need to ensure it makes financial sense.
How to be successful with print on demand?
The most important thing is to sell to a niche—then it's easier to market your products. For example, you might want to sell products with inspirational quotes or gifts for dog lovers.
You'll also want to spend a lot of time marketing, especially when you first start. Try free methods like social media and Facebook groups to begin with.
Finally, keep up to date with trends and keep a close eye on your analytics to see what's gaining the most traction.
Is print on demand worth it?
It's a low-risk business with no upfront costs, so you have nothing to lose by trying it.
Many people turn print on demand into a successful business; if you find the right niche, you could do well, too.
Conclusion
Print on demand can open several doors for your business and let you explore new ideas in a low-risk environment while reaching a larger niche customer base.
There's no need to part with money upfront, making it an appealing model for new business owners.
You'll find plenty of print on demand companies, but don't overthink it. Test a few that give you a good range of products and options, do some active print on demand marketing on social media sites like Pinterest, and see which POD company works best for you.
Whether you're looking for a way to develop a new income stream, build up your side hustle, or jump on a current trend, these print on demand companies are all free to join and have no upfront costs.
Although print on demand is a unique model, you can still use many of the usual startup marketing strategies, like launching a blog, giving away free products, or hosting a contest.
Give it a go and see what happens. You could soon be on your way to a successful print on demand business.
Do you use print on demand? How does it work for you?
Source link